It's 2016. Here's How Hungry the World Is
More than 21 percent of the developing world is in "serious" need of food, according to a new report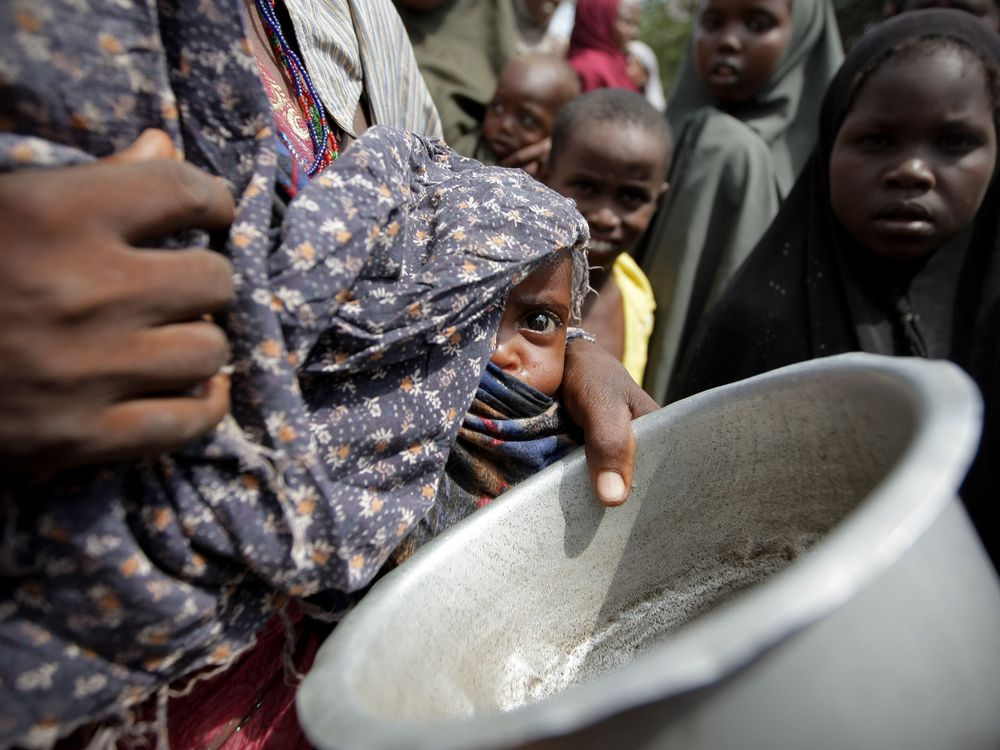 How hungry is the world? According to a newly released index of hunger in developing countries, the answer is "very." Experts just released a report that lays out the state of hunger in developing nations, reports the Thomson Reuters Foundation, and though it contains some good news—like a 29 percent drop in hunger in the developing world over the last 16 years—it paints a grim picture of a large segment of Earth's population in need of food.
The rankings of the Global Hunger Index are no surprise, but they're sobering nonetheless: Parts of Africa south of the Sahara Desert and South Asia had the highest hunger levels, with Chad and Central African Republic topping the list. On average, the worldwide hunger index ranking in developing countries was 21.3, which falls into the ranking's "serious" category.
The report takes indicators of undernourishment, child wasting (low weight for height), child stunting (low height for age) and child mortality into consideration when developing a score, then ranks the scores on a severity scale that ranges from low to extremely alarming. It uses up-to-date data when available, but the International Food Policy Research Institute, which develops the report, notes that data collection methods need to improve to give a more complete picture of world hunger. That's because despite general advancements, averaging different indicators of hunger can cover up places where countries could stand to improve.
And in order to reach an international target, they'll need to pick up the pace: "Countries must accelerate the pace at which they are reducing hunger or we will fail to achieve the second Sustainable Development Goal," said the IFPRI's director general, Shenggen Fan, in a release.
The goal in question is part of an ambitious initiative on the part of the United Nations to end hunger worldwide. The UN's Sustainable Development's second of 17 goals is to "end hunger, achieve food security and improved nutrition, and promote sustainable agriculture" by 2030. The goal has a wide-reaching set of sub-goals, from doubling the agricultural productivity of small-scale food producers to wiping out malnutrition. And though the UN acknowledges on its website that "a profound change of the global food and agriculture system is needed if we are to nourish today's 795 million hungry," it's determined to succeed.
How is such a change possible in such a short time? Solving such a complicated problem will require a multi-faceted response. Experts suggest everything from a plant-based diet that could make food production more efficient and less expensive to a crackdown on food waste that could divert the up to one third of food that languishes in trucks and in fields. Other initiatives include a push for better sharing of agricultural and nutrition data and calls for social protection measures that can lift people out of poverty.
But tackling hunger can't happen without ordinary people, too. The UN is targeting the two groups most vulnerable to food insecurity to help reduce hunger: women and children. In a photo series called "Family Meal," the UN brought awareness to women who serve as "the chief economist of the household" to spread its philosophy that empowering women feeds families. By focusing on women, who most often ensure that their families eat, the UN's World Food Programme helps ensure that entire families get fed where assistance is available. And young people can make a difference, too: The UN has highlighted the untapped potential of youth and called on nations to give them opportunities to combat hunger in their own communities.
There are big obstacles in the way of the zero hunger goal, from the unfolding refugee crisis to the perils of climate change. But that's no reason not to try to make sure everyone gets access to the food and nourishment they deserve. "Let us aim for achieving zero hunger in our lifetimes for once and for all," writes the UN secretary general Ban-Ki Moon. The fact that so many people go hungry "should be cause for moral outrage and concerted action."