How WWII Created the Care Package
Technically, the innovation was originally trademarked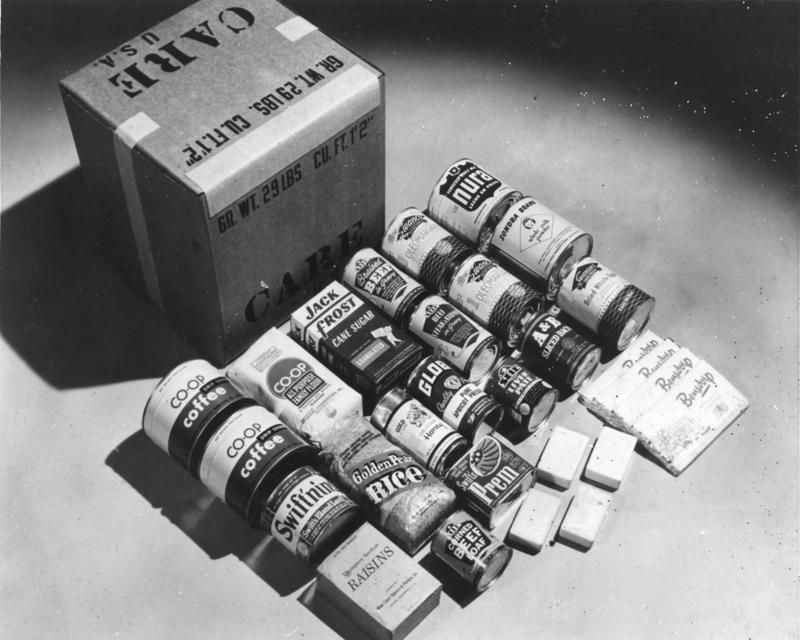 They arrive when you go off to college. You send one to a loved one who's having a hard time. You can even buy a premade "care package" to send. But although the term has become a relatively ubiquitous part of American life, what's less well-known today is that the term was originally trademarked.
The very first CARE packages were sent to Europe in the aftermath of World War II by a relief organization first called the Cooperative for American Remittances to Europe. That non-governmental organization, founded on this day in 1945, was originally intended to provide temporary assistance to wartorn European nations. Since 1953, however, CARE has changed its name to Cooperative for Assistance and Relief Everywhere, and continues humanitarian relief and development support work around the world.
According to the introduction to the CARE archives held at the New York Public Library, the original intent of CARE was to create infrastructure for Americans to "send emergency packages of food to friends and relatives in post-war Europe." Its board of directors was made up of representatives from a wide variety of American aid agencies, and by mid-1946, packages were being sent to France marked with CARE's acronym. The finding aid reads:
The earliest CARE packages were surplus U.S. Army "Ten-in-One" food parcels, originally intended as G. I. rations, which had the advantage of being pre-boxed and ready for shipment. In 1946, with the help of nutritionists, CARE started to design food packages aimed at families, eliminating such items as cigarettes, to replace the Ten-in-One parcels when that supply was exhausted. The more specialized packages substituted tea for coffee in parcels sent to Britain, added spaghetti to Italian packages, and included kosher packages. Within its first two years of operations, CARE was able to offer its donors a selection of more than a dozen different packages.
CARE packages showed up around Europe, including in Berlin during the historic Berlin Airlift, a two-year period when the USSR blocked Allied ground access to West Berlin, writes Carolyn Hughes Crowley for Smithsonian.com. According to the National Museum of American History, which has a 1962 CARE package in its collection, post-1947 CARE packages were sent "typically containing several tinned meats, eight ounces of powdered eggs, a pound each of lard, apricot preserves, honey and raisins, and two pounds each of margarine, sugar, powdered milk and coffee."
To order a CARE package for someone, you mailed a $15 check or money order to CARE. Packages were then shipped from Philadelphia and delivered by any locally appropriate means—over time, that transportation included "reindeer in Finland, camels in Pakistan and elephants in Sri Lanka, as well as more orthodox vehicles," writes Crowley. The CARE package program also expanded to include medical instruments, tools and sewing machines. By 1966, the famous package program was on its way out, writes Crowley.
But the term wasn't forgotten. Although the term CARE package is a trademark of CARE, it's also entered the cultural lexicon, and "care packages" are sent for more prosaic reasons than recovery from war or famine all the time.