A Historic Cathedral in New York City Goes up in Flames
The Cathedral of St. Sava caught fire just hours after the Orthodox congregation celebrated Easter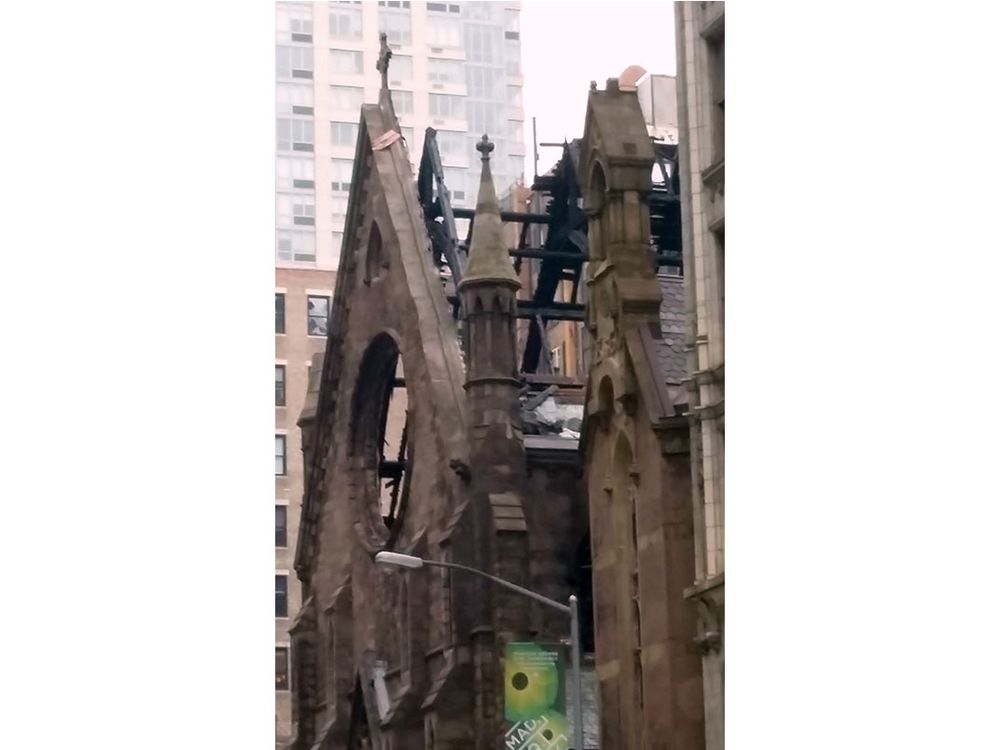 On Sunday, Midtown Manhattan's Serbian Orthodox Cathedral of St. Sava held its last service before it was engulfed in flames. The fire began around 6:50 P.M. and quickly escalated into a four-alarm fire. While about 700 parishioners had attended Orthodox Easter services that morning, the cathedral was empty by the time the blaze began, Ida Siegal and Tracie Strahan report for NBC New York.
The 19th-century church had been the heart of New York City's Serbian Orthodox community since it was purchased by the church in 1943. By then, it was already nearly a century old. The Gothic Revival-style cathedral was first built in the early 1850s as an Episcopal church. Then called Trinity Chapel, its congregants included New York luminaries like novelist Edith Wharton, Stephen Nessen reports for WNYC.
In 1968, the building had a landmark year – literally. That year, the church was added to both the National Register of Historic Places and was awarded landmark status by the city's Landmarks Preservation Commission, Liam Stack and Annie Correal report for the New York Times.

Only a few people sustained minor injuries from the fire, including several firefighters and the church's caretaker, who tried to run into the building when he first saw the flames. However, by then the fire had taken hold and engulfed the church.
"We smelled smoke, once we came outside the church was on fire," Alex Velic, the caretaker's stepson, told Andy Mai and John Annese for the New York Daily News. He and his stepfather, 69-year-old Slobodoan Ljubenko, live next door to the cathedral.
"Once the fire caught the wood there was flames coming out of the top of the church. That's when the people were going crazy," Velic told Mai and Annese. "I'm in shock still, it's terrifying, I don't know what to say. It's sad."
While the bulk of the blaze was under control after a few hours, by the time firefighters arrived at the scene parts of the wooden roof had collapsed and the structure was crumbling and unstable. Pillars of smoke and flames rose from the remains of its stained glass windows. By Monday morning, firefighters were still dousing small pockets of fire.
"I feel like I'm in a nightmare right now," Father Djokan Majstorovic, the church's priest, told the Associated Press and Stephen Nessen for WNYC.
When the church was given landmark status in 1968, the city's Landmarks Preservation Commission wrote, "Its special character, historic significance, and aesthetic interest and value of the development, heritage, and cultural characteristics of New York make it irreplaceable," as Stack and Correal report.
"This church brought everyone together, because although there are Serbian churches in New Jersey, this is like the only one in New York," parishoner Jovana Djurdjevic told Siegal and Strahan. "This is absolutely horrible. Absolutely horrible. My heart is completely broken."