See Newly Discovered Works by Trailblazing Painter Hilma af Klint
The Swedish Modernist created innovative, genre-defying abstract art inspired by science, mysticism and her own encounters with the spiritual world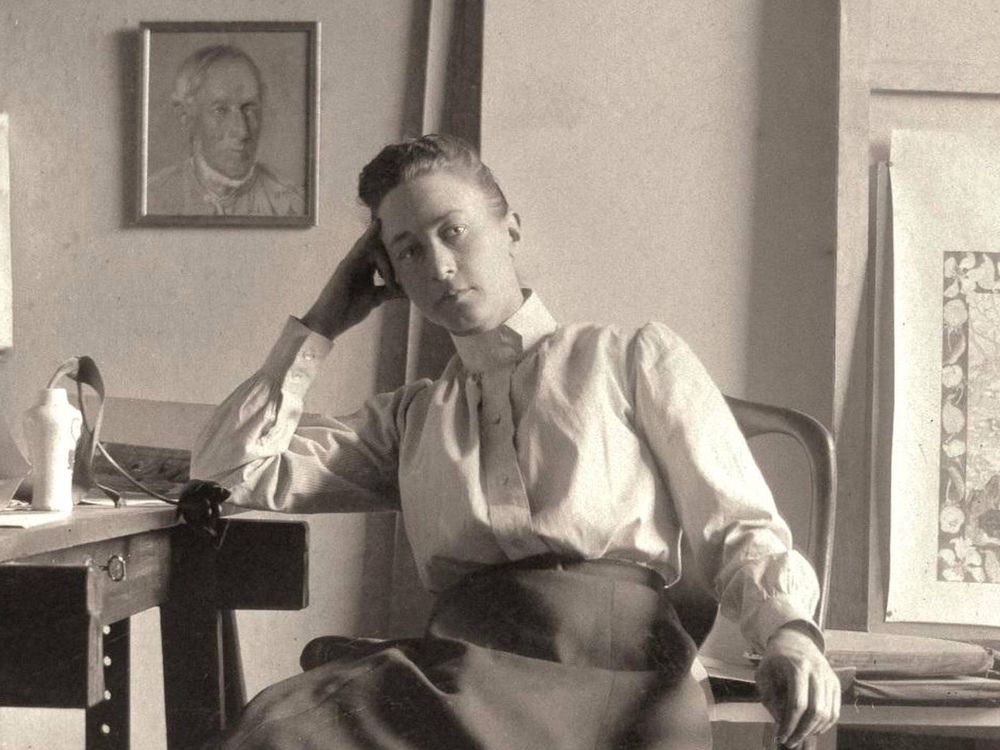 Eight newly discovered works by groundbreaking Swedish modernist Hilma af Klint are set to go on view in Manhattan next month, reports Sarah Cascone for Artnet News.
Scholars have traditionally credited male artists such as Wassily Kandinsky, Piet Mondrian and Kazimir Malevich with pushing European 20th-century painting into the realm of abstraction. But af Klint began painting her colorful, swirling compositions years before these peers, at a time when women artists were rarely considered innovators. Major exhibitions of the painter's otherworldly abstractions have boosted her profile in recent decades, reshaping how scholars think about European art history.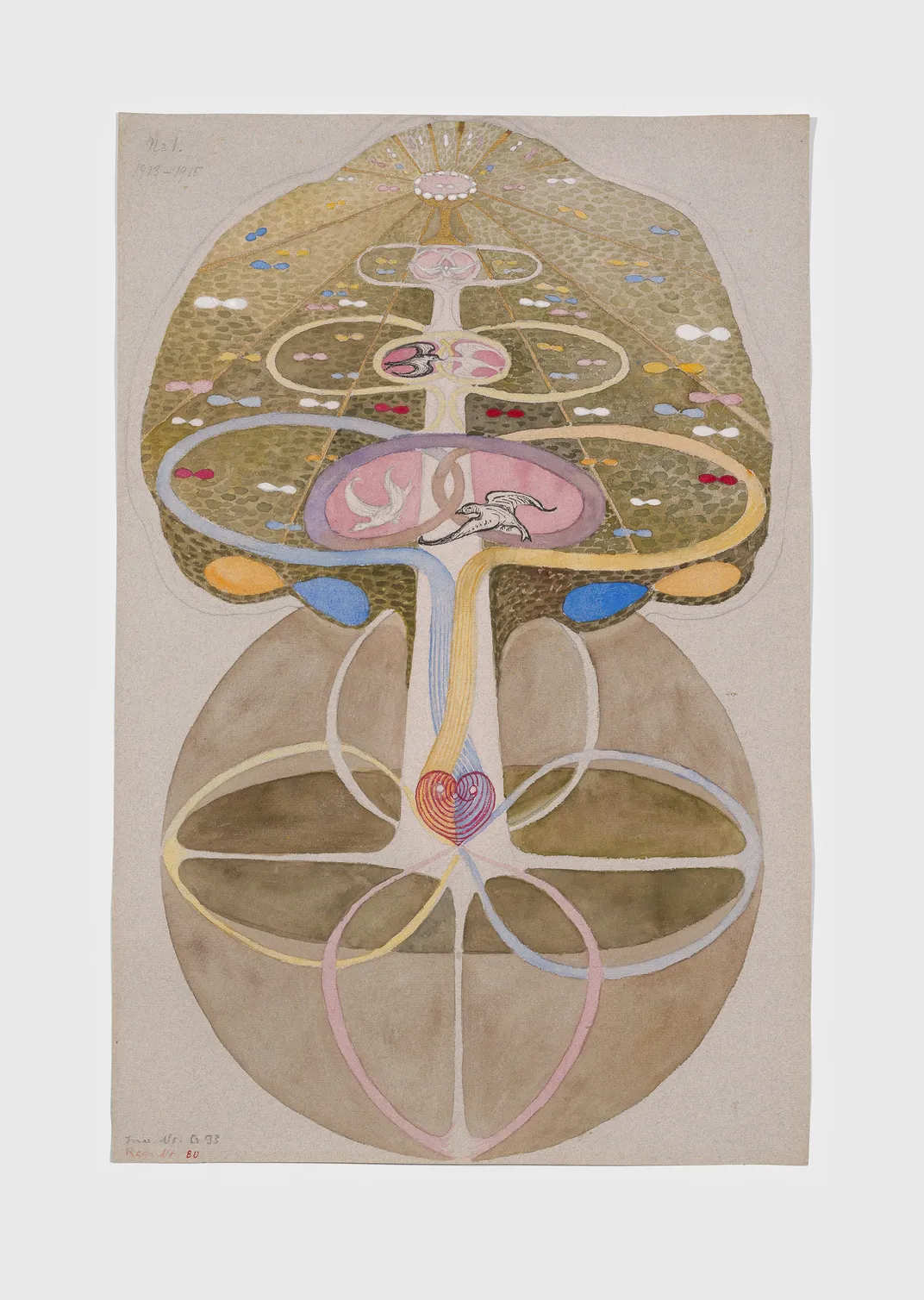 "Her paintings definitively explode the notion of modernist abstraction as a male project," wrote New York Times critic Roberta Smith in 2018.
The blockbuster 2018 exhibition "Hilma af Klint: Paintings for the Future" drew 600,000 visitors to the Guggenheim during its six-month run. Soon, art lovers on New York City's Upper East Side will once again be able to view the artist's works: namely, a mystical series of eight watercolors titled Tree of Knowledge (1913–15), on view (and up for sale) at David Zwirner's 69th Street location.
Those unable to see the show in person can explore a virtual version through the gallery's online viewing room, which is set to debut November 3, the same day as the exhibition's opening.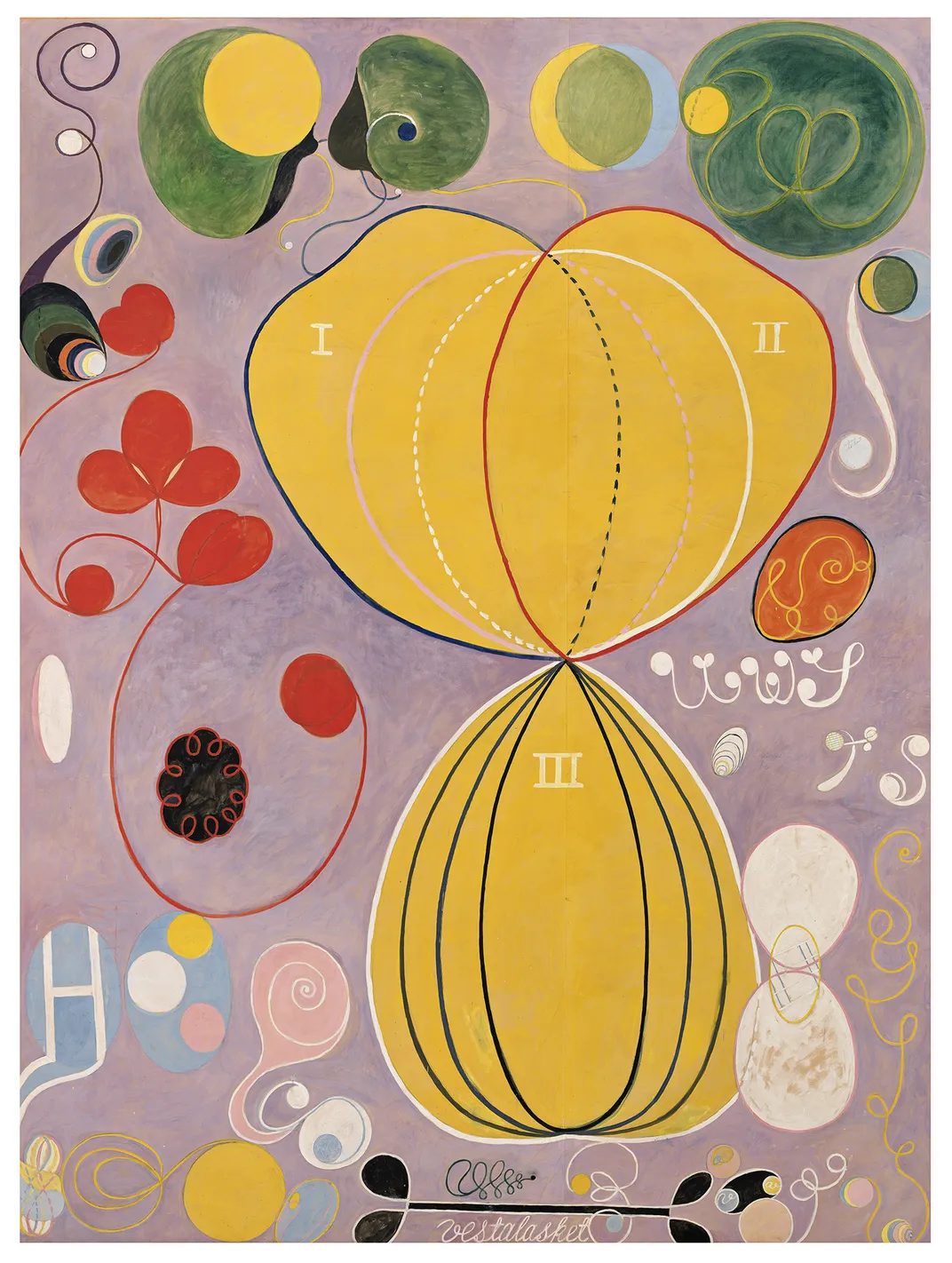 Historians previously thought that the Swedish Hilma af Klimt Foundation held the only existing Tree of Knowledge set. As it turns out, however, af Klint completed two copies of the watercolors, giving one as a gift to famed Spiritualist Rudolf Steiner, founder of the Anthroposophical Society. The eight-part series was handed down to Swiss writer Albert Steffen after Steiner's death in 1925 and eventually became part of the Steffen Foundation's collections. Per a statement, the second set was recently rediscovered at the Swiss foundation's headquarters.
Born into a middle-class Swedish family in 1862, af Klint studied at the Stockholm Royal Academy of Fine Arts. Growing up, she was fascinated by the natural sciences and ongoing inquiries into the "unseen world," such as J. J. Thomson's 1897 discovery of the electron and Wilhelm Conrad Roentgen's 1895 discovery of X-rays. She also pursued an intense interest in Spiritualism, a religious movement based on the belief that the dead could interact with the living, and, in 1896, began holding regular séances with five like-minded women.
One of these spiritual meditations inspired the artist's most ambitious project. On January 1, 1906, af Klint claimed to receive a message from a spirit named Amaliel, who commanded her to create paintings to decorate a planned temple.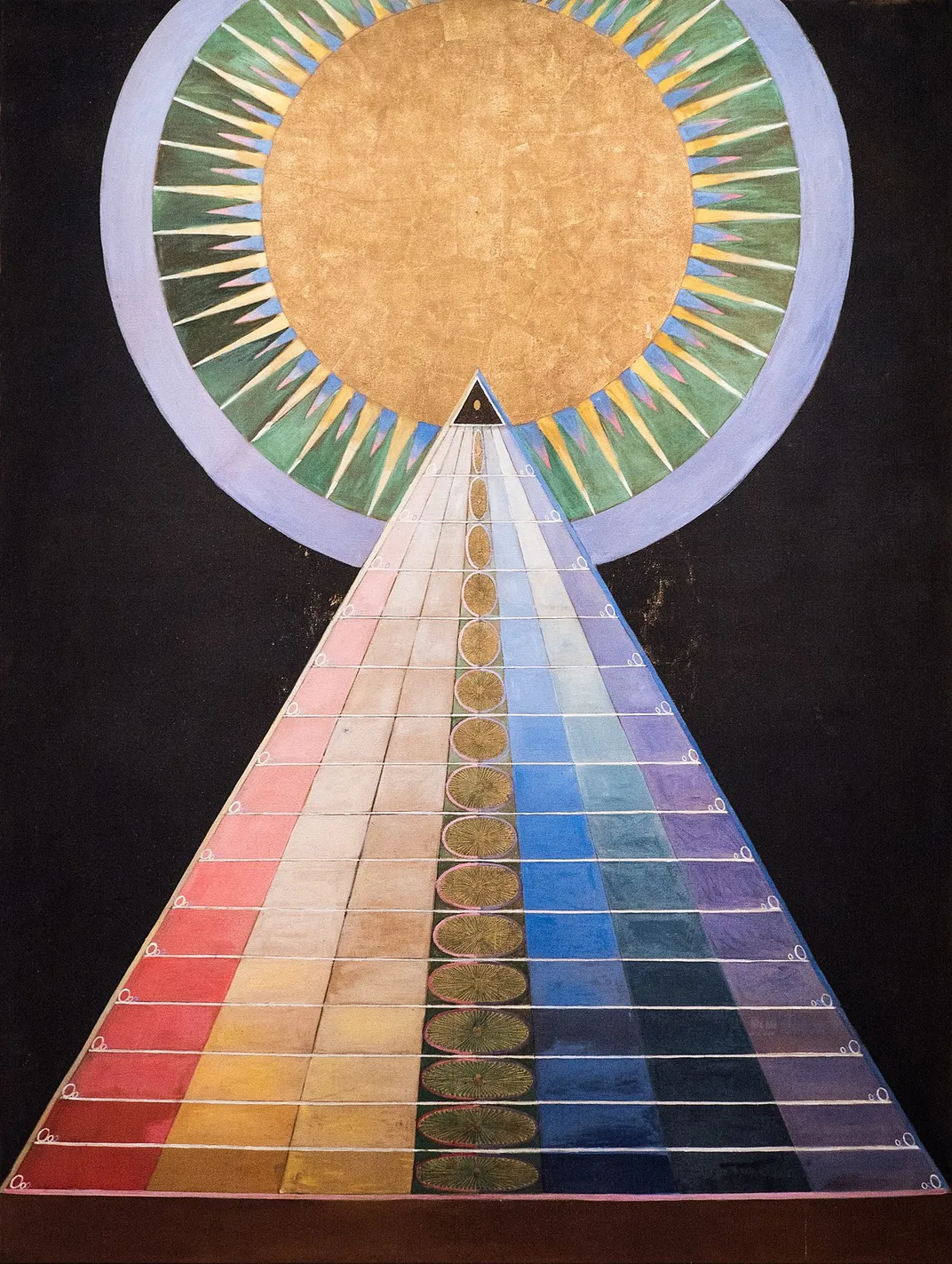 "Amaliel offered me a work and I answered immediately Yes," the painter wrote in a notebook at the time. "This was the large work, that I was to perform in my life."
Af Klint launched her temple painting project in November 1906 and worked until April 1908. Per the Guggenheim, she painted at a furious pace to complete 111 works—about one painting every five days.
One group within af Klint's Paintings for the Temple, dubbed The Ten Largest, towers over viewers at 8 by 10 feet. Here, the artist renders the states of human life—from conception through death—in fields of rainbow hues populated by intertwined ribbons of color and shapes evocative of zygotes, eggs, spermatozoa, clouds, calligraphy, prisms, mathematical diagrams, labial folds and more.
Af Klint knew her works were ahead of their time, so she shrouded the temple project in secrecy. The painter famously stipulated in her will that her art not be displayed until 20 years after her death, which arrived in 1944. (Art historians ignored her works for decades longer than she'd intended.)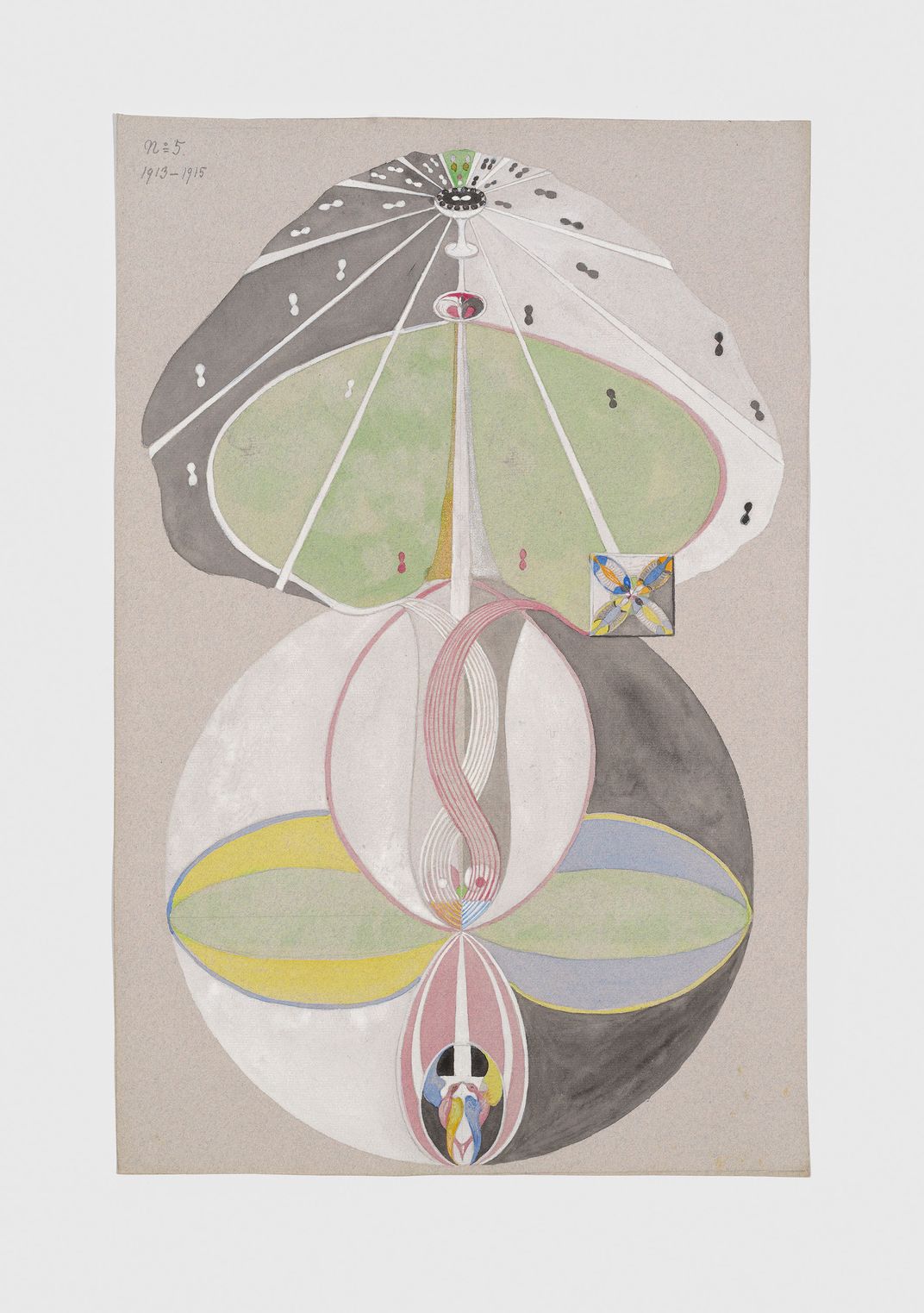 After pausing work on the temple paintings in 1908, af Klint briefly picked the project back up, completing a total of 193 breathtaking canvases by 1915. Tree of Knowledge, created between 1913 and 1915, marked the artist's return to form after a four-year hiatus, according to the statement. In these watercolors, strange pyramid formations glitter with gold and silver accents, riffing on Art Nouveau motifs, religious themes, and the organic shapes of trees and birds.
"All of the works in this series feature a tree with a heart-shaped crown," wrote scholar Åke Fant in the 1989 book Hilma af Klint: Occult Painter and Abstract Pioneer. (Fant is one of the researchers credited with introducing the Swedish painter's works to an international audience.)
"A circle surrounds the tree trunk," the art historian added. "All eight paintings … feature variations on this theme. We are dealing with a process, here, that goes from innocence and balance to a complex bifurcation into male and female, to the Fall from Grace and the conception of a child."
Currently owned by a private collector, the watercolors are available for purchase by institutional buyers only. Per Artnet News, price is available upon request.
"I am thrilled to be exhibiting Tree of Knowledge by Hilma af Klint, which has such a fascinating history. This is the only major work that exists outside of the foundation's collection," Zwirner tells Artnet News. "The fact that she personally gave this set of watercolors to Rudolf Steiner, whose philosophical beliefs deeply influenced her, is remarkable."
"Hilma af Klint: Tree of Knowledge" is on view at David Zwirner (34 East 69th Street) in New York City from November 3 through December 18.