Dutch Divers Found a 17th-Century Dress Buried Under the Sea
The 400-year-old gown was remarkably well-preserved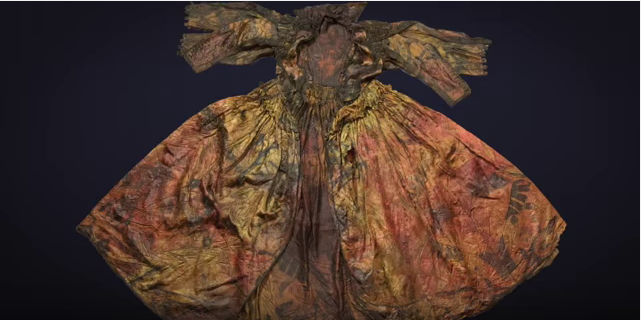 Centuries ago, the islands of Texel and Eyerland (they merged in 1835 to become the island of Texel) were important waypoints for trade ships on their way to Holland. And divers have long known that the waters around present-day Texel Island hold a trove of sunken ships that were unable to survive Wadden Sea's storms and severe weather to make it safely to shore. But recently, a group of divers found something amazing buried under the Wadden Sea: a 17th-century chest containing a surprisingly well-preserved collection of clothing, books and other items that may have once belonged to an English noblewoman.
The divers were swimming near Texel Island when they spotted the sunken remains of a 400-year-old shipwreck. When they took a closer look, they spotted a package buried in the sand. The divers dug it up and brought the parcel back to the surface. When they opened it, they discovered a collection of items that include a silk dress, a velvet purse, a lice comb and other underclothes, DutchNews reports. A leather-bound book found in the parcel was stamped with the coat-of-arms of King Charles I, which suggests the owner was a member of the nobility. The items are currently on display at the Kaap Skil Maritime and Beachcombers Museum on Texel. 
"This is direct evidence that at least part of the cargo belonged to the English royal family, the Stuarts," a Kaap Skill museum spokesperson tells DutchNews. "Given the richness of the rest of the cargo, this is not entirely impossible."
Of all the items recovered from the wreck, perhaps one of the most fascinating is the silk dress, which was in remarkably good shape after centuries buried underwater. While the dress is made of fine textiles, conservators say it was likely made for a noblewoman's everyday use because it lacks fancy embroidery and decorative beads, Sarah Laskow reports for Atlas Obscura.
While 17th-century paintings give historians a good idea of how nobles dressed when they wanted to look their best, evidence of their everyday lives is much rarer. Thanks to this discovery, historians have a better sense of how upper-class ladies dressed as they went about their days, as opposed to the embroidered, elaborate finery they would have donned to pose for a portrait, Annalee Newitz writes for Ars Technica.
The woman's belongings weren't the only things found in the wreck. Divers also recovered luxury items like fine wood, materials used for varnish and crates that may have once held expensive spices, Laskow reports. While their owner's identity and her fate remain a mystery, her former belongings and undergarments provide a telling snapshot of how a well-heeled lady might have packed for a sea journey.