Dine Behind the Iron Curtain With Soviet Era Recipes
A new cookbook explores a time of food shortages and standardization, colored with some nostalgia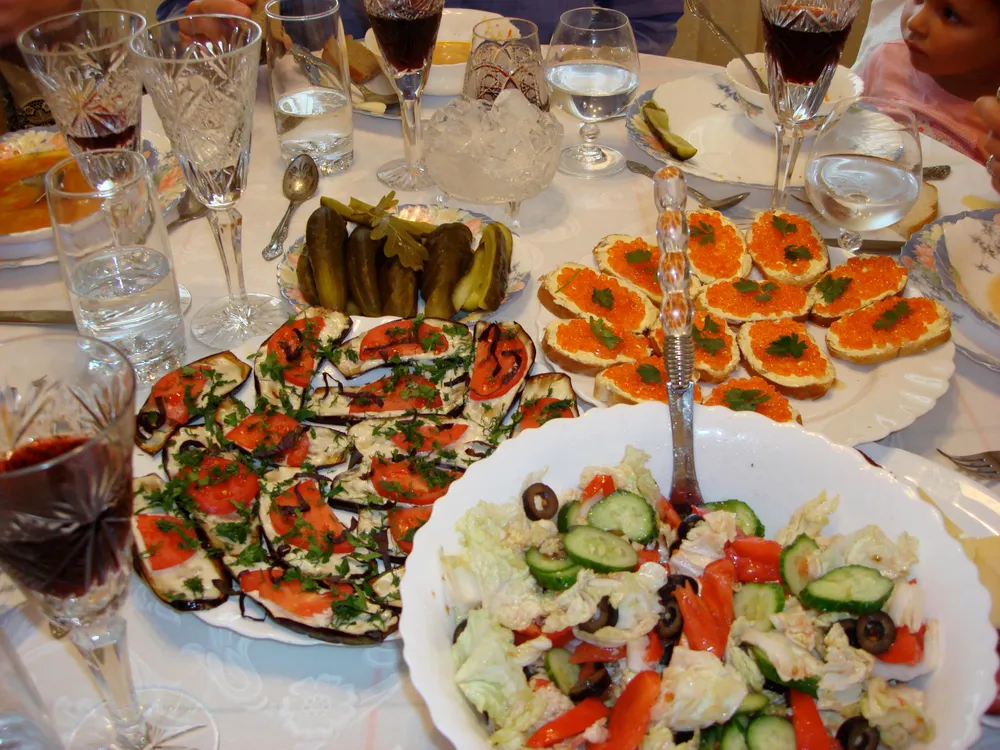 The idea of a cookbook featuring recipes from the Soviet era might not seem like a brilliant idea. After all, the people of the USSR had to grapple with shortages of food as well as standardization that dictated the same menu for public catering throughout the USSR. But the dishes of the time "still have a strong pull on Russian sentiment," reports Deena Prichep for NPR.
Moscow-based food writers and historians Olga and Pavel Syutkin recently spoke to Prichep about their new book, The CCCP Cookbook: True Stories of Soviet Cuisine, which delves into eating in the USSR. "Each recipe reveals a chapter of life under Communism," Prichep writes, "from the flavors of the outer republics brought in on shashlik skewers, to the swapping of capers for tinned peas in Salat Olivier, to the aristocratic heritage that gave its name to beef Stroganoff." 
The recipes featuring pickled herring, mayonnaise and canned goods, on the other hand, are "from our childhood," says Pavel. "That is why they are colored with very tender and warm feelings." But despite the hardship those bittersweet culinary memories reflect, Pavel says, there is still propaganda today that tries to paint a more rosy picture of the past. 
For those who lived in the USSR, such recipes would have been a far cry from the meals depicted in the Soviet Book of Tasty and Healthy Food, a cookbook that graced the homes of most citizens. Part cooking manual, part propaganda, that tome was filled with lavish photographs that perpetuated a "myth of abundance," writes Maryam Omidi for The Calvert Journal. "The book's lush imagery of tables laden with sumptuous tableware, bowls overflowing with fruit, pyramids of cheese and meat, tins of caviar and cream-filled cakes were nothing but a chimera," she writes. 
However. it was the only cookbook available, making it very popular. "It was the book my mum used all the time," Katrina Baldry, author of Russia on a Plate, tells Omidi. "It was our culinary bible and the only cookbook on our shelves." 
The Syutkins' new cookbook pays tribute to that history with similar "hyper-saturated, almost baroque images," Prichep reports for NPR. But some of the fantasy is dispelled with historical discussions that precede each recipe as well as the inclusion of simpler dishes that were more commonly featured on tables than the ones laced with caviar and prime rib.
Some of those pared down recipes even prevail today. Pavel mentions Pasta a la Navy, a noodle dish with minced meat and sauteed onions, as well as Rassolnik, a soup with pickles, beef and barley. As with any cuisine, part of the enjoyment comes from how the dishes connect people with memories, culture and history.