Deadly Maui Wildfires Raze Landscape, Destroy Historic Coastal Town
At least 36 people have been reported dead and thousands were displaced by the fast-moving flames that ignited on Tuesday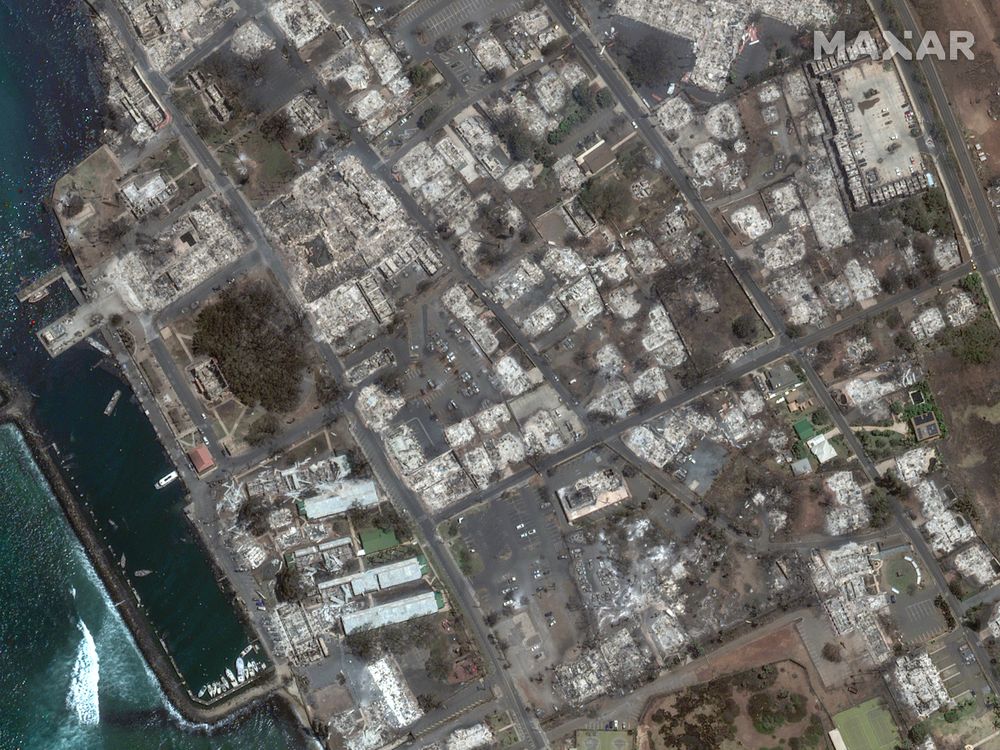 As wildfires continue to devastate the Hawaiian island of Maui, 36 people have been confirmed dead so far, making this the blaze with the highest death toll in Hawaiian history, reports the New York Times' Thomas Fuller.
At least three large fires are still burning and out of control on the island. Thousands of people have been evacuated or displaced, and as of Tuesday night, about 2,100 people were in Maui shelters, per KITV4. Nearly 11,000 customers in Hawaii are currently without power. Hospitals are facing an influx of people dealing with burns and smoke inhalation.
Amid destruction across Maui, the historic town of Lahaina was hit especially hard. Flyovers on Wednesday revealed that at least 271 structures in the town have been impacted by the fires. All reported deaths so far have been from Lahaina, per Hawaii News Now, and much of the area is now burned to the ground.
"Lahaina looks like a bomb went off. There is nothing left. The entire village has been turned into rubble," Laren Gartner, a local restaurant owner, tells CNN's Aditi Sangal and Adrienne Vogt.
Aerial footage captures the devastation on Maui as wildfires tear through the Hawaiian island pic.twitter.com/tDOT5hWDal

— NowThis (@nowthisnews) August 10, 2023
"It's horrifying. I've flown here 52 years and I've never seen anything come close to that," Richard Olsten, a helicopter pilot for a tour company, said of the destruction to Audrey McAvoy, Jennifer Sinco Kelleher and Nick Perry of the Associated Press. "We had tears in our eyes."
The wildfires started spreading on Tuesday, though officials don't know what initially ignited the blaze. But powerful winds from Hurricane Dora, which is moving south of Hawaii, fanned the flames. Combined with low humidity, drought conditions in Maui and non-native, dry grasses, the area was primed for high-ferocity fires.
Additionally, climate change has increased temperatures and led to longer droughts that make wildfires both more likely and more potent, according to the National Oceanic and Atmospheric Administration.
On Tuesday, the hurricane winds were so strong that firefighters could not take off in their helicopters to douse the flames. But by Wednesday, they were able to fly, per KITV4.
Devastating scenes from Lahaina Harbor as wildfires rip through Maui. Wind gusts of more than 70 mph helped fan the flames. pic.twitter.com/hf8dt8fAom

— AccuWeather (@accuweather) August 9, 2023
People jumped into the water off Lahaina to escape the fires. The Coast Guard rescued or assisted in the rescue of 57 people from the water, per CNN.
"We've still got dead bodies floating on the seawall," a Lahaina resident told Hawaii News Now on Wednesday. "They've been sitting there since last night. We've been pulling people out since last night, trying to save peoples' lives."
The Hawaii National Guard and federal resources have offered assistance with emergency rescue efforts. The Federal Emergency Management Agency approved Hawaii's request for a disaster declaration, and President Joe Biden ordered federal aid to the state on Thursday.
In the early 1800s, Lahaina was a whaling village and the capital of the Hawaiian Kingdom. The fires have burned historic sites, such as a large banyan tree where the palace of Hawaii's first king, Kamehameha, once stood, per NBC News' Sakshi Venkatraman and Kimmy Yam.
"If you start from one end of Front Street [in Lahaina] and walk to the other end, it's like a physical timeline of the history of the Hawaiian Kingdom," Kaniela Ing, who grew up in the area and co-founded the Native Hawaiian-focused organization Our Hawaii, tells NBC News. "You can actually see the flow in the buildings stemming back 150 or more years. It's remarkable, and just the thought that that history may have been lost in this fire or any bit of that history is heartbreaking."