Canadian Wildfires Send Harmful Smoke Across Eastern United States
At least 20 states were air quality alerts this week, and in some places, air quality reached unhealthy levels for all groups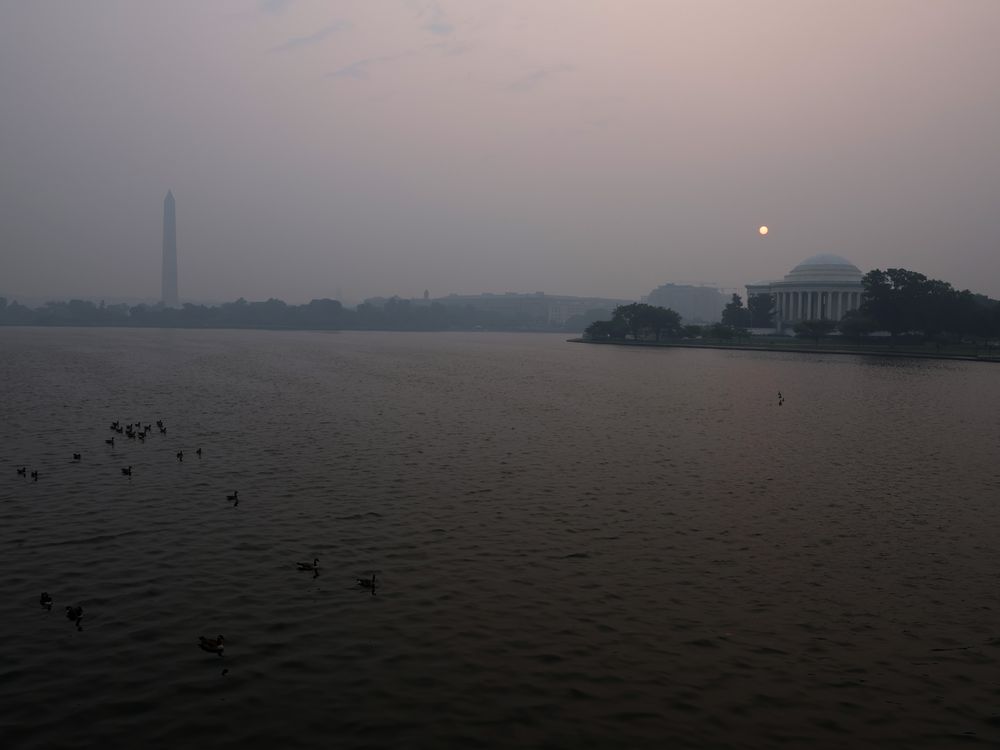 Air pollution from Canadian wildfires has been smothering swaths of the eastern United States this week. Officials are warning people to stay inside when possible and wear facemasks outdoors, as air quality has fallen to unhealthy levels in many places.
This year, Canada has been facing an especially intense wildfire season. About 9.4 million acres of land have burned so far, which is already about 15 times the ten-year average, as Bill Blair, Canada's federal minister of emergency preparedness, tells Reuters' Nia Williams and Ismail Shakil.
The conditions that cause wildfires, such as heatwaves and droughts, are becoming more likely due to climate change, writes BBC News' Georgina Rannard. And recently, Canada has been facing extremely high temperatures.
"The month of May was just off the charts—record warm in much of Canada," Eric James, an atmospheric scientist at the University of Colorado, Boulder, tells Kathy McCormack and Michael Phillis of the Associated Press (AP).
More than 150 wildfires are burning in Quebec province this week, according to CNN. Thousands of Canadians have been evacuated from their homes.
But the fires' smoke has been traveling south, as air circulates between a high-pressure system over Canada and a low-pressure system above the northeastern U.S., writes Scientific American's Meghan Bartels and Andrea Thompson. "Any particulate matter that's generated by these fires in Canada is basically going to stream to the south," Greg Carbin, chief of forecast operations at the U.S. National Weather Service's Weather Prediction Center, tells the publication.
Fires in Quebec have delivered one of the most intense outbreaks of smoke seen in the eastern U.S. in decades.

This image from @NOAA's GOES-16 shows smoke sweeping into New York and Pennsylvania on the morning of June 7.

https://t.co/Rr2dkIHeDz pic.twitter.com/V2Y2VxZq1Q

— NASA Earth (@NASAEarth) June 8, 2023
The smoke has caused air quality to plummet across eastern states, which the U.S. Environmental Protection Agency (EPA) has reported with its Air Quality Index (AQI). An AQI of under 100 is considered satisfactory or acceptable air quality, while an AQI of 101 to 150 is considered unhealthy for sensitive groups, such as older adults, children and teenagers, people who are active outdoors and people with lung diseases.
On Wednesday, the AQI climbed higher than 400 in Philadelphia and Harrisburg, Pennsylvania, and exceeded 300 in other cities in Pennsylvania and Delaware. The AQI also climbed over 400 in New York City, a level that hasn't been seen in the Big Apple for decades. All of these conditions, and any places with an AQI above 300, qualify as hazardous. On Thursday, the air in Washington, D.C., was considered hazardous for a brief time in the morning, before settling at "very unhealthy."
At least 20 states are under air quality alerts, according to ABC News' Ivan Pereira, Teddy Grant and Emily Shapiro.
While the worst conditions may only last for a day or two, some smoke could stick around for a week or more, James tells the AP.
Maryland Governor Wes Moore has advised people to stay indoors, per CNN.
"If you're older or have heart or breathing problems, you should remain inside or wear a mask," New York City mayor Eric Adams said in a Wednesday press briefing, per NBC News' Marlene Lenthang and Phil Helsel.
The New York Yankees postponed their Wednesday baseball game against the Chicago White Sox, and the New York Liberty postponed their basketball game against the Minnesota Lynx. Thursday's Washington Nationals game has also been postponed, and the Smithsonian's National Zoo and Conservation Biology Institute announced it would close Thursday.
Flights headed to New York's LaGuardia airport were grounded on Wednesday afternoon due to the smoke, per CNN. School districts in New Jersey and New York have canceled school, while schools in Washington, D.C., and Maryland have canceled outdoor activities.
Wildfire smoke contains a mix of pollutants harmful to human health, according to the EPA. A main component of smoke is particulate matter—a mix of solid particles and liquid droplets that can be made of different chemicals, soot, metals and other components. Tiny particles less than ten micrometers across can get into the lungs, and the smallest of them may enter the bloodstream.
Exposure to smoke from wildfires has been linked to heart attacks, aggravated asthma, reduced lung function and an increased risk of premature death in people with heart or lung disease, per the EPA.
"If you can see or smell smoke, know that you're being exposed," William Barrett, the national senior director of clean air advocacy for the American Lung Association, tells CNN. "It's important that you do everything you can to remain indoors during those high, high pollution episodes, and it's really important to keep an eye on your health or any development of symptoms."