Metal Detectorist Unearths Bronze Age Jewelry in Swiss Carrot Field
Researchers suspect the trove may have belonged to a "rich woman with a passion for collecting"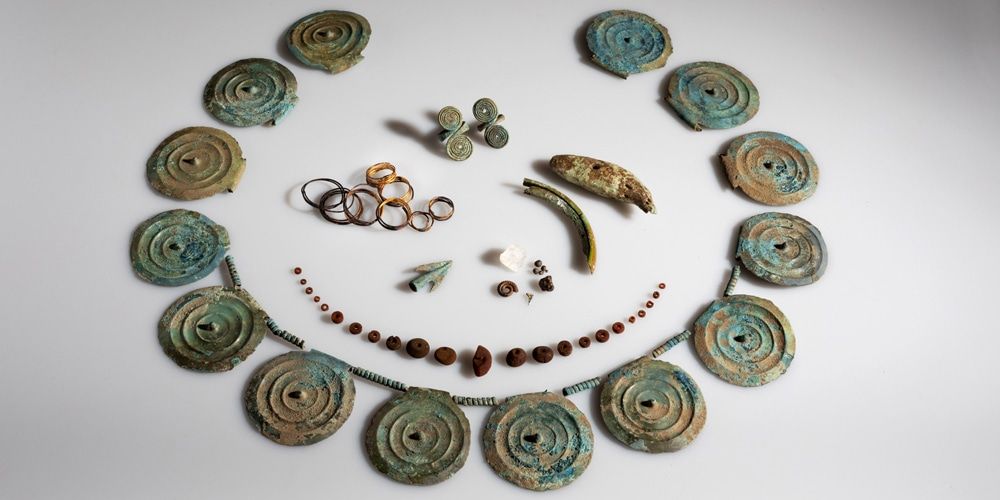 Metal detectorist Franz Zahn was sweeping a newly harvested carrot field in Switzerland when he discovered a trove of Bronze Age jewelry.
For years, he has been searching for treasure in Güttingen, a town in the canton of Thurgau in northeastern Switzerland. So when he unearthed several decorative bronze discs over the summer, he quickly reached out to the local archaeology office.
With the landowner's permission, researchers cut out a small block of soil and brought it back to their lab in the nearby city of Frauenfeld. There, they carefully worked through the dirt layer by layer, slowly uncovering even more artifacts. They identified 14 bronze discs, 2 double-spiral finger rings, more than 100 tiny amber beads and wire spirals made of gold.
Local officials announced the discovery earlier this week. As they wrote in a Facebook post, "The canton has stumbled upon a treasure."
The beads were about the size of pinheads, and archaeologists had to remove each one from the soil block using tweezers.
The "eye-catching" discs were likely once part of a necklace, according to a translated statement from the archaeology office. Each one had three ribs, a spike in the middle and a narrow hole that would have accommodated a piece of thread or a leather strap. The researchers suspect a gold spiral would have been strung between each disc as a spacer.
"These are typical 'costume jewelry' from the Bronze Age—more precisely the Middle Bronze Age around 1500 B.C.E.," per the statement.
In addition to the jewelry, researchers recovered a beaver tooth, a bear tooth, bits of polished ore, a fossilized shark tooth, a rock crystal, a bronze arrowhead and a small ammonite. They don't know what these other artifacts were used for or whether they were intentionally buried with the jewelry some 3,500 years ago. However, they suspect these items may have been a "collection of curiosities," perhaps worn as some sort of protective amulet.
Since they didn't find human remains or any evidence of a grave at the site, the archaeologists concluded that someone had buried the items in an organic container that disintegrated over time. They suspect the artifacts once belonged to a "rich woman with a passion for collecting," per the statement.
Several years ago, Güttingen was the site of another Bronze Age discovery: Archaeologists found the remains of structures built on stilts dating to 1000 B.C.E., according to Live Science's Jennifer Nalewicki.
In recent weeks, several other metal detectorists across Europe have made exciting finds, including a 1,000-year-old brooch, two 1,800-year-old Roman cavalry swords and 1,200-year-old Viking artifacts.
Now, experts in Switzerland are carefully cleaning and restoring the newly discovered items so they can go on display at the Museum of Archaeology in Frauenfeld next year. They also hope to conduct additional analyses and quickly publish the results "so that wider circles can address the question of how this special find should be interpreted," per the statement.