After 80 Years, New York's Iconic Carnegie Deli Is Closing for Good
The iconic jewish deli has served heaps of pastrami in Times Square for decades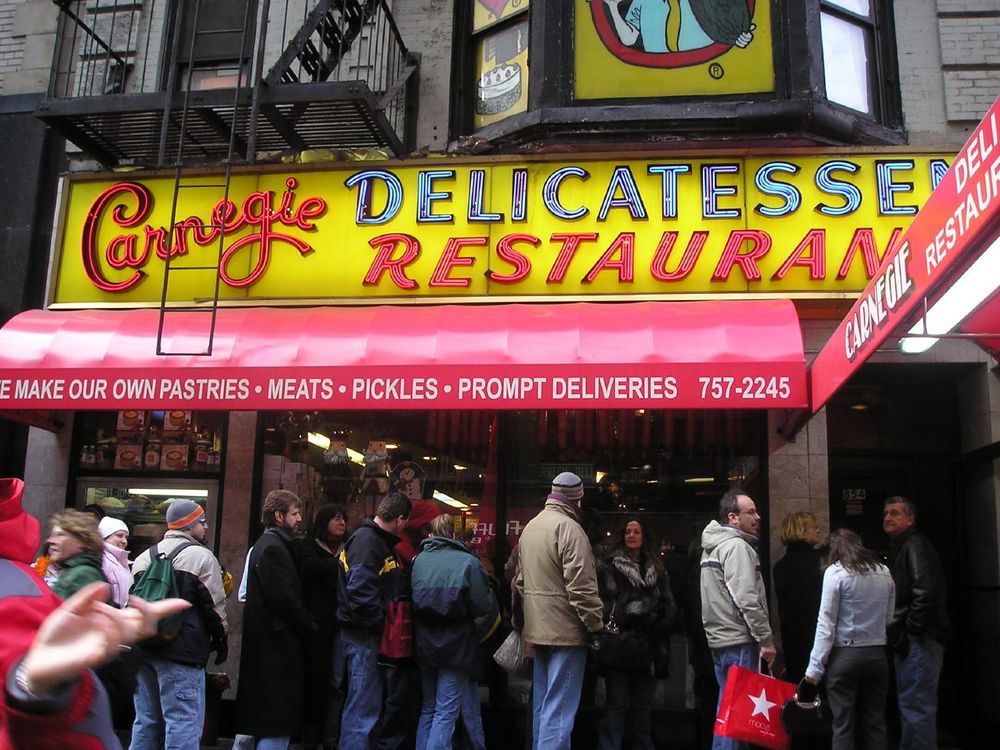 For 80 years, Times Square's Carnegie Deli has served classic Jewish cuisine in heaping portions to tourists, celebrities and locals alike. Over the decades, the place became well-known for its massive portions of pastrami on rye and its fluffy cheesecakes. However, several years of struggles have finally taken their toll, and its owner announced that after nearly a century of selling sandwiches and prepared meats, the iconic delicatessen will close at the end of this year.
These days, the Carnegie Deli is more of a tourist trap than a celebrated establishment like its downtown rival Katz's Delicatessen, but it certainly has a storied place in New York City's history. With walls famously plastered with signed photographs of celebrities who have stopped in for a bite and a location in the heart of Midtown, its a mecca for visitors and long-time locals alike looking for a classic half-sour pickle and heaping portions of meat, Greg Morabito writes for Eater.
"It's history. I lived here 30 years ago and would come here once a month," Joseph Lebzelter, a diner at the deli visiting from his current home in Israel, tells Trevor Kapp for DNA Info. "It's a landmark. This is terrible news."
The restaurant famously featured in the opening to Woody Allen's classic film Broadway Danny Rose and has since expanded with sister locations in Madison Square Garden, Las Vegas and Bethlehem, Pennsylvania. However, the original deli has been hit with several years of troubles, including a wage theft lawsuit, being forced to temporarily close due to an illegal gas hookup, as well as the public and contentious divorce of its current owner and her husband, Kelly Dobkin reports for Zagat.
"As you may know; the restaurant business is one of the hardest jobs in New York City. At this stage of my life, the early morning to late night days have taken a toll, along with my sleepless nights and grueling hours that come with operating a restaurant business in Manhattan," owner Marian Harper Levine said in a statement, Kapp reports. "I'm very sad to close Carnegie Deli New York at 854 7th Avenue, but I've reached a time in my life when I need to take a step back."
Harper Levine made the announcement early this morning as staff gathered for the opening shift. The restaurant has been in her family since her father bought it from the original owners 40 years ago. According to Kapp, the decision to make the announcement now came in order to give staff ample chance to find new work, while allowing them to collect tips through the busy holiday season.
"It's sad. New York is losing a famous place," limousine driver Carlos Lozano tells Kapp. "People I drive want to come here to visit. It's famous all over."
While the original location will close its doors for good on December 31st, the name will live on—Harper Levine plans to keep the satellite locations open, as well as to franchise out the Carnegie Deli name. Whether you think of the long-running restaurant as a tourist trap or a vestige of a bygone era, the disappearance of yet another Jewish delicatessen from New York City's food scene is certainly something to mourn.