A Long Low Tide Dries Up Venice's Smaller Canals
A high-pressure anticyclone is driving the situation, making it difficult to get around the carless city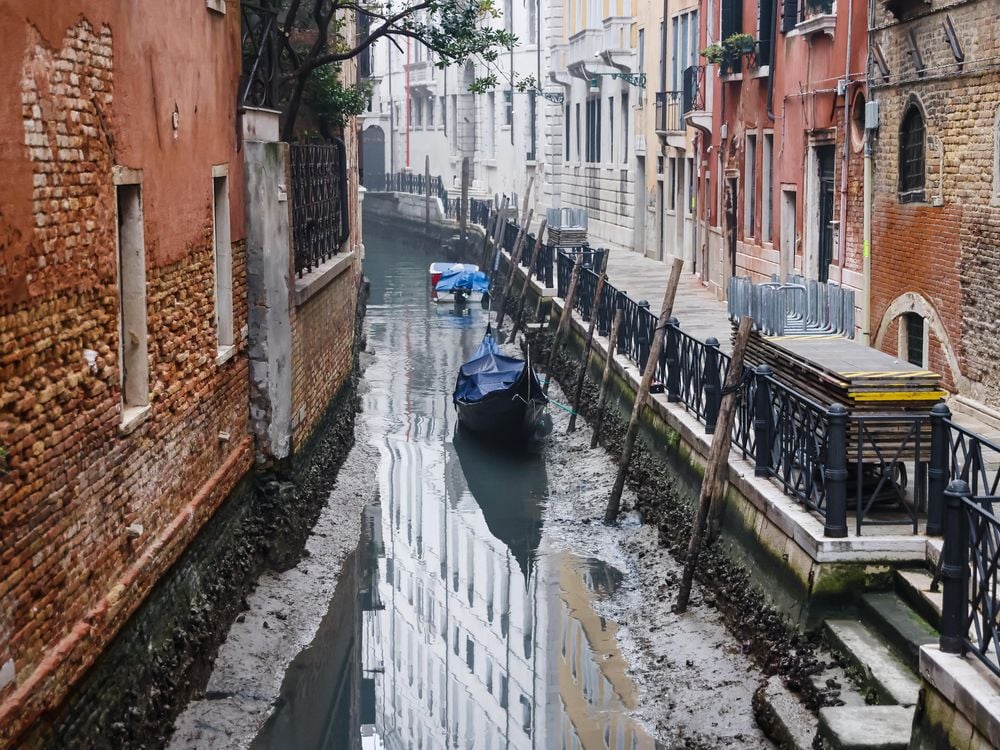 Historic low tides have dried up some of Venice's smaller canals, leaving many of the Italian city's famous gondolas stuck in the mud.
The nearly empty waterways have made it more challenging for emergency boats, water taxis and delivery drivers to get around in the carless city, which relies on its canals in the way that most other cities rely on streets and roadways. Over the weekend, tidal measurements were more than half a meter (roughly 1.6 feet) below their normal levels, reports the London Times' Philip Willan.
City officials say a high-pressure weather system—called an anticyclone—that's hovering over western Europe is causing the low tide. Combined with a full moon and sea currents, the city faced a perfect storm for lower-than-usual water levels.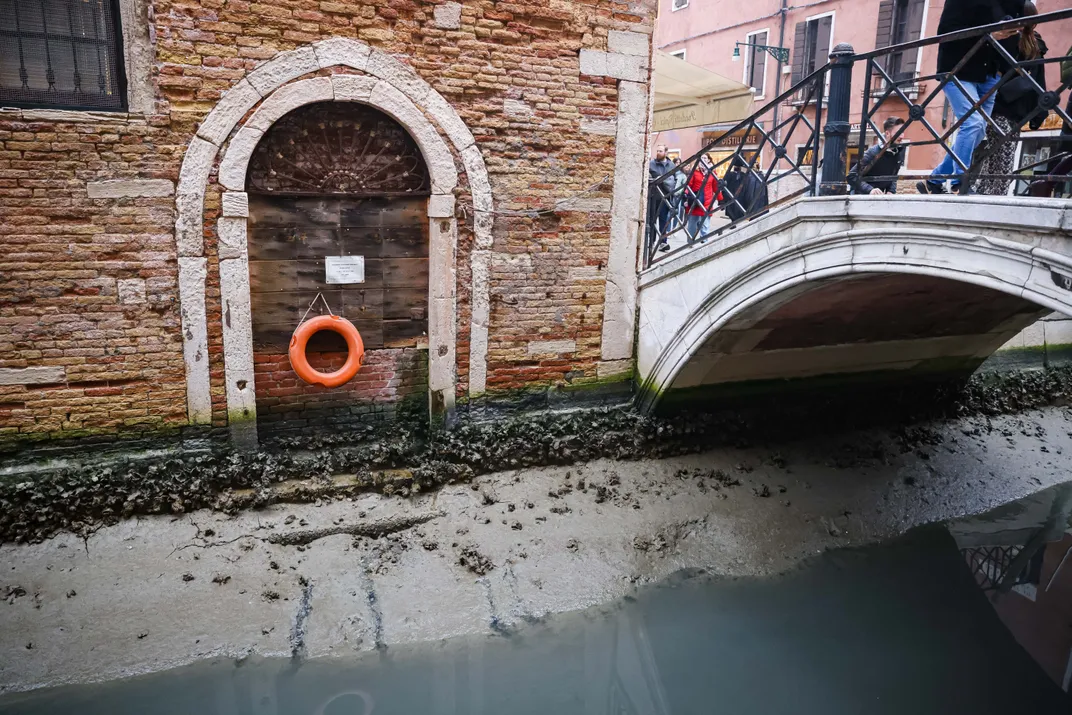 Venice typically experiences low tides in January and February. But this year has been unique because of the low tide's long duration.
"In the last 16 years, it has never been as prolonged as this," says Alvise Papa, who leads the Venice city council's tides office, to the Times.
Many of the city's larger waterways—such as the Giudecca and Grand canals—still have enough water in them to allow boats to get around. However, the low tide's effect on the smaller, secondary canals has affected daily life in Venice.
Ambulance boats, for example, have been forced to dock farther away from their intended destinations, making emergency responders continue the rest of the way on foot. In some instances, they've had to carry patients on stretchers over longer distances to get back to the boats.
The dried-up canals are also affecting tourism, which is one of Venice's main economic drivers. Gondolas transporting travelers cannot float under some of the city's iconic bridges.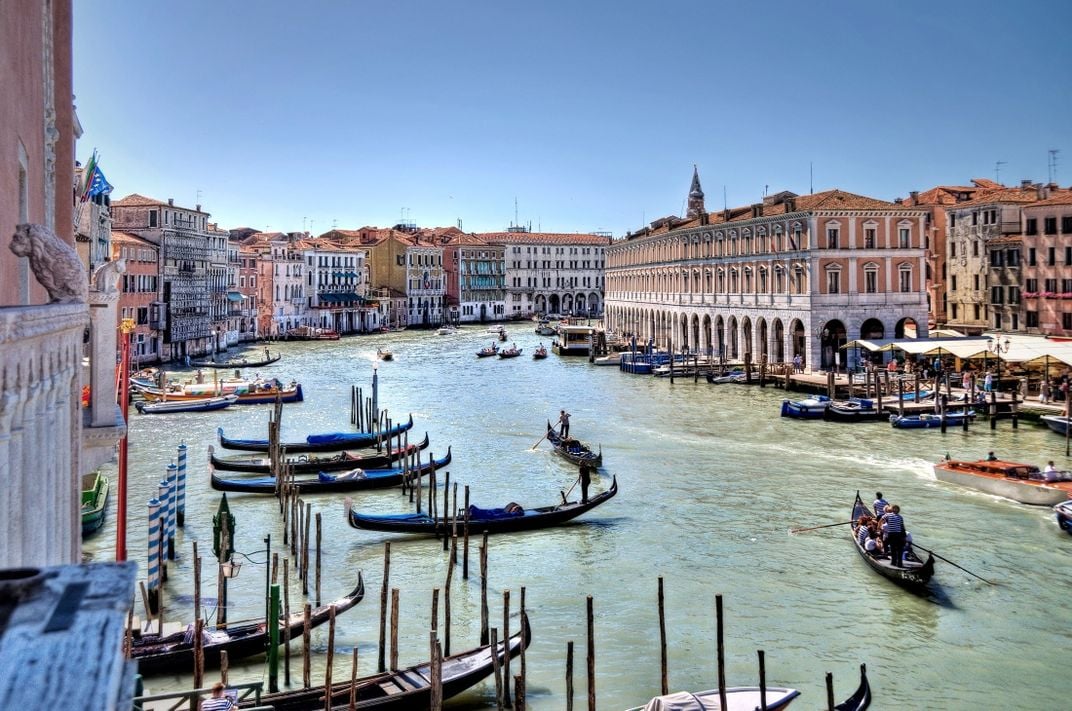 Venice typically grapples with the opposite problem: flooding. Built atop some 120 islands, the city could be underwater by 2100 in a worst case scenario as sea levels rise, spurred by human-caused climate change.
City officials say the current low tide in Venice is not related to the historic drought Italy experienced last summer. However, environmental groups are concerned about how little moisture the country has received this winter and worry that another drought may be on the horizon.
The Alps have received less than half the normal amount of snowfall, and water levels are down in many of the country's lakes and rivers, per Reuters' Cristina Carlevaro. The Po River, which supports much of Italy's agricultural production, has 61 percent less water than normal for this time of year.
Last summer, the Po experienced its worst drought in seven decades, which contributed to billions of dollars of losses for farmers. The Italian government also declared a state of emergency for five regions affected by the lack of rain and hot temperatures.
Much-needed precipitation may be on the way for Italy, according to the latest weather forecasts. However, officials worry it won't be enough to head off another drought this summer. The country is facing a water deficit that's been building up since the winter of 2020 to 2021, experts say. In the northwest, Italy will need to recover at least 19 inches of water to balance last year's loss.
"There is a good possibility that rainfall in April and May can compensate—it's the last hope," Luca Mercalli, president of the Italian Meteorological Society, tells the Guardian's Angela Giuffrida. "If we have no spring rain for two consecutive years, then it would be the first time this has ever happened."