Venice Museums Re-Open After the City's Worst Flood in a Decade
How Venice and its cultural institutions will battle rising sea levels in the future is a larger question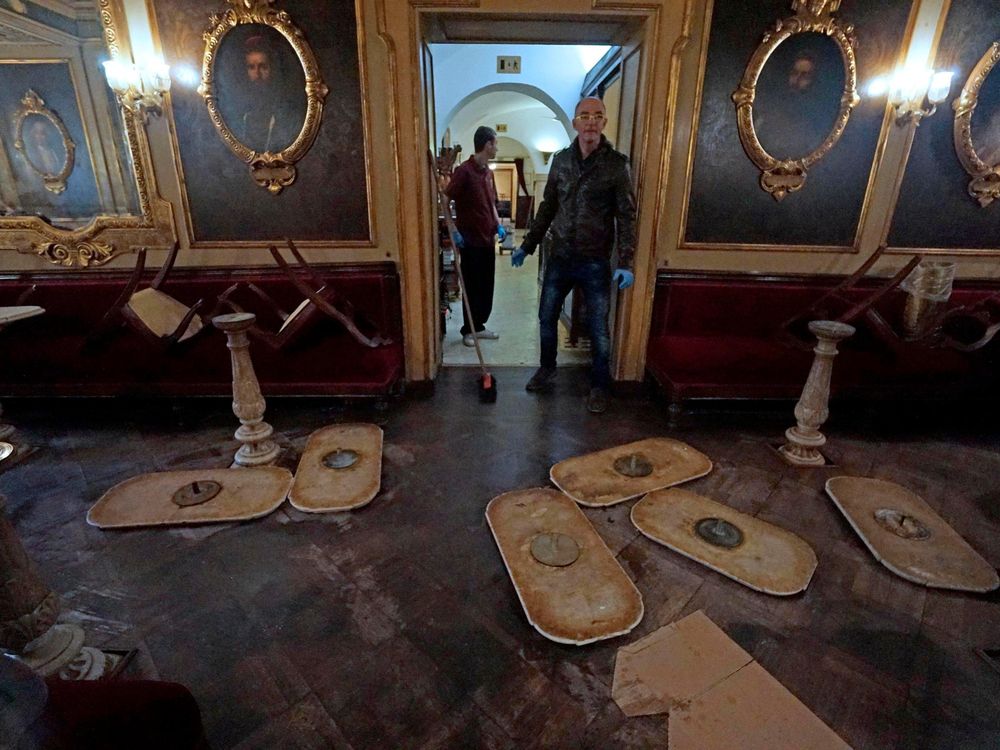 On Monday, an unusually high tide submerged most of Venice in more than five feet of water, flooding the iconic Piazza San Marco, sloshing over raised walkways and forcing tourists and residents to wade through water as they navigated the city's winding streets. Among the businesses and institutions affected were Venice's museums, which were forced to temporarily shut their doors. They have since reopened, Sara Cascone of artnet News reports, but questions linger as to how the city will fare as sea levels continue to rise.
Venice is certainly no stranger to flooding. The "floating city," as it has been dubbed for its many canals, sits on a lagoon and has been dealing with surging waters for centuries. Locally, the phenomenon is referred to as acqua alta, or high water, and it can be expected to happen about four times per year. But the inundation this week was particularly bad, driven by widespread storms that have left 11 people in Italy dead. In Venice, water levels reached their highest peak since 2008, reports the Associated Press.
Amidst the high-water alert, the Fondazione Musei Civici di Venezia, which runs the city's museums, shut down its 11 institutions, among them much-loved tourist haunts like the Saint Mark's Clock Tower, the Doge's Palace, Museo Correr and the Natural History Museum. Several pavilions of the Venice Architecture Biennale, an exhibition that will run until November 25, were forced to close, as was the Peggy Guggenheim Museum.
Fortunately, the museums have since reopened and they appear to be in good shape. Maria Cristina Gribaudi, the president of Fondazione Musei Civici Veneziani, tweeted recently that "no damage" was done to city museums, according to the Art Newspaper's Gareth Harris. A Peggy Guggenheim spokesperson told the publication that "the high tide did not affect the interior of the museum," and the Architecture Biennale said it counted 3,000 visitors when it reopened on Tuesday.
Whether the city and its cultural attractions will continue to be so lucky in the future is another question. Earlier this month, a study named Venice as one of 47 Unesco Heritage sites on the Mediterranean that face flooding and erosion risks over the next 100 years, due to rising sea levels triggered by climate change. According to the worst-case flooding scenario modeled by researchers, up to 98 percent of Venice and its saltwater lagoon could be subsumed by water.
The city does have a plan to save itself from destructive flooding: MOSE, a $6.7 billion infrastructure project consisting of a series of retractable gates that will sit at the entry of three inlets and rise up out of the water when tides get menacingly high, sealing off the Venice Lagoon from the Adriatic Sea. But the project, which began in 2003, has been beset by a corruption scandal, ballooning costs and structural issues. Marcello Rossi of City Lab reported in April that MOSE may be operational by 2020, but engineers have not been able to commit to a date.
If and when MOSE goes into effect, the barriers should last for 50 years. But it isn't clear, as Rossi notes, if the gates will be able to handle increased strain brought about by rising sea levels. One study has predicted that the Mediterranean will rise by up to five feet before 2100, which would make the city flood as much as twice a day at high tide.
Editor's note, 11/2/18: The story's subhed has been updated.