Nine Wildlife Stories You Should Have Read This Year
From geoducks to the Cahaba, here's what you missed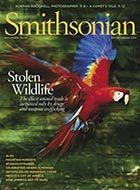 It's been a good year for wildlife stories in Smithsonian magazine. Here are nine you should read if you haven't already:
Geoducks: Happy as Clams: In the Pacific Northwest, fishermen are cashing in on the growing yen for geoducks, a funny-looking mollusk turned worldwide delicacy
What's So Hot About Chili Peppers?: An American ecologist travels through the Bolivian forest to answer burning questions about the spice
In Search of the Mysterious Narwhal: Ballerina turned biologist Kristin Laidre studies the elusive, deep-diving, ice-loving whale known as the "unicorn of the sea"
Finding Feisty Fungi in Antarctica: On treeless Antarctica, wood fungus is feasting on polar exploration relics
The Cahaba: A River of Riches: An unsung Alabama waterway is one of the most biologically diverse places in the nation, home to rare flora and fauna
Return of the Sandpiper: Thanks to the Delaware Bay's horseshoe crabs, the tide may be turning for an imperiled shorebird
Invasion of the Longhorn Beetles: In Worcester, Massachusetts, authorities are battling an invasive insect that is poised to devastate the forests of New England
Wildlife Trafficking: A reporter follows the lucrative, illicit and heartrending trade in stolen wild animals deep into Ecuador's rain forest
Ethiopia's Exotic Monkeys: High in the Simien Mountains, researchers are getting a close-up look at the exotic, socially adventuresome primates known as geladas
What animal, plant or other creature should we investigate in 2010?