What Do the Most Innovative Chefs Keep in Their Fridges?
A new book gives a peek inside the home refrigerators—and minds—of some of Europe's top culinarians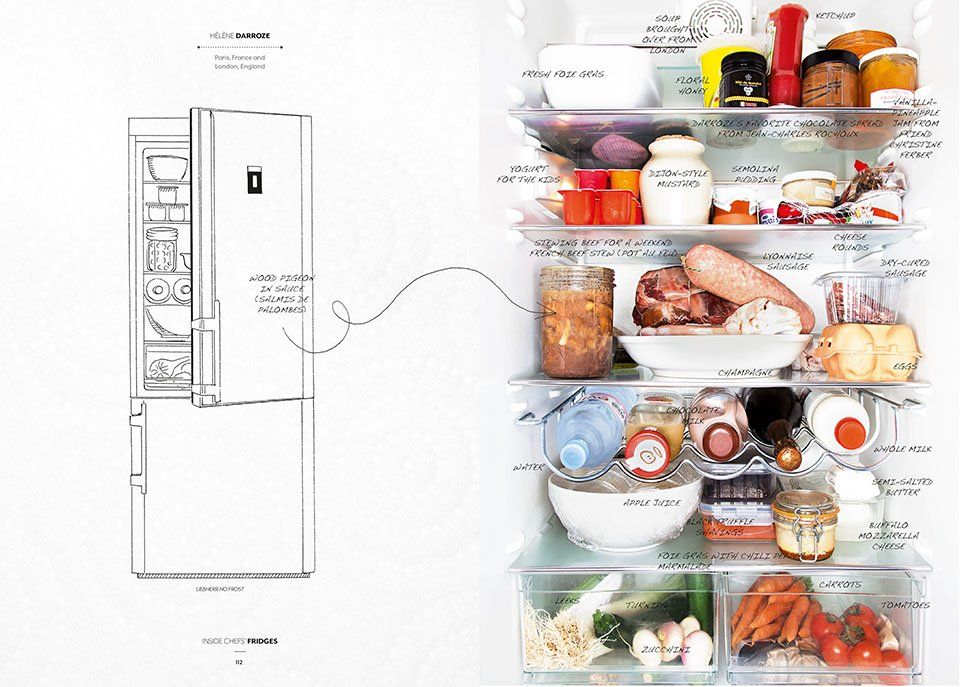 Chefs are the mad scientist-innovators of the 21st century. They play with vacuum chambers and liquid nitrogen, turn butter into powder and olive oil into caviar, forage for obscure vegetables and experiment with bubbling vats of brine.
For those who find all of this fascinating, a new book, Inside Chef's Fridges, Europe, by food writer Adrian Moore and photographer Carrie Solomon, gives us a peek into the home refrigerators—and imaginations—of some of the world's top food trailblazers. There are more than 40 chefs featured, some internationally famous (patissier Pierre Hermé, TV personality Marco Pierre White), others respected up-and-comers. Each chapter includes recipes—most achievable by the home cook. 
The book's forward is written by Nathan Myhrvold, the former chief technology officer of Microsoft who took a break from the tech world to research and write 2011's six-volume, 2,438-page Modernist Cuisine, a cookbook which breaks down barriers between food and science with techniques like centrifuging cream and using ultrasonic homogenizers to make purees. In the forward, Myhrvold gives an ode to the refrigerator, reminding us that the most taken-for-granted of kitchen fixtures is, in fact, one of humanity's most important inventions. "If you really want to learn about a person, look in their refrigerator instead of their medicine cabinet," he writes. "Those chilly time capsules are windows into where and how we live, and, ultimately, who we are."
While the fridges in the book have plenty of ordinary ingredients—tonic water, Tabasco sauce, yogurt and green peppers—what makes them interesting are the funky, out-there foodstuffs you may never have heard of—stuffed goat's tripe, fermented daikon radish juice, winter's bark leaves, asparagus ice cream and sea buckthorn sorbet. 
Bo Bech, Denmark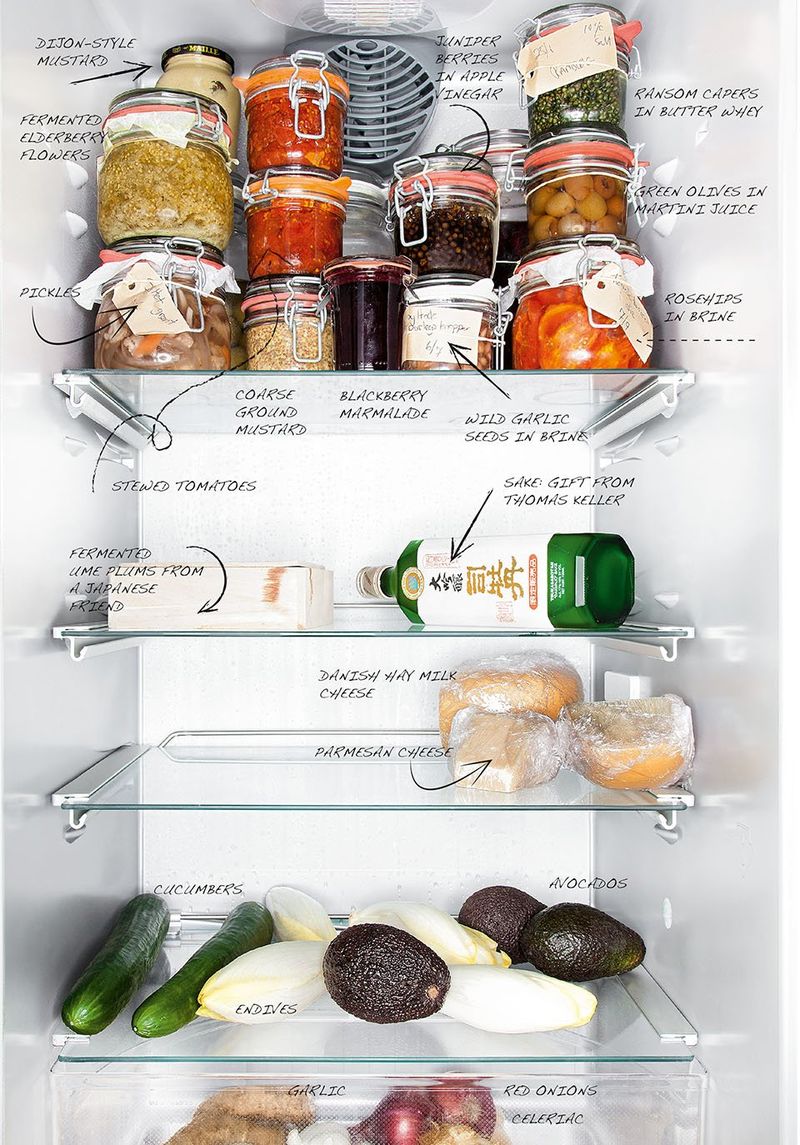 Though chef Bo Bech is best known in his native Denmark for hosting the country's version of "Kitchen Nightmares," he made his bones helming Michelin-starred Restaurant Paustian and Geist in Copenhagen. His fridge is a science lab of exotic fermented foods. There are wild garlic seeds in brine, capers in butter whey, fermented elderberry flowers, brined rosehips and juniper berries in apple vinegar. The ancient practice of fermentation has lately attracted some of the food world's most curious minds, who experiment with time, temperature, pH and salt level in search of the ideal way to preserve and enhance flavors.
Massimo Bottura, Italy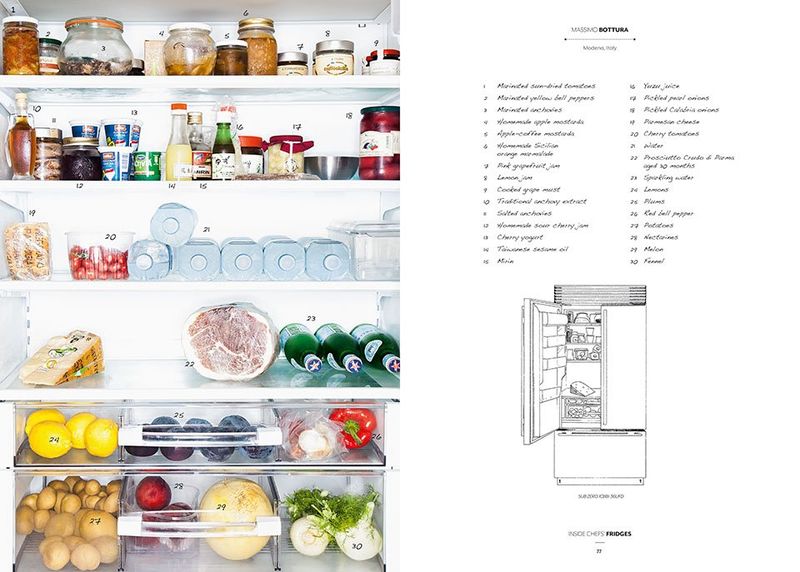 Chef Massimo Bottura upended convention when he opened Osteria Francescana in his conservative hometown of Modena, Italy in 1995. Back then, locals expected things to be done one way: nonna's way. Bottura's wild innovations used modernist techniques to riff on traditional Italian favorites—think tortellini placed on a bed of gelatin, which wriggled when poured with hot water. Though it took a while for the Modenese to warm to Osteria Francescana, the restaurant has since been awarded three Michelin stars.
Bottura's fridge is a tour of Italy's hyper-local specialties. There's 30-month aged prosciutto di Parma, pickled Calabria onions, Sicilian orange marmalade, cooked grape must (a strong juice that's produced in the first steps of winemaking), traditional Italian fish sauce (a relative of garum, the favorite condiment of ancient Romans). His recipe for parmesan risotto contains a trick—cook a chunk of parmesan with water the night before to make a rich, cheese-infused cooking liquid.
Hélène Darroze, France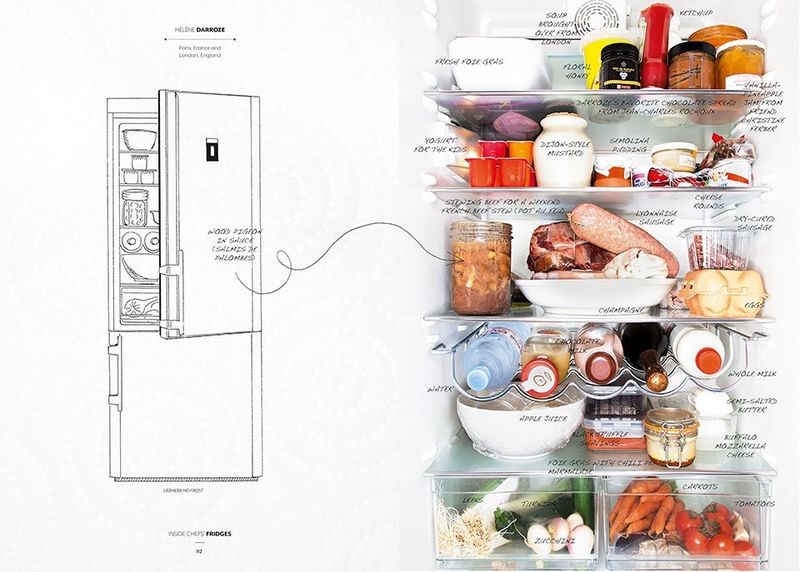 Hélène Darroze is considered one of the world's greatest French chefs. With two eponymous restaurants—one in London, one in Paris—Darroze has introduced diners to her innovative global take on Gallic cuisine. A dinner might include tuna enhanced with the Japanese flavors of shiso and dashi, grouse with both foie gras and a Mexican molé sauce, and a traditional French savarin cake spiked with Southeast Asian lemongrass. Darroze's fridge is a Francophile's dream—leeks, Lyonnaise sausage, a crock of Dijon mustard, chocolate spread, two kinds of foie gras and champagne, bien sûr! Her recipe—a salmis (a dish where roasted meat is cooked in a rich sauce) of wood pigeon—hews close to tradition. If you find wood pigeon stateside, let us know!
Sven Elverfeld, Germany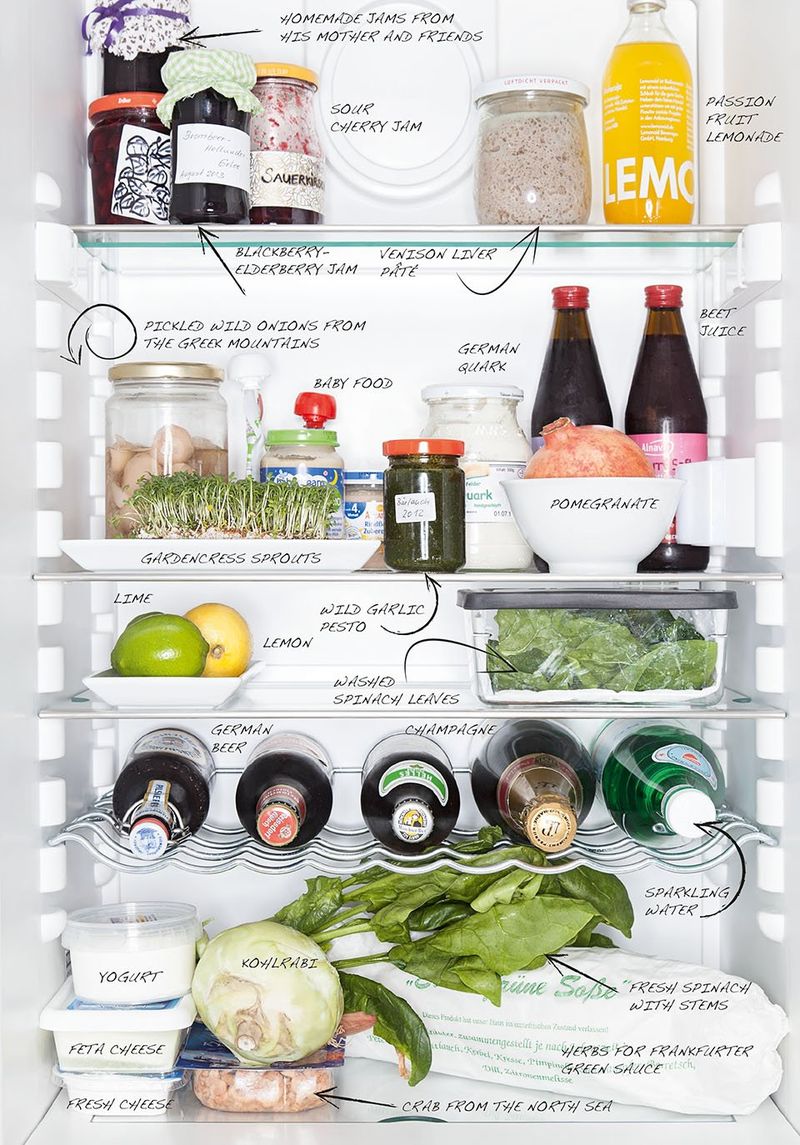 Having trained in locations as far flung as Greece, Dubai and Tokyo, German chef Sven Elverfeld takes a global perspective on food. His restaurant, Aqua, in the industrial city of Wolfsburg, has become a pilgrimage for foodies eager to taste his cutting-edge takes on European cuisine: blue lobster with Thai spice and "waffles," charcoal-cooked pork belly with vinegar foam, herb-infused chocolates. His fridge, fittingly, is a tour de Europe. There's a jar of German quark cheese, a venison liver pâté, some North Sea crabs and feta and Greek pickled onions. His recipe, for crab and egg "tacos," is like nothing we've ever seen—brown bread "taco shells" surrounding warm egg and crab salad topped with a sauce of fragrant green herbs.
Magnus Nilsson, Sweden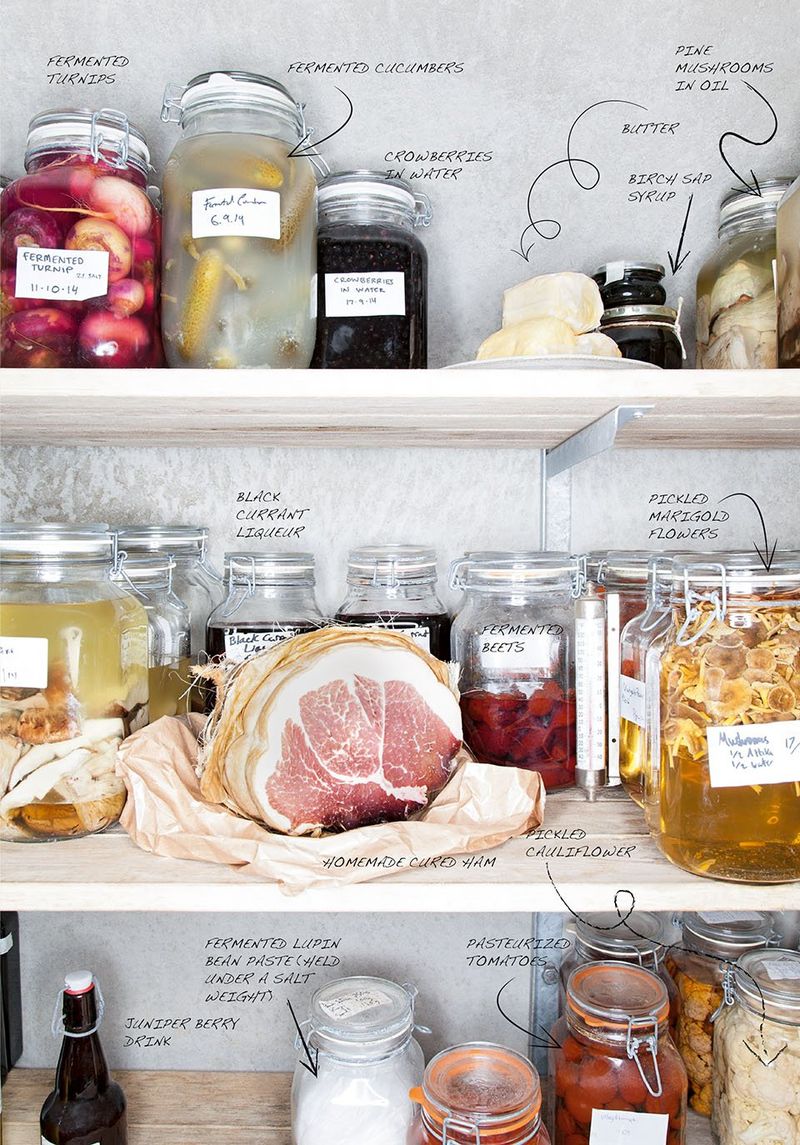 New Nordic cuisine has been having its moment in the sun, in no small part thanks to Magnus Nilsson, the Swedish chef who runs Fäviken in the country's far-flung Jämtland province. Those who make the journey will be fed with traditional Swedish homegrown vegetables and locally hunted game, but prepared in startling ways. A meal might include, say, a "sushi" of trout roe served in a shell of dried pig's blood, cockles injected with beer and "bog butter" infused with lichen. Nilsson's fridge reflects his fascination with local bounty and traditional methods of preservation: birch sap syrup, a jar of crowberries in water, pine mushrooms in oil and a drink made from juniper berries. "Curiosity is so important," Nilsson says, in his chapter. "Discovery is just a part of life."