For a century, Jordan Creek cut across downtown Springfield, Missouri. As in so many other 19th-century cities, the waterway was a founding centerpiece of the town. But over the decades, the creek regularly unleashed a tantrum of flooding into the city's commercial heart. By 1927, residents had tired of rebounding from one watery attack after another. They created tall concrete banks to cage the creek. When that wasn't enough and the area flooded again five years later, the city entombed the waterway, adding a lid and encasing it in tunnels hidden under city streets.
"It was man's attempt to confine and control this floodwater," says Kirkland Preston, an engineer in Springfield's Public Works Department. "That was the old way of thinking."
For a while, that controlled the floods. But the creek festered in its concrete coffin, a stagnant dumping ground for junk that filled with polluted runoff in seconds during storms and overflowed into other streams. Eventually, the water won. It always does. The neighborhood flooded in 2000, 2008 and 2016. Property damages ranged from $1 million to $15 million. For two decades, the city discussed freeing the creek and allowing water to disperse over the floodplain. Finally, after a process that involved public input, a design phase and securing funding, a $25 million plan to uncover 1,100 feet of Jordan Creek and build three bridges is moving forward.
"The new way of thinking is to give the water some room, allocate the riparian area to floodings and just let nature be nature," says Preston, the project manager for Renew Jordan Creek.
Exhuming buried waterways to bring them back to life is a process known as "daylighting." Concrete culverts and other coverings are removed and an attempt is made to restore the natural flow and the surrounding ecosystem. Prodded partly by increased flooding resulting from more intense and more frequent rainstorms, cities across the country are shining the light on once-dark creeks, streams, brooks and rivers. Boston; Providence, Rhode Island; New York; Berkeley, California; Dubuque, Iowa; Norfolk, Virginia; Detroit; St. Louis; and Charlotte, North Carolina, have all either completed daylighting projects or have them in the works.
The primary goal of the Springfield project is flood control. But, like other daylighting projects across the country, the work has a variety of benefits. Native plantings will help improve the water quality by filtering storm runoff. The stream will replace what has become an unsightly, graffitied landscape that is an unsafe sheltering spot for the city's homeless. As the design report notes, the green space will become jewelry in a "string of pearls" connecting parks and green areas in the city's "Quality of Place" initiative. "Words like 'transformational' get used a lot to describe the project," Preston says, "because it is an underutilized part of downtown and it's right near Missouri State University. It has the potential to be really impactful."
The benefits go beyond mitigating flooding and creating soothing green spaces, too. Ann Riley, the author of Restoring Neighborhood Streams and one of the first proponents of daylighting, likes to say that "stream restoration is neighborhood restoration."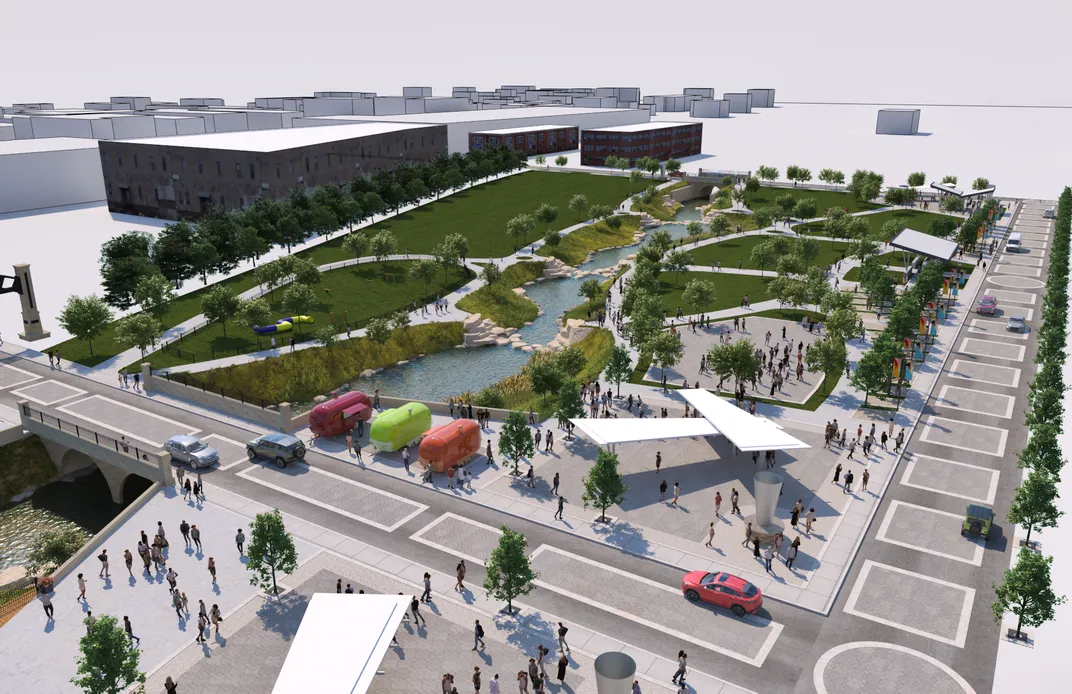 Proponents in the early days decades ago, she says, often were business owners who wanted to make urban areas attractive again. The Springfield project may spur economic development and increase property values and tax revenue, something that's happened in other cities. Returning the Napa River as the centerpiece of Napa, California, removed a requirement for flood insurance and is credited as a catalyst for $1 billion of investment in hotels, shops, restaurants and office space.
In other cities, daylighting helps relieve the pressure on overburdened stormwater and sewer systems. It diverts clean water from wastewater plants, saving cities money to pay for treatment. While the projects can be expensive, they end costly maintenance. In a few cities, cost-benefit analyses showed returning to nature was cheaper than maintaining concrete culverts. And they may right a wrong. In some cities, public housing was built atop buried rivers, causing flooding and health problems for residents. Norfolk, Virginia, tore down public housing and daylighted a creek that is the core of a park that also provides flood protection.
"Daylighting reveals another layer of these hidden worlds of streams, right under our feet in the cities," says Gary Belan, senior director of clean water supply at American Rivers, which has promoted the practice and published a white paper on it. "It's exciting to be able to re-explore and rediscover those assets."
Those waters initially were the heart of cities. But as cities grew, flooding became a problem. So did the lack of space. Burying streams created room for housing and industry. The combination of development and streams channeled into underground pipes became a solution that was a problem. Roads and other hard surfaces prevented water from soaking into the ground and funneled more rainwater into the enclosed streams than they could handle.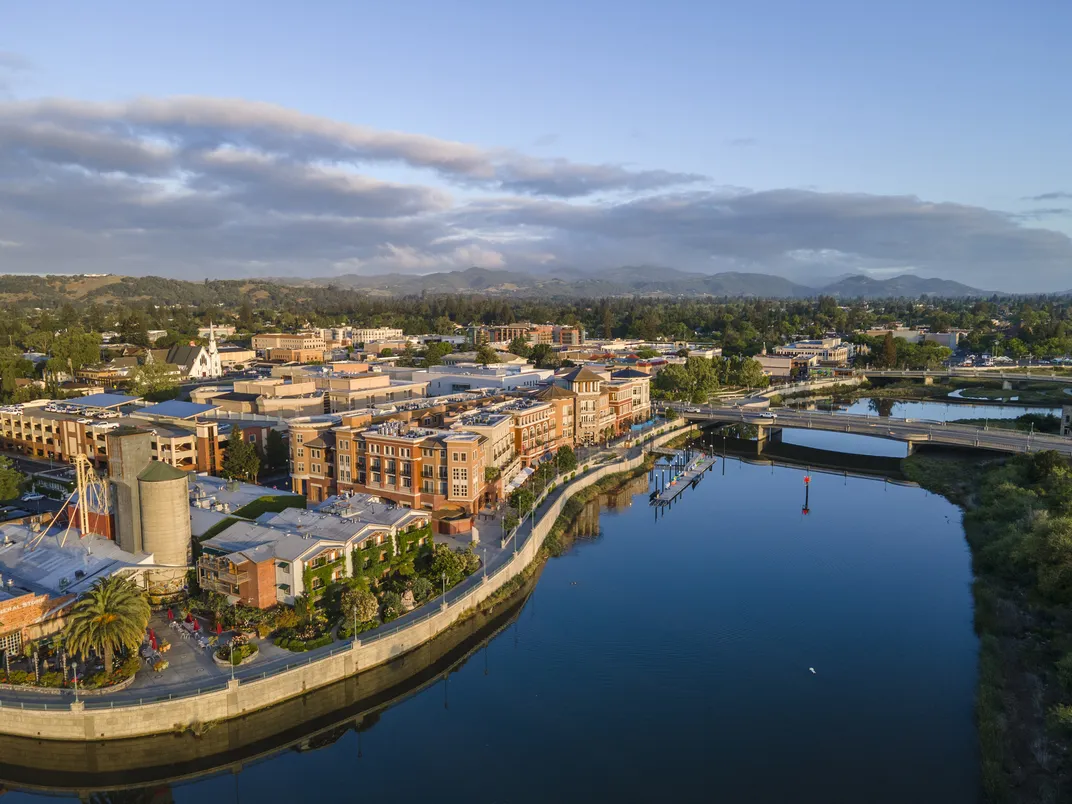 That cycle repeated in city after city. Stream after stream disappeared, lurking below. Researchers at the University of Maryland reported that 66 percent of Baltimore streams are buried. One study found that Philadelphia had covered 73 percent of its streams. Detroit has lost 85 percent of its stream channels since 1902. An interactive map created by the District of Columbia shows the dramatic transformation: a squiggly maze of historical streams, and a smaller, sterile portrayal of what remains. Only 30 percent of the streams that flowed through the district at the start of the 19th century remain today. Washington, D.C. is among cities including Oakland, California; Baltimore; and Portland, Oregon, that have created buried stream maps.
Look at old maps of streams and creeks now enclosed and you'll see urban areas flooding today, as the old culverts no longer have the capacity to manage modern "rain bombs" that can dump two to four inches of precipitation in an hour. "A lot of cities have decided to do this [daylighting] as the flooding becomes too much of a problem," Belan says. "They need to give the water more room."
Eric Sanderson, a senior conservation ecologist with the Wildlife Conservation Society, has written that New York's map where extreme flooding occurs "is, for all intents and purposes, a map of the old streams."
Bringing streams out of the darkness can be expensive. In one of New York's largest infrastructure projects, the city is daylighting Tibbetts Brook, a small stream that flows from Yonkers to the Bronx and into the Harlem River. Part of the brook was buried in 1912. The cost of uncovering a mile will run $133 million, including acquiring real estate.
For decades, environmentalists campaigned to daylight the brook, which adds 2.2 billion gallons of freshwater into outdated pipes that carry combined sewage and stormwater to treatment plants. Nothing happened. In 2021, rain from the remnants of Hurricane Ida overloaded the system. In the Bronx, the surveyors later found water reaching close to six feet in Van Cortlandt Park. The Major Deegan Expressway became a river, submerging dozens of vehicles.
For New York, restoring the brook is a bargain. The city is under a consent order with the state to reduce stormwater overflows and improve water quality. Daylighting Tibbetts Brook is designed to provide a combined sewer overflow reduction to the Harlem River of 220 million gallons per year, about 25 percent of the overages. "This made this project one of the most cost-effective green infrastructure projects and at a magnitude that was incomparable," says Angela Licata, deputy commissioner of sustainability for the city's Department of Environmental Protection. "This really was a trifecta of [combined sewer overflow] reduction, recreational improvements, and the ecological co-benefits of having the water exposed again to air and running through a wooded habitat."
While the Tibbetts project won't begin construction until 2025, Licata says she hopes it will be the first of more daylighting projects that may fit into New York City's Bluebelt Program, which preserves natural drainage corridors. "As an ultra-urban mega city, we paved over quite a lot of these streams and brooks," she says. "We very much want to see whether or not we can find another stream to daylight, another corridor with which to release a stormwater flow that could then be part of a natural stream."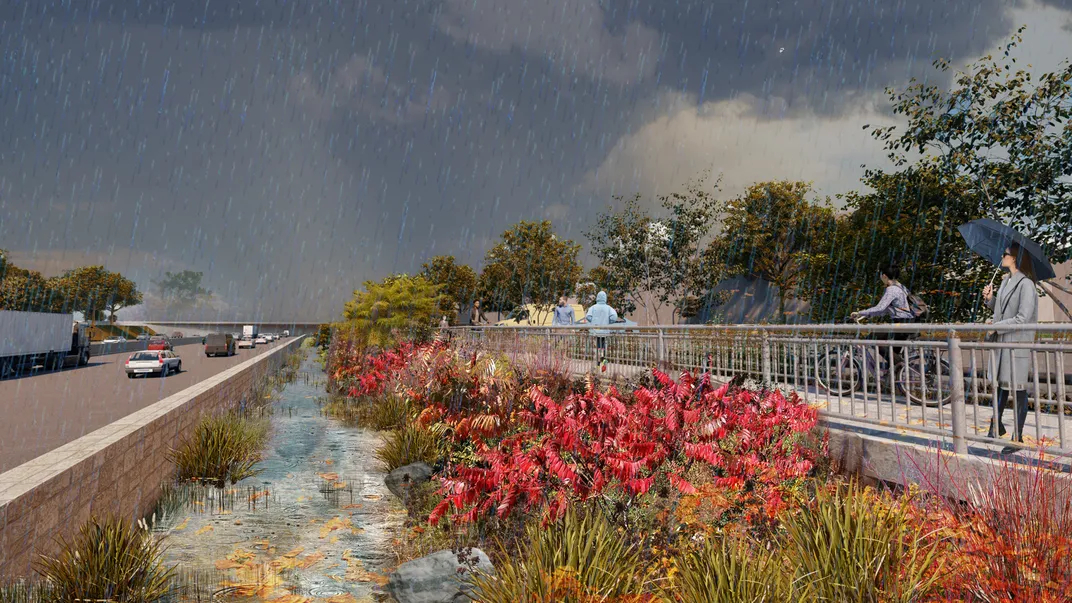 New York City could look to Kalamazoo, Michigan, for an idea of what the future holds for a daylighting project. In 1995, the city uncovered five downtown blocks of Arcadia Creek, hidden for a century and used as a sewer. The plan was part of redeveloping the area, which had become depressed after repeated flooding. It came together through an alliance of citizens, local businesses and the city. The city issued bonds to fund the revitalization. A community college constructed three buildings, including a museum. A consortium of local hospitals built a cancer center, and a bank invested in a building. Historic buildings have been renovated. Restaurants, a hotel, housing and other businesses followed. A parking lot became a pond, the end point for the creek and the site of festivals. The $18 million public investment has yielded hundreds of millions of dollars in private investment, increasing the city's tax base.
Because the city had grown up so close to the creek, recreating a naturalized channel was not possible. So Kalamazoo built an artificial revision of an artificial creation, daylighting the creek but also pouring deeper culverts to control flooding. That removed the requirement for flood insurance in the area. When a 100-year storm flooded the area in 2018, Arcadia Creek worked, keeping the downtown dry.
Arcadia Creek proved to be, as Riley says, a stream restoration that was a neighborhood restoration.
The project anchored a number of institutions in the city's downtown, brought millions of dollars of private investment and spurred other restoration efforts in the area. "I think Kalamazoo can look at the daylighting of the Arcadia Creek as the beginning of the revitalization of downtown," says Jeff Chamberlain, a deputy city manager. "It had a ripple effect."