This All-In-One Appliance Can Whip Up Entire Dishes
The German-made Thermomix—the Swiss Army knife of kitchen appliances—has a cult-like following in Europe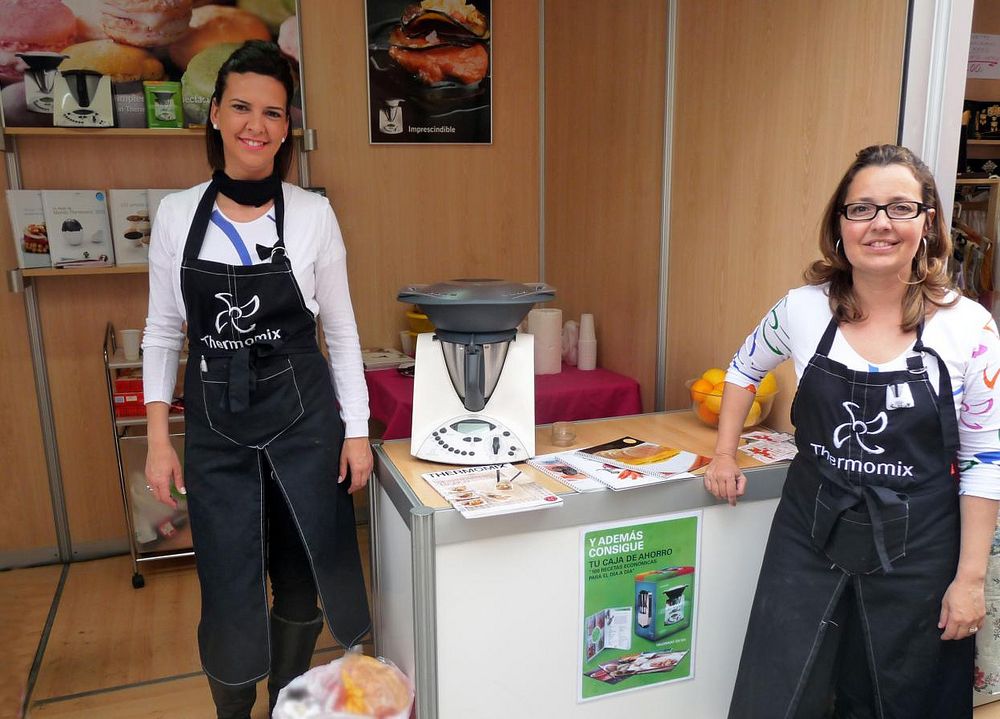 It chops, mixes, blends, kneads, steams, melts, measures and cooks with the best of them. All-in-all, the Thermomix kitchen gadget does the work of 12 separate appliances, boasting enough multi-functionality to process entire dishes such as Thai soups and pasta salads.
The latest TM31 model, a thoroughly modern upgrade compared to the original VM 2200 version introduced in the 1970s, has proven itself beyond its gimmicky selling points (one professional chef even praised it as a "serious piece of arsenal"). Thus, the Thermomix is the rare gizmo that has, over the years, steadily amassed a devoted, almost cult-like following among gastronomes and casual foodies alike.    
The most die-hard of these enthusiasts have taken to social media, blogs and forums to share recipes and cooking tactics. There's even a companion magazine dedicated to this particular art of robotic cooking. These avid users reason that the time and money saved in utilizing the product, along with less processed ingredients, justify the obsession. The machine, for example, turns granulated sugar into the kind of powdered sugar that's often sold for several times more. Choice, an Australian consumer reviews website that independently tests products, commends the Thermomix's ability to whip up ready-to-bake muffins or biscuits in a matter of minutes and healthy refreshments like smoothies in just seconds. Besides a wide range of main courses, the device can be used to quickly turn out desserts like pastries, ice cream and yogurt.
Packing the prowess of several appliances into something the size of a large toaster oven was achieved through decades' worth of fine-tuned resourcefulness. For comparison's sake, the most comparable appliance in the U.S. is the KitchenAid stand mixer, which has interchangeable attachments to whip, mix or knead ingredients. The beauty of the Thermomix is that its mixer bowl is augmented with a timer-controlled heating mechanism that enables it not only to cook, but also steam vegetables, melt butter and emulsify sauces and seasonings. A video segment on the Wall Street Journal's website shows how, in preparing a cod and spinach dish, each of these processes are carried out simultaneously using a system of specialized compartments stacked on top of each other. With ingredients like raw cod, spinach, zucchini, and a mixture of onion and carrots placed in their respective containers, the heat is funneled into the various chambers through cleverly located openings as it rises up. Once cooking is done, the ingredients are then removed and put aside, while the fish chunks are transferred into the stainless steel bowl to shred. After that's completed, the steamed zucchini is blended along with the rest of the vegetables prior to being mixed together
Thus far, the gadget's rapidly rising popularity is mainly a European phenomenon, most notably in countries like Italy, Spain and Portugal, where the mechanical chef's assistant even outsells premium iPad tablets, according to the Wall Street Journal. Known as the "Bimby" around these parts, Portuguese consumers bought more than 35,000 of them last year, and the company expects their flagship kitchen-top systems to be a cornerstone appliance for 8 percent of the nation's households by the beginning of next year. You know a product has truly arrived when it enters the collective vernacular. Portuguese Parliament representative Cecilia Honorius called Deputy Prime Minister Paulo Portas "a governing Bimby" for trying to do too much at once.
Interested buyers in the U.S., however, would have to purchase a version of the $1,327 ultimate cooking machine from an international classifieds site like eBay. Vorwerk, the German household products conglomerate behind the Thermomix, once peddled the previous iteration of the device to American consumers through certified representatives who personally visited people's homes to demonstrate the technology's versatility and all-around niftyness. The razzle-dazzle  cooking demos were somewhat reminiscent of door-to-door Kirby vacuum cleaner pitches. Kirby salesmen would gladly take on a menial household task in hopes of woo-ing the prospective client into a major buy. For the Thermomix, this practice stopped in 2004, when Vorwerk shifted its strategy to marketing a newer model to more receptive regions of the world.
Though its difficult to understand exactly why the Thermomix never caught on among the American populace, local loyalists do feel that the failing boils down to at least two big factors. Besides costing nearly a grand and half, a steep price point, the system isn't as intuitive as your typical single-use appliance and even requires some degree of training. Considering that owning one involves a degree of personal investment, buyers aren't just committing themselves to a machine, but a lifestyle.
According to reporter Marlene Parrish of the Pittsburgh Post Gazette:
…because of a badly translated cookbook, no advertising or marketing, zero word of mouth and the absence of a well-informed and well-practiced teaching force, it's Flop City for Thermomix in the United States. The few chefs who have this model use it occasionally, but mostly, it sits idle; the learning curve is too steep.
Perhaps the inevitable integration of newer smart technologies such as sensors and sophisticated software enhancements will someday mitigate these barriers. The Thermomix fan site SuperKitchenMachine reported that Vorwerk is expanding operations, which has stirred up some speculation that the company may be gearing up to debut a new and improved model sometime in the near future. For now, however, it doesn't appear as if the German maker will re-introduce an all-in-one to Americans anytime soon.