The Factory That Oreos Built
A new owner for the New York City landmark offers a tasty opportunity to recap a crème-filled history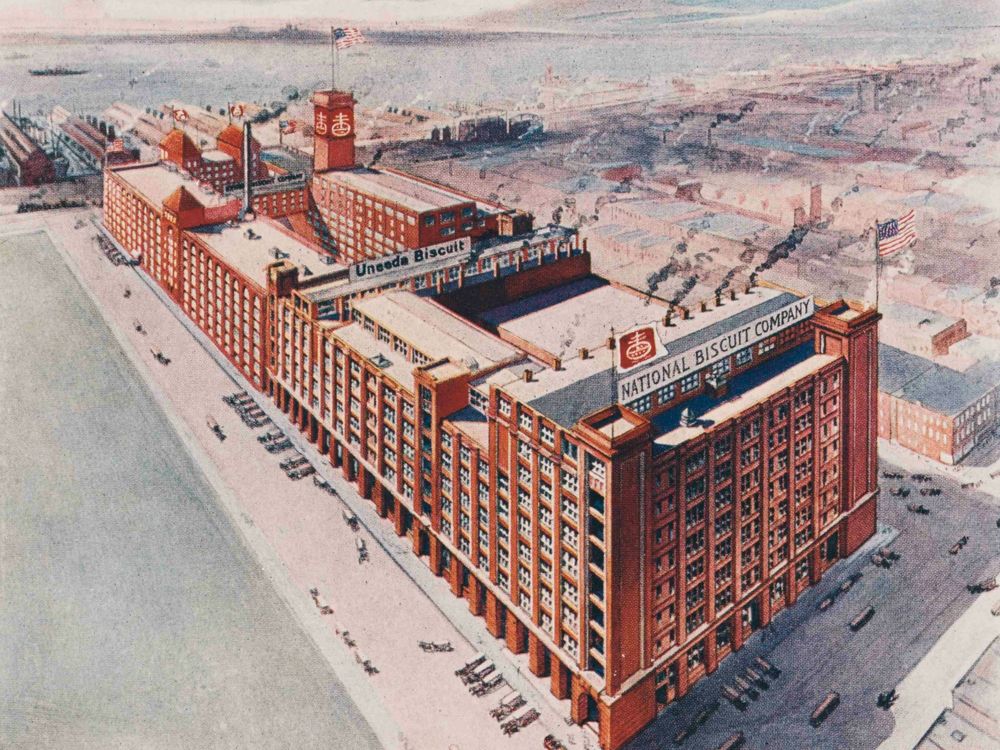 If walls could speak, the brick at New York's Chelsea Market would have more than a few stories to tell.
Alphabet (the parent company of Google) purchased the building in March of 2018 for $2.4 billion—an earth-shattering figure even in New York City's real estate market—but this isn't a glittering, 21st-century beacon, a symbol of the ingenuity of Silicon Valley. In reality, the looming brick structure remains largely the same as it did more than a century ago, when it served as headquarters for the iconic snack company Nabisco.
Traces of the building's storied past are still visible throughout the modern-day food hall and tourist hub. Faded murals depict "Oreo Sandwich" and the iconic Uneeda Biscuit boy in his emblematic yellow slicker and rain hat holding a tin of biscuits—an ode both to Nabisco's innovations in packaging (Uneeda was the first prepackaged biscuit, thanks to patented In-Er-Seal technology) and advertising (it signaled the first multi-million dollar ad campaign).
"Although New York has a richer history than any other American city, it does very little to preserve or memorialize its past," says John Baick, professor of history at Western New England University, where he teaches a course on New York City history. "But New York does not simply bulldoze history, at least not when something can be repurposed, And the new Google building represents another stage in the city's history, as industrial was replaced by the service industry, which will be replaced by the tech industry."
The building got its start in 1890 after a number of local bakeries merged to create the New York Biscuit Company and constructed an array of six-story Romanesque-style bakeries. Designed by Romeyn & Stever, they were built along Tenth Avenue between 15th and 16th Streets in the city's Chelsea neighborhood, named after the estate that stood on that land in colonial times. In 1898 the company amalgamated once again, this time with its Chicago-based competitor, the American Biscuit and Manufacturing Company. They called their new venture National Biscuit Company, which "supporters called Nabisco and opponents labeled the 'Cracker Trust,'" according to historian Mike Wallace in Greater Gotham: A History of New York City from 1898 to 1919.
Over the course of the next year, Nabsico—led by the fastidious co-founder and future company president Adolphus W. Green—worked tirelessly to introduce a new product that would set their freshly created company on the path to success. That product? Uneeda Biscuits. Green—a workaholic to the extreme—was something of a prescient businessman and understood the importance of freshness, consistency, branding and advertising long before they were the norm and the marketing of Uneeda Biscuits reflected his approach.
To go along with their new production goals, Nabisco staff architect Albert G. Zimmerman designed additional baking facilities adjacent to the original New York Biscuit Company bakeries, and soon added four fireproof structures—two of which were solely devoted to baking Uneeda Biscuits, while another was for Nabisco Sugar Wafers.
The new complex opened with great fanfare. "When the Uneeda Biscuit plant had been completed in New York City in May 1899, National Biscuit Company employees had proudly paraded through the streets, boasting of the opening of the biggest bakery ever," wrote William Cahn in Out of the Cracker Barrel: The Nabisco Story from Animal Crackers to Zuzus. "A platoon of mounted policemen cleared the way for the procession, headed by the 23rd Regiment band and followed by no less than 112 gaily decked horse-drawn bakery wagons, each bearing the words 'Uneeda Biscuit.' There were floats, too, one representing the famous Ferris wheel with huge Uneeda Biscuit boxes for cars. Another carried an immense parrot, nine feet high, holding in one of its talons a proportionately large Uneeda Biscuit."
In 1906 Nabisco moved its corporate headquarters from Chicago to New York City—the country's financial center—and as demand for its products grew, so did their facilities. They continued to expand by adding onto the bakery complex until it took up a full city block, as well as building new structures and buying up nearby ones—not dissimilar from Google's practice today.
Green's penchant for innovation—and micro-management—spilled out into building design. Rather than stick with the typical "mill building" architectural style, Cahn notes that "he had no patience with such outworn patterns; NBC's new bakeries were to pioneer in certain construction innovations. He would hound his engineers for new ideas that would create a neater and more orderly appearance."
When its network of Chelsea neighborhood bakeries was momentarily finished in 1913—the same year the Ford Motor Company began using moving assembly lines in its car production—Nabisco laid claim to the world's largest bakery. "With 114 bakeries and a capital of $55 million, the corporation transformed cookie and cracker manufacturing…", writes Wallace.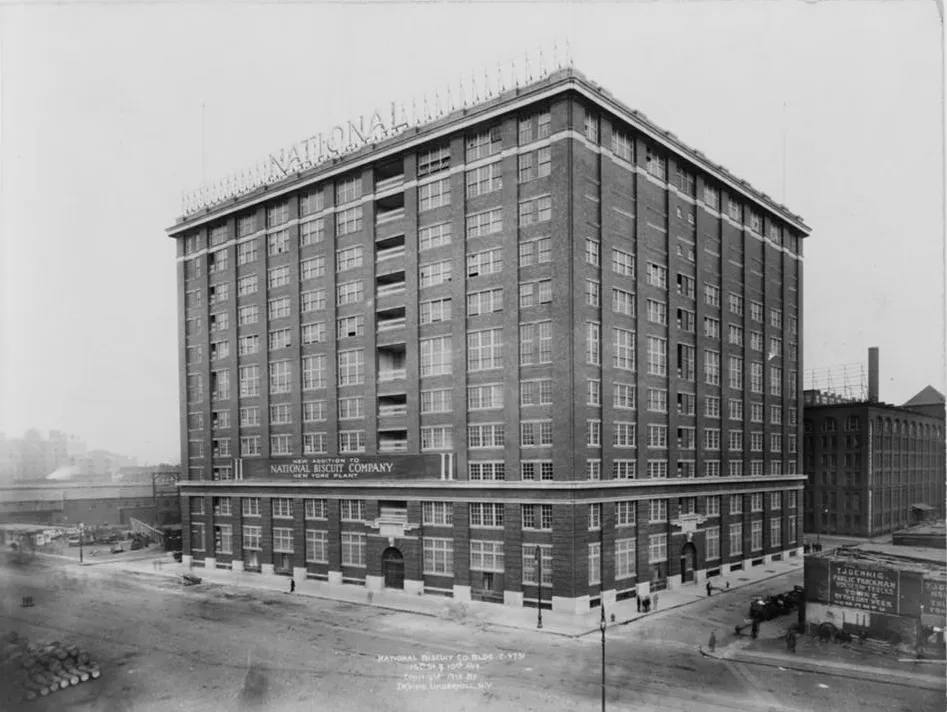 But, like the company itself, the New York facilities had to constantly shift to meet the needs of the marketplace. In the 1930s, Nabisco altered the buildings to accommodate the freight railway that now went right through the building, which had the benefit of allowing direct access to train deliveries ("it was probably the only factory at the time constructed to permit a New York Central Railroad train to actually run through the plant to pick up and deliver freight," points out Cahn).
It was in these bakeries where Oreos—the now ubiquitous cream-filled chocolate sandwich cookies—were first invented and produced in 1912. A stretch of Ninth Avenue was even designated "OREO Way" in 2002 to honor what could easily be described as a momentous occasion in culinary history (popular from the get-go, it is still the second-best selling cookie in the United States today).
In a short piece from the March 14, 1931 issue of The New Yorker, author E. B. White, of Charlotte's Web fame, describes his visit to the headquarters and the democratic, casual process by which anyone could submit suggestions for new products, about half of which the company would actually test. "A baker makes up a trial batch of the new model and sends them upstairs, where they are placed in an open rack by the water cooler," wrote White. "Employees may help themselves. Everything is informal—there are no charts or tables: after a few days have elapsed the heads of departments simply meet and talk the thing over…As soon as a cookie has passed its tests, it gets a name."
By 1958, Nabisco—like many city residents at the time—left its urban headquarters for the less expensive, more expansive suburbs in Fair Lawn, New Jersey, where they could have the space needed for expanded production.
As Andrew Berman, executive director of the Greenwich Village Society for Historic Preservation points out, it was a time when many businesses and people were leaving the area. "Part of what made that area so desirable at the time for industry was that it was connected to rail and piers, so it was a great place for shipping and receiving goods and materials." But increasingly those deliveries were made by truck instead, which was not as well-suited for the dense urban environment.
The ensuing decades were a period of change for that part of Chelsea and the adjacent meatpacking district. "While the meatpacking industry of the district held on for a bit longer, it was slipping into a decline, and the area became known mainly as the home to the raunchiest nightlife in Manhattan," writes Michael Phillips in the introduction to The Chelsea Market Cookbook. "A late-night trip to the meatpacking district could show some of New York City's seediest, most violent, or most disreputable scenes, from men in blood-spattered jackets carting meat carcasses, to sex workers plying their trade, often playing out right next to each other."
Jim Casper, professor of sociology at the CUNY Graduate Center and head of the 300 West 15th Street Block Association, which abuts the former Nabisco complex, moved to the neighborhood in 1992 and recalls that "at that time, [the buildings] mostly had sweatshops in it… It was a wondrous thing when Chelsea Market opened in 1997, almost the same time as Chelsea Piers. The neighborhood suddenly attracted tourists."
Indeed, when developer Irwin Cohen paid about $10 million for the foreclosed mortgage debt on the building in 1990, the thought of bringing tourists to that part of town was just a pipe dream. "When I came here, the history of the building: there were three murders in the basement," Cohen described in a 2005 interview with the Center for an Urban Future. "You couldn't walk here. It was controlled by prostitutes 24 hours a day."
Chelsea Market opened in 1997 with many of the same anchor stores that remain today like Amy's Bread, Ronnybrook Dairy, and The Lobster Place. Though today food halls are all the craze—commercial real estate firm Cushman & Wakefield found that in the first nine months of 2016 alone the number of food halls in the United States increased by 31.1 percent—Chelsea Market was ahead of its time.
"When it first opened people thought it was a crazy idea to take this hulking old building at the north of the Meatpacking District—not a chic area by any means at the time—and try to turn it into this trendy food hall," says Berman. "A lot of people scoffed at the idea. And they were wrong. It was tremendously successful—one of many motors for really transforming that area into the destination it is now."
Today Chelsea Market, now an indoor market and food hall frequented by tourists and locals alike, attracts some six million visitors a year. It ushered in an era of transformation and gentrification to the neighborhood as other developers rode on Cohen's coattails, scrambling to bring in high end stores, restaurants, hotels, and attractions like the adjacent High Line—a 1.45 mile stretch of abandoned elevated train tracks that has been turned into the city's most visited destination. A report by the NYU Furman Center found that rents in Chelsea more than doubled between 1990 and 2014.
Much like its early days, the 1.2 million-square-foot property is still home to a number of bakeries, but Chelsea Market's roster of tenants also includes restaurants, shops, and offices like Food Network, Major League Baseball, and—as of 2007—Google. The company—which has well over a dozen offices in the U.S. alone—purchased the building across Ninth Avenue in 2010 after being tenants there for four years, and has been leasing more and more space in Chelsea Market as it became available. So it's no big surprise that they'd take the next step in the relationship.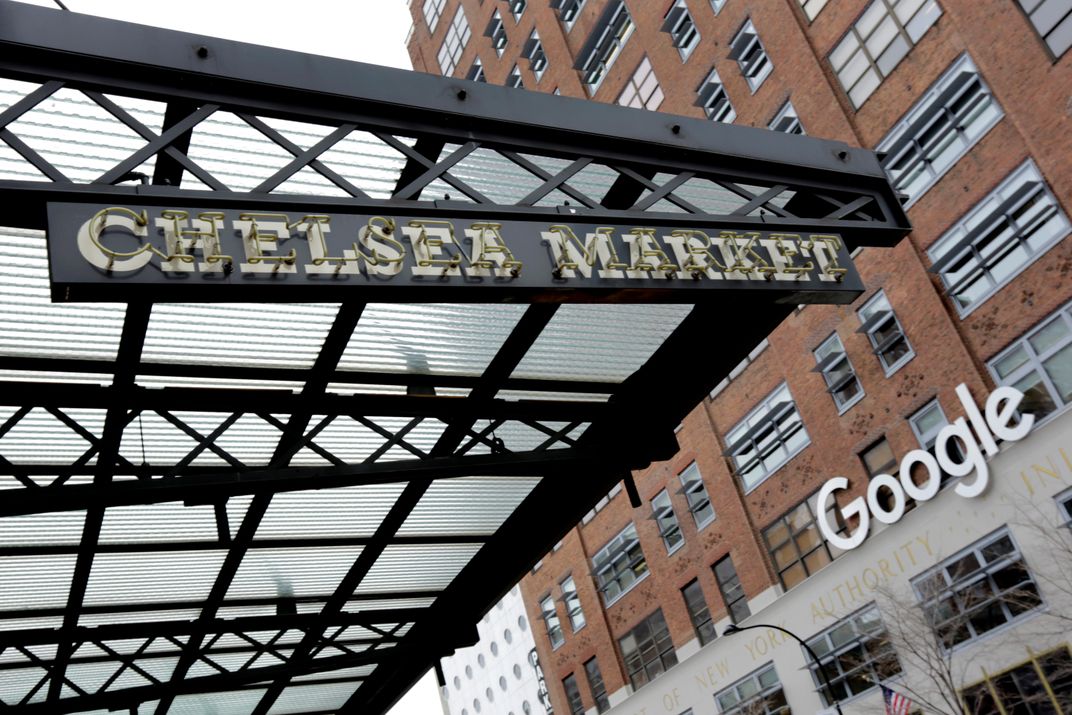 Alphabet/Google claims that little will change with the purchase, as the previous owner, Jamestown Properties, will retain Chelsea Market branding rights and will continue to manage the food hall.
"This purchase further solidifies our commitment to New York, and we believe the Manhattan Chelsea Market will continue to be a great home for us and a vital part of the neighborhood and community," writes David Radcliffe, VP, Real Estate and Workplace Services in a company blog post. He promises "little or no impact to the community and tenants of the building."
One of the main questions up in the air is whether Alphabet will build on top of the existing 11-story structure. After years of battle between locals and Jamestown properties, plans to upzone Chelsea Market (meaning to allow for further development) were passed in 2012, but have yet to be acted upon.
Berman and the Greenwich Village Historical Society were among some of the most outspoken critics of the upzoning. "I am concerned that as time goes on the elements of Chelsea market that were supposed to be preserved and protected—including predominantly independently owned food purveyors—is not going to stay that way," says Berman. "Not because I have any particular suspicions of Google, but as the area continues to change it might be more useful to them. Apparently this is all about their ever expanding need for space, so it would surprise me a great deal if they did not."
Casper, who also fought the upzoning, is slightly more optimistic. "Google generally has tried to be a good neighbor," he says. "It will be interesting if they do the expansion or not."
Manissa Maharawal, an assistant professor of anthropology at American University and native New Yorker, has a more pessimistic view. "Based on my research and the work of the Anti-Eviction Mapping Project on evictions, housing and gentrification in the Bay Area, Google and the tech industry as a whole has not been a 'good neighbor,'" she says. "In fact as the [San Francisco] Google bus protests pointed out, their presence in the region has contributed to the housing and affordability crisis, something they have not taken responsibility for or worked with housing groups to mitigate."
Whatever the expansion brings, it will be just another step in a long line of innovation, transformation, and gentrification at this part of New York City.