A Smithsonian Botanist Suggests an Evotourism Site
We turned to John Kress, an expert on how plants and birds co-evolved over time, for his pick for an evolution vacation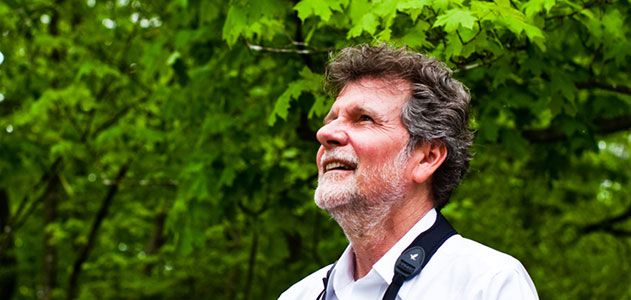 To understand how life evolved, says John Kress of the National Museum of Natural History, you have to understand how interactions between plants and animals have evolved. With this in mind, the botanist recommends visiting Dominica's Morne Trois Pitons National Park, where evotourists can observe a remarkable tryst between purple-throated carib hummingbirds and flowers called heliconias.
"The plants produce nectar for energy, and the hummingbirds provide the transfer of pollen that allows the plants to reproduce," says Kress. But what is amazing is how the two species co-evolved over time to fine-tune the exchange. "The males of this hummingbird species visit one type of plant and the females visit the other type of plant. Their bills and their body sizes exactly fit the plants," says Kress. "It is incredible."
Kress' first encounter with heliconias was on a trip to South America 35 years ago. "When I saw these plants, I said, this is going to allow me to understand how evolution works," he says. Every spring since 2000, Kress, with biology professor Ethan Temeles of Amherst College and an ever-changing roster of students, has visited Dominica in the eastern Caribbean to study the relationship between the flowers and the hummingbirds.
In April 2003, when Kress and Temeles published a paper on the purple-throated caribs and heliconias in the journal Science, a companion paper about the finding was titled "Darwin's Hummingbirds." The birds' adaptations vary from island to island in the eastern Caribbean, much as the finches' beaks vary in the Galapagos.
Kress planted a garden of heliconias in an enclosed aviary in Dominica's mountains, so that he and his colleagues could watch the hummingbirds in an experimental situation. Tourists can visit plenty of accessible places on the island, he says, where they can see the meeting of the two species.
"You have to have a little background to know what you are looking for," says Kress. Heliconias, found on many roadsides and in wet forested areas in Dominica, are big, banana-like plants with foot-tall clusters of bright orange, yellow and red flowers. Purple-throated caribs are jet-black hummingbirds with emerald wings and red or purple throats. "But you could essentially sit in a patch of these plants and see this amazing interaction. You have this spectacular bird visiting spectacular flowers, so it really can't get much better than that," says Kress.
Given the abundance of the heliconias, one could walk up a hillside in Roseau, Dominica's capital city, and see this display of evolution in action, Kress says. But he suggests traveling about five miles from Roseau to Laudat, a small mountain village. From there, visitors can either drive or hike along a 2.5-mile road to Freshwater Lake, a site 2,500 feet above sea level that Kress frequents for his research. The lake—Dominica's largest—is located in Morne Trois Pitons National Park, a Unesco World Heritage Site and a 17,000-acre parcel of lush tropical forest in the south central part of the island.
Tourists can circumnavigate Freshwater Lake on a hiking trail and see both heliconias and purple-throated caribs at any time of the year. However, the time to witness the interaction between the flora and fauna is from March to June, when the heliconias are flowering and the hummingbirds are mating.
"We are always going to Dominica when all the college students are on their spring break," says Kress, with a laugh.
John Kress is a curator of botany at the National Museum of Natural History and director of the Consortium for Understanding and Sustaining a Biodiverse Planet, a Smithsonian initiative to encourage interdisciplinary research, particularly between the different scientific units of the Institution. An expert on the evolution and ecology of tropical plants and animals, Kress is the author of several books and more than 125 scientific papers. He has also played an integral role in developing new technologies, such as DNA barcoding and Leafsnap, an iPhone, iPad and Android app that identifies a plant species based on a photograph of one of its leaves.