SMITHSONIAN LIBRARIES AND ARCHIVES
Georgia O'Keeffe's Room That Could Have Been
Artist Georgia O'Keeffe had a friendly relationship with Hirshhorn Museum and Sculpture Garden founding donor Joseph Hirshhorn. Recently digitized letters reveal how the two almost negotiated a deal to create a room at the museum dedicated to her work.
---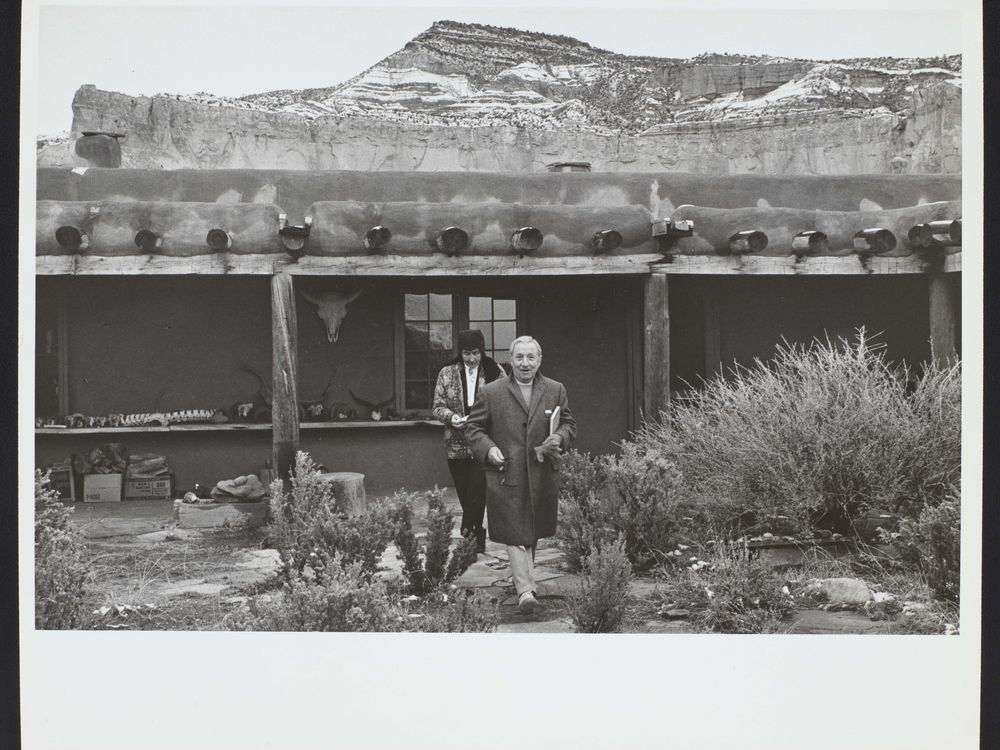 On November 11, 1977, famed American artist Georgia O'Keeffe visited the completed Hirshhorn Museum and Sculpture Garden for the first time. Over a decade earlier, O'Keeffe and founding donors Joseph and Olga Hirshhorn formed a friendship. Through recently-digitized letters in our collections, we learned more about their interesting relationship and Hirshhorn's failed plans for an entire room in the Museum devoted to O'Keeffe's work.
Starting in 1967, art collector Joseph Hirshhorn began pursuing a large collection of Georgia O'Keeffe paintings. After some back-and-forth between Hirshhorn and the artist herself over the course of the year, the two came up with a list of approximately 16 paintings for purchase. During this time, Hirshhorn developed the idea of creating a Georgia O'Keeffe room as part of the inaugural exhibitions for the newly-established Hirshhorn Museum and Sculpture Garden and believed that this list represented a wide range of the best of O'Keeffe's work.
However, one of the major problems that Hirshhorn had with the list was the price tag. In a list of the desired paintings and their individual price tags from December 17, 1967, we know that the original total cost for acquiring these works was $385,000. It is clear that Hirshhorn was hesitant to commit to that amount as on December 20, 1967, O'Keeffe pushed Hirshhorn on his indecision. She wrote, "I hope we can come to some sensible definite terms after you have seen pictures my sister has but you must be a good boy and offer me more than I got for my good work twenty years ago."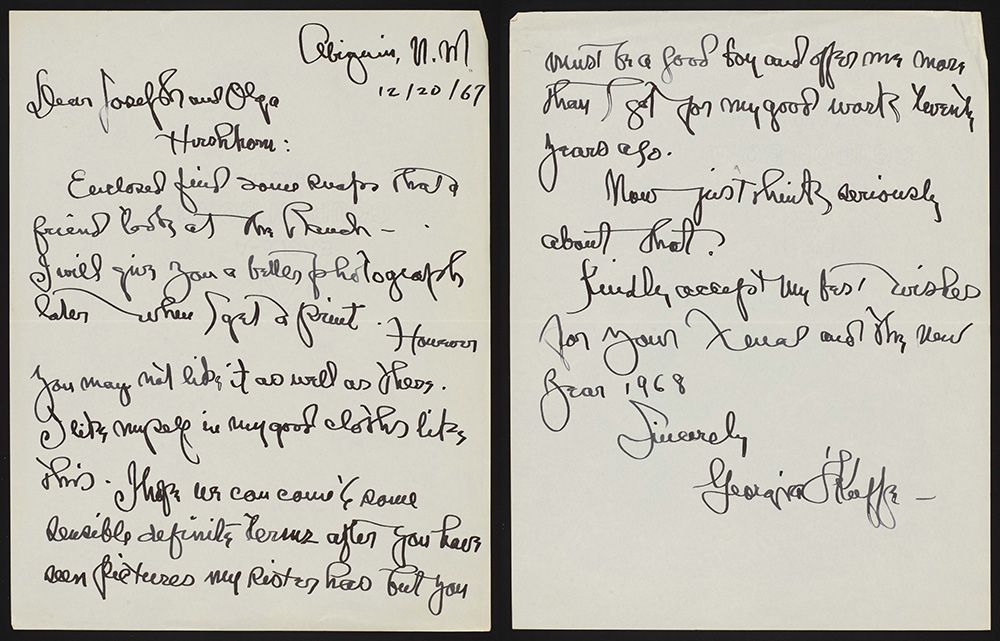 In the course of the discussions over the next few months, the list was modified slightly and new agreements were added into the mix. One of those agreements was that O'Keeffe's sister, Mrs. Robert Young, would bequeath six of O'Keeffe's paintings to Hirshhorn. The plan was that Young would loan the paintings to the Museum for a few months for the inaugural exhibition, and then they would be officially transferred upon her death.
In a letter from O'Keeffe to Joseph Hirshhorn on May 27, 1968, it is clear that the tentative agreement was that the art collector would pay a total sum of $200,000 for 15 paintings from O'Keeffe and eight from Young. Hirshhorn would purchase some of the paintings from O'Keeffe, and the artist would donate others as gifts. All eight of the paintings from Mrs. Young would be part of her bequest to the Museum.
However, there are three statements about special agreements in the letter that stand out. The first is that Hirshhorn was to return Goat's Horn with Red to O'Keeffe. The second was that $25,000 of the agreed upon price was to be paid directly to a church in Abiquiu, where O'Keeffe lived, for the purpose of building a gymnasium. Lastly, O'Keeffe required that the board of trustees of the Smithsonian and the Hirshhorn Museum and Sculpture Garden, rather than Hirshhorn, sign a binding agreement regarding the care of her paintings in perpetuity since the paintings would belong to the Museum.
There were two major contingencies in O'Keeffe's letter that continued to be a source of contention during negotiations over the next year and that ultimately caused the deal to fall through. O'Keeffe had very specific demands about the installation of her collections in the museum and about the conditions of care for her paintings. The artist urged that her friend and former Guggenheim Museum director James Sweeney be brought on as a consultant to the Museum, but Hirshhorn worried that this would damage his relationship with Abram Lerner, his long-time art advisor and curator. As for the conditions of care, it appears that one of them stated O'Keeffe or Doris Bry, her longtime agent, had to be involved in any and all future exhibits of the artist's paintings. Lerner called this "an insult" that "would be unacceptable to any other museum director or Board of Trustees." He felt that if the paintings were all gifts, then these conditions might be more acceptable. However, since Hirshhorn was making a purchase, O'Keeffe's requirements implied that she did not trust the Museum or its staff.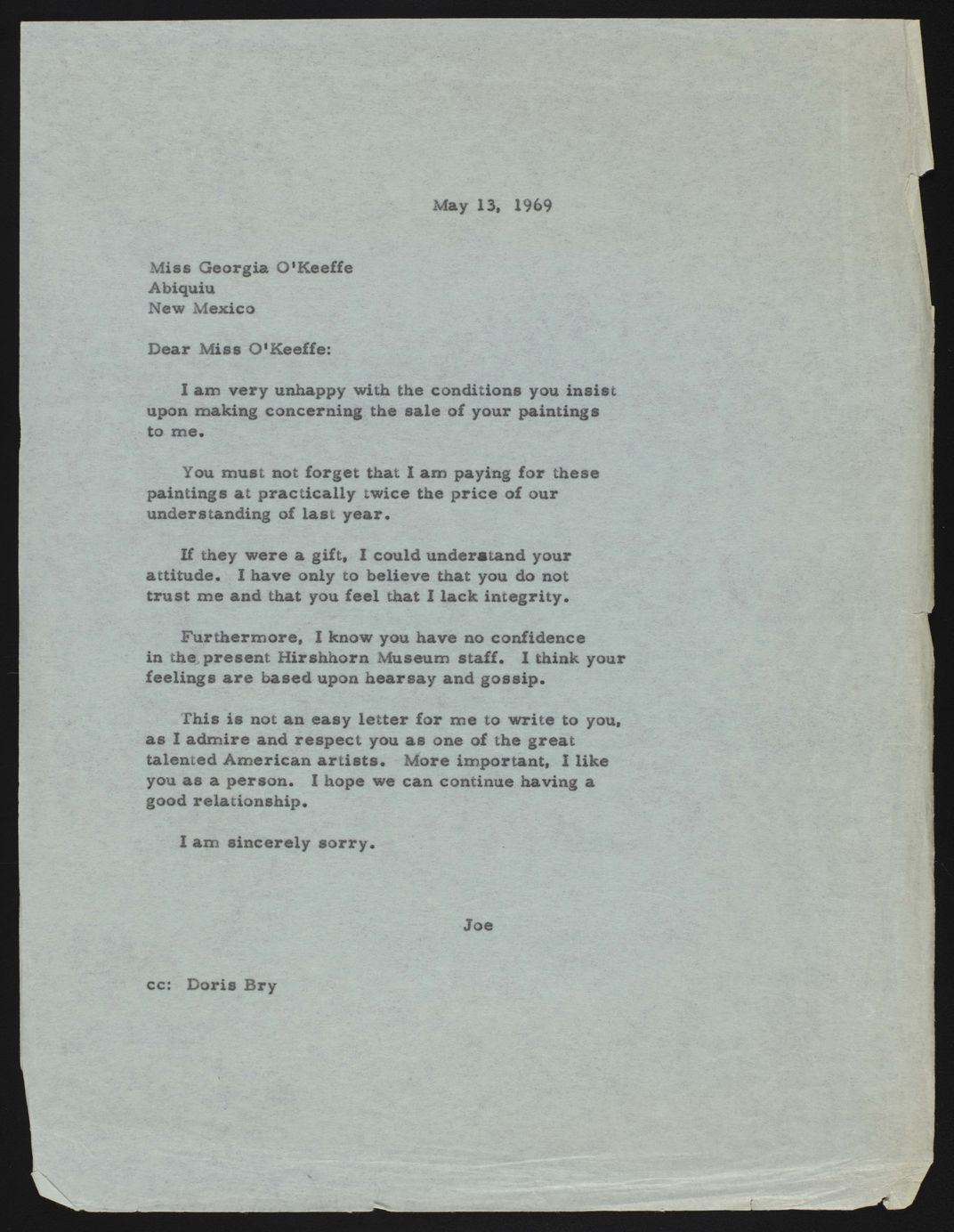 Ultimately, the Hirshhorn Board of Trustees refused the final offer. Despite all of the disagreements and the deal falling through, Joseph and Olga Hishhorn continued to be good friends with Georgia O'Keeffe, and the trio remained frequent correspondents. In fact, the Hirshhorns often flew to New Mexico to visit O'Keeffe for her birthday, and Olga Hirshhorn would regularly send O'Keeffe gifts, such as clips and combs for her hair. Still, it's hard not to read their letters and think of the room that could have been.
Through the Smithsonian Libraries and Archives' Adopt-a-Book program, your support can make accessible more of the correspondence between Georgia O'Keeffe and Joseph Hirshhorn.
Related Collections
Joseph H. Hirshhorn Papers, circa 1926-1982 and undated, Record Unit 7449, Smithsonian Institution Archives
Related Resources