SMITHSONIAN LIBRARIES AND ARCHIVES
Saving Time in the Garden in the Early 20th Century
Creating a beautiful garden takes time, energy, and patience. This labor and time-saving implement might have caught the attention of gardeners in the early 20th Century
---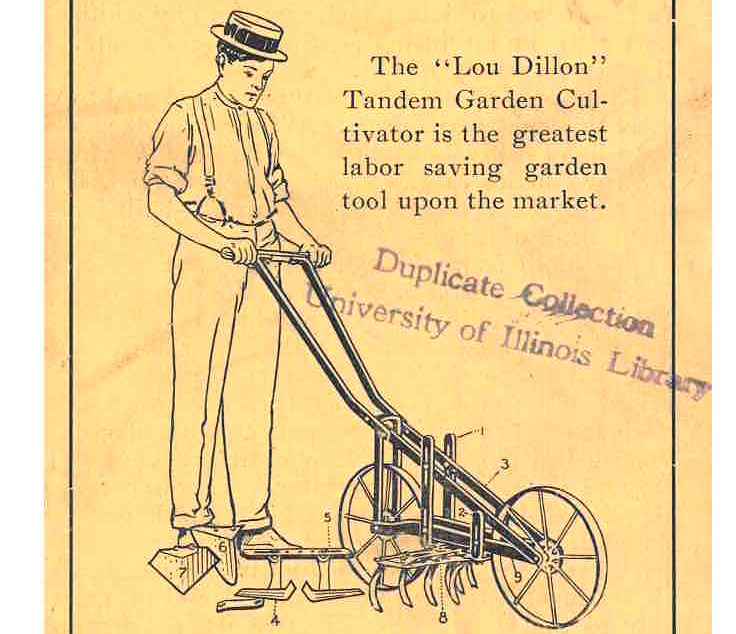 Gardens provide us food, sustenance, exercise, and pleasure. Gardens also require a lot of work. It takes time, energy, and patience to grow a garden. In the early 20th century, gardeners hoping to save time and labor might have considered using this hand cultivator. It was described as a "Time Saving Garden Tool."
The trade catalog is titled "Lou Dillon" Tandem Garden Cultivator (circa 1905) by Schaible Mfg. Co. Even though it is only a few pages long, this small brochure is full of useful information. It provides instructions on how to use the cultivator, explains the benefits of using it, and illustrates specific parts, including tool attachments. It ends with customer testimonials.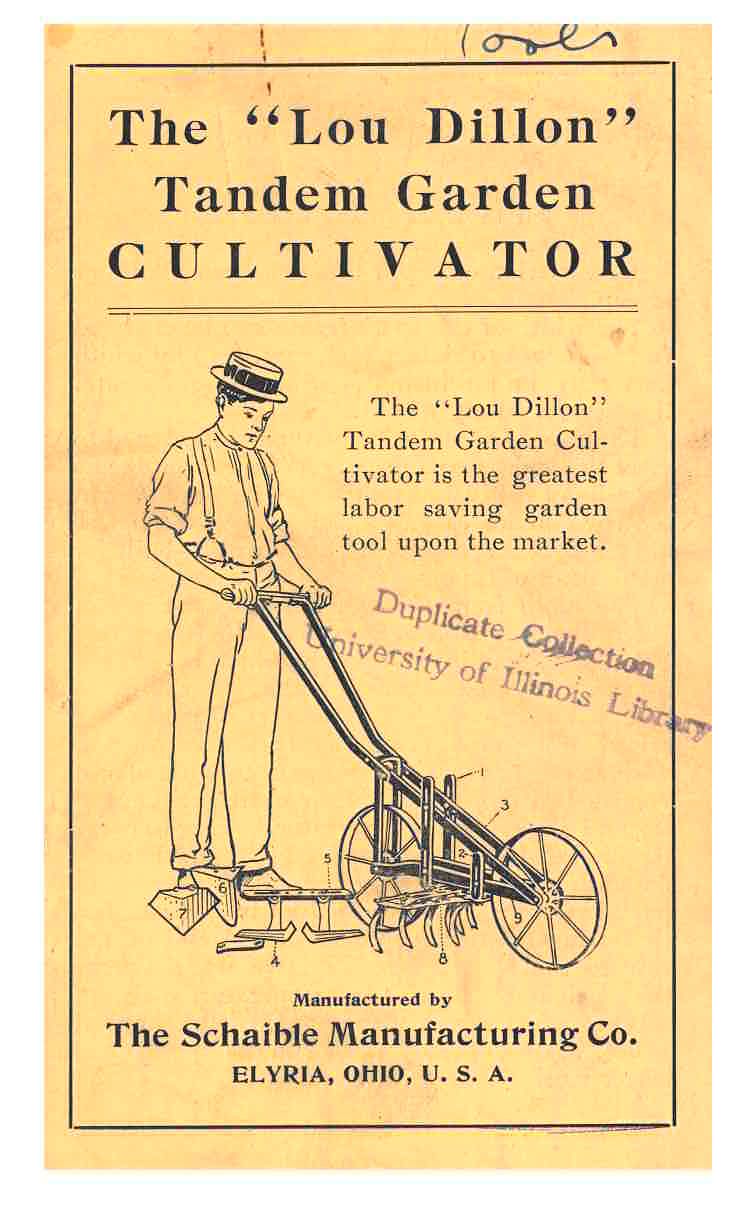 The "Lou Dillon" Tandem Garden Cultivator was constructed of steel and weighed 32 pounds. Gardeners had the option of buying tools to attach to the cultivator, such as the rake, sweep, or plow.
Described as "simple to operate," it allowed gardeners to walk each row of plants at "an easy, continuous" pace. Equipped with two wheels, the operator simply pushed it along instead of carrying the cultivator's back end down each row.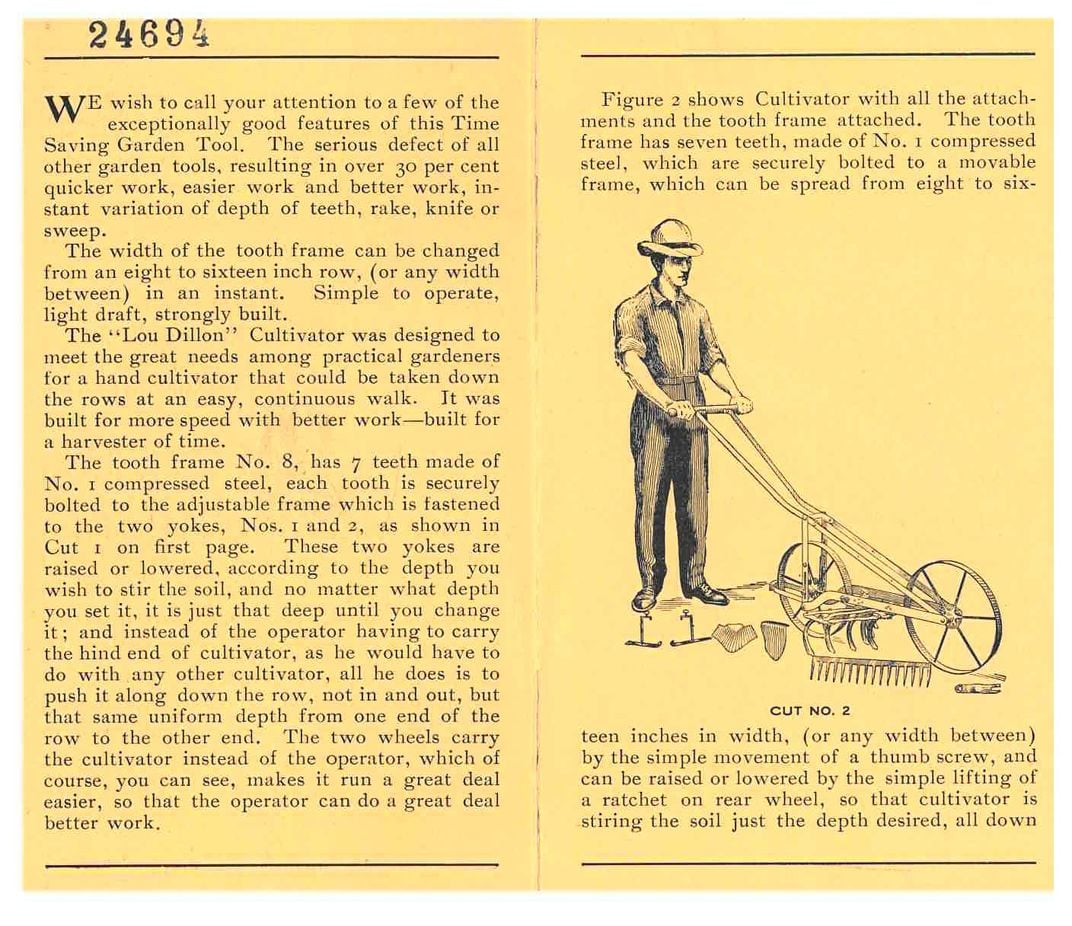 Throughout the brochure, the "Lou Dillon" Tandem Garden Cultivator is described as adjustable. This was one feature that most likely appealed to many gardeners.
The tooth frame of the cultivator consisted of seven steel teeth which were bolted to an adjustable frame. By using a thumb screw, the width of this tooth frame could be adjusted to any width between 8 and 16 inches. That adjustable frame was fastened to two yokes which could be raised or lowered. This gave gardeners the ability to choose a uniform depth at which to stir the soil.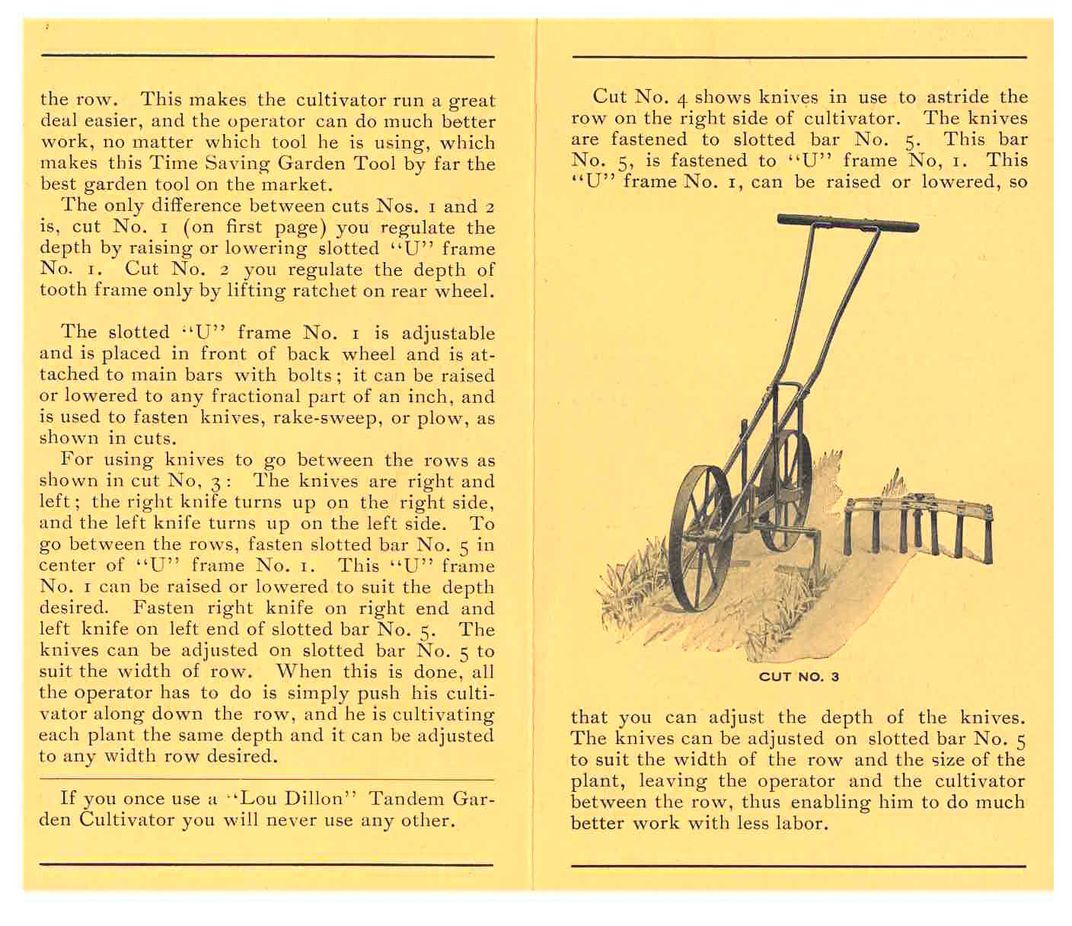 An adjustable slotted "U" frame was positioned in front of the back wheel and attached to the main bars with bolts. It was used to fasten tool attachments, such as knives, rake-sweep, or plow. A gardener could raise or lower the "U" frame to a fraction of an inch to work at a desired depth.
Cut No. 3 (above) and Cut No. 4 (below) illustrate the use of knives fastened to the cultivator. These knives could be adjusted to fit a specific width for a row or size of plant.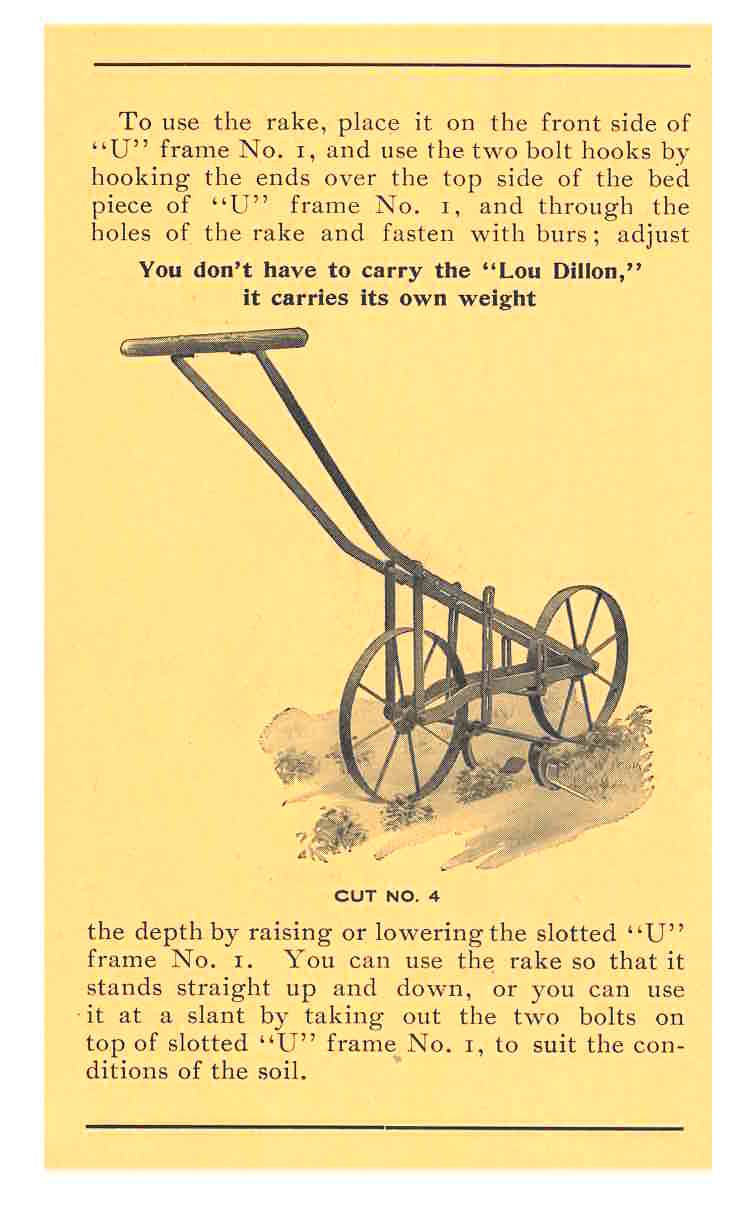 The rake attachment was positioned in front of the "U" frame with two bolt hooks and fastened with burs. Again, the depth of the rake was adjustable by raising or lowering the "U" frame. Depending on the soil, the rake could be used in a vertical position or at a slant.
Another attachment was the sweep, shown below in Cut No. 5. It was fastened underneath the "U" frame and could be adjusted to any depth from a fraction of an inch to four inches.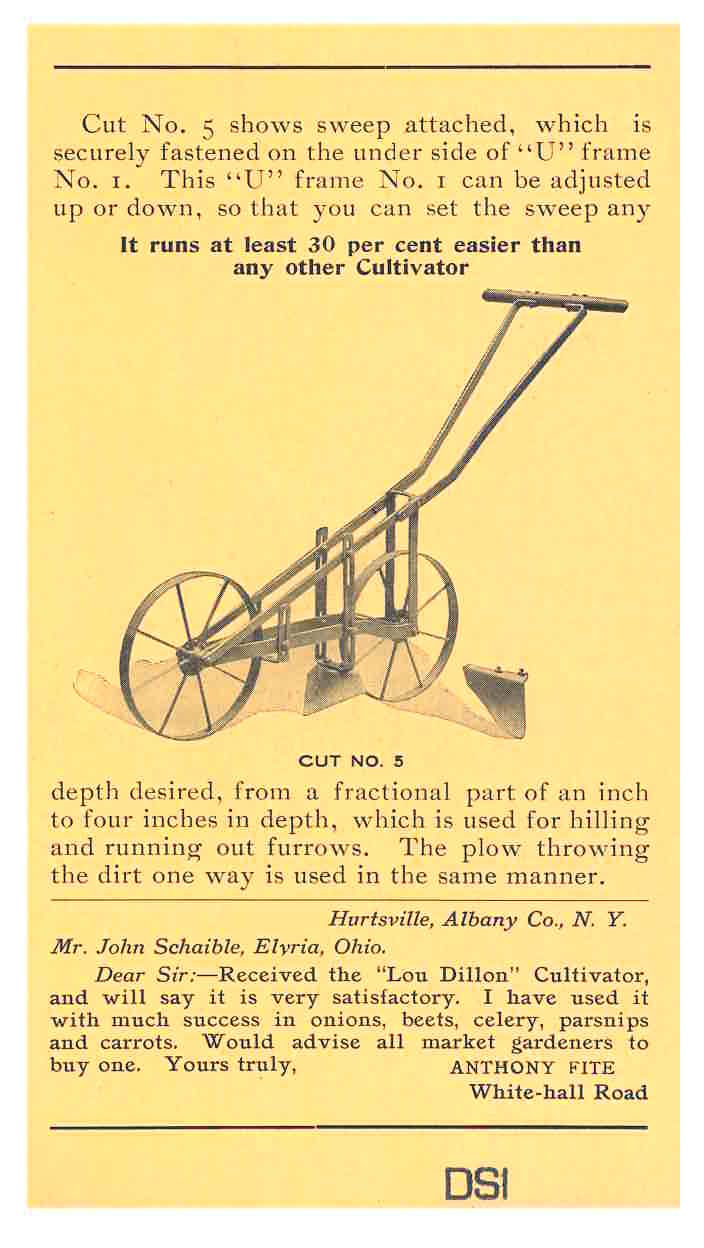 The catalog ends with two customer testimonials sharing positive reactions to this cultivator. Anthony Fite of Hurtsville, Albany Co., NY mentions that he received the cultivator, 
"…and will say it is very satisfactory. I have used it with much success in onions, beets, celery, parsnips and carrots. Would advise all market gardeners to buy one."
W. J. Murphy of Elmira, NY, wrote on October 6, 1905, commenting: "…I don't see how I ever got along without it before, as I have a large garden and a big patch of strawberries to take care of, and I can do the work on them in fifteen minutes what it used to take me three hours to do. I am just stuck on it."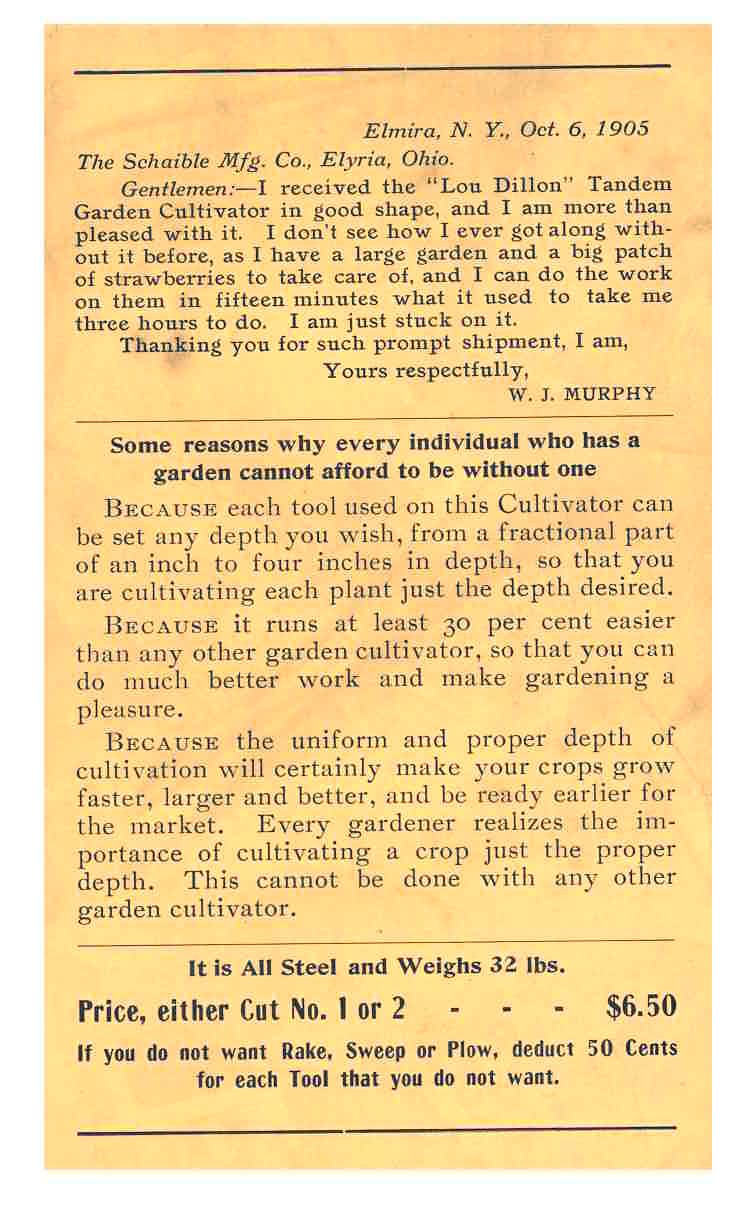 "Lou Dillon" Tandem Garden Cultivator
 (circa 1905) by 
Schaible Mfg. Co.
 is located in the 
Trade Literature Collection
 at the 
National Museum of American History Library
.