Educators from Across the Country Convene on the Chesapeake Bay with a Network of Fellow 'Earth Optimists'
A professional development experience provided opportunities for networking, novel experiences, and sharing stories of success in learning and taking action
---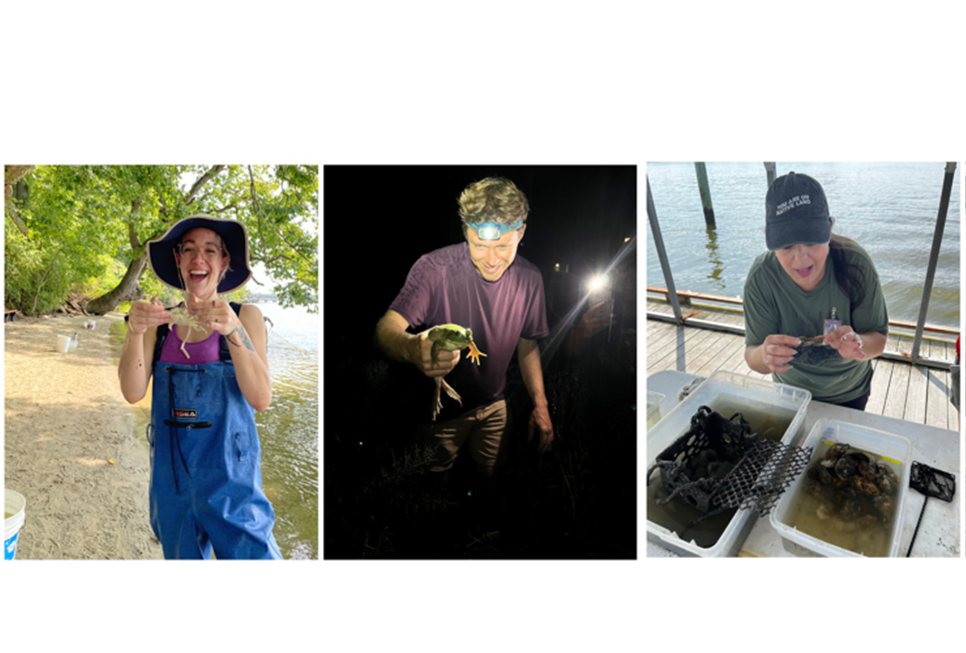 Think back to the last truly great professional development gathering you attended. What made it most memorable? What stood out as different or unique about it? Did you experience things you couldn't have otherwise? At the Smithsonian, we are fortunate to have an embarrassment of riches, not only millions of incredible artifacts to share with audiences, but one-of-a-kind research centers in addition to our many museums, whose staff welcome opportunities to explain their work and expand learning.
So sets the stage for the recent Earth Optimism National Educator Summit, held at the Smithsonian's Environmental Research Center (SERC) in Edgewater, Maryland, on the Chesapeake Bay. Educators from seven Smithsonian Affiliate organizations, together with their local high school teacher partners, came together for four days this past summer for learning, sharing, and fellowship.
The Summit brought 25 educators to Washington, D.C., from San Francisco, California; Phoenix, Arizona; Bozeman, Montana; Dubuque, Iowa; Waco, Texas; Raleigh, North Carolina; and Miami, Florida. All are collaborators in the Earth Optimism Youth Action and Leadership program, a place- and project-based model for supporting youth action for the environment in ways that build students' leadership skills. With funding support from the Smithsonian's Together We Thrive grant initiative, most of these educators have been collaborating since fall 2022, offering meaningful field experiences, role models and mentors, seed funding for student projects and paid internships to their students. Student-designed projects across the country range from vermicomposting start-ups (composting with the help of worms) to plarn tutorials (plastic bags woven like yarn for new uses), temporary exhibitions, bird and bat box construction and installation, and gardens of all kinds, among other projects.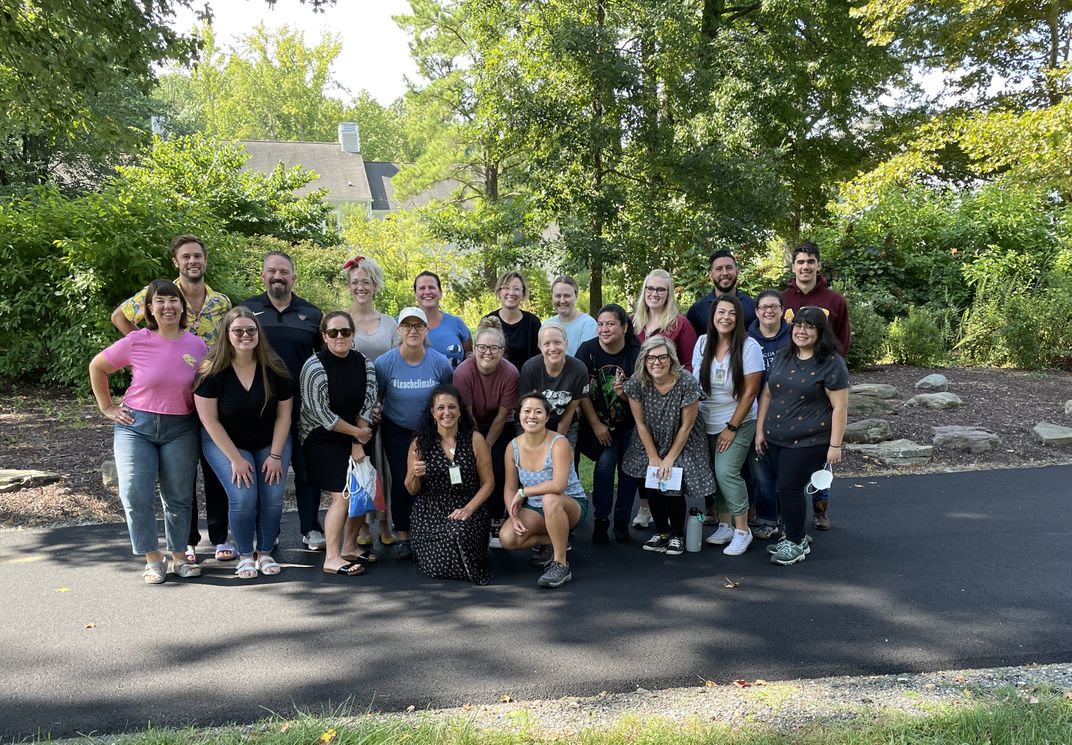 The Summit's three simple learning objectives were articulated at the welcome dinner: over the course of the long weekend, we would check our status on this two-year journey and hear about each other's successes, challenges, and questions. We would try or learn something new - an activity, resource, or opportunity - to take home to students. As importantly, we would rejuvenate. The Smithsonian's Earth Optimism initiative leads with hope and possibility, embedded in the thousands of reproduceable solutions to environmental problems that are so readily available to all at every scale. And yet, we were all starting a school year after the planet's hottest summer on record. We know what is at stake for the young people we teach. And so, it was critical that the agenda had ample time to explore the trails, beaches, and gardens at SERC, or simply to read or nap without fear of missing an activity.
It's hard to keep nature lovers inside though. Immersive professional development can offer educators the opportunity to fully engage in the fun activities we design for students, without the constraints of supervision. Thanks to many generous colleagues at SERC, educators enjoyed guided hikes and canoe excursions, seining, identifying species in oyster baskets and more. When a gathering is going well, participants don't stop "hanging out" after the day's formal agenda is over. Organizers had headlamps and flashlights on-hand for night hikes, and refreshments in cottage living rooms to facilitate late-night story swapping.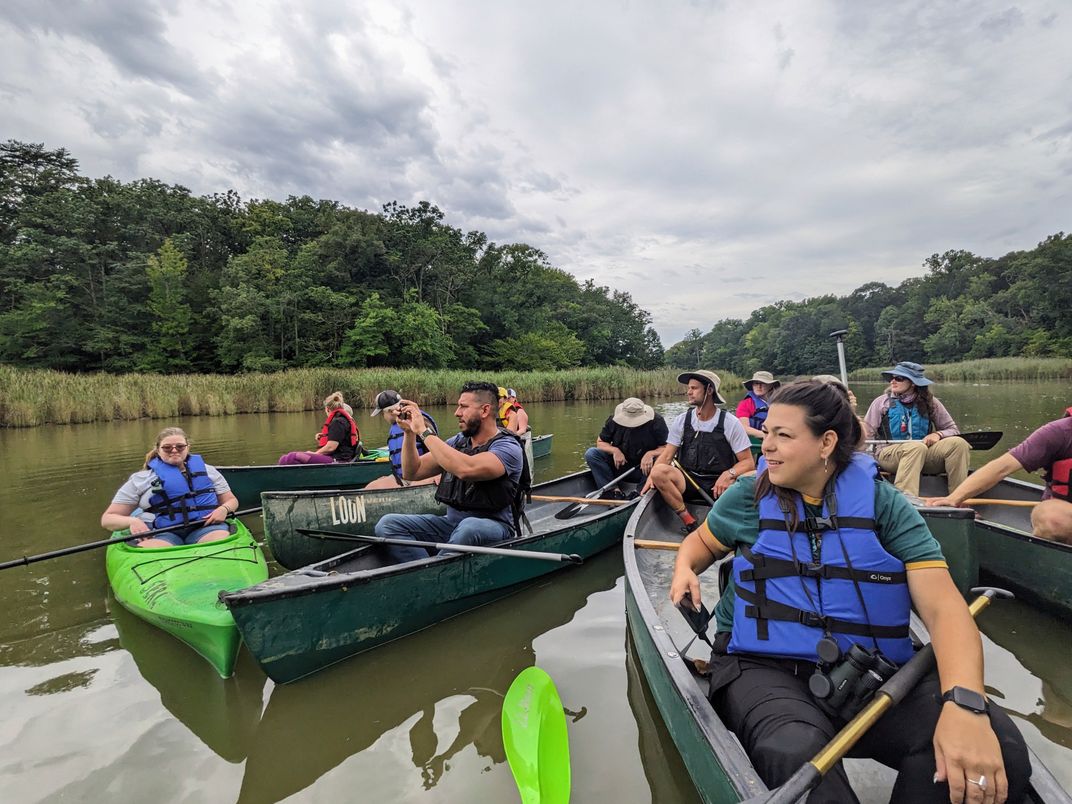 It was essential that the Earth Optimism message was conveyed not only through sessions and activities, but through every aspect of the Summit's organization. Walk the talk of what you teach. It may take a bit more effort to find a caterer or work with facilities staff to commit to a low- or no-waste event, but it is worth it. All catered items at the Summit were compostable or recyclable aluminum. Imagine a four day event without any plastic!  Coffee mugs from organizers' personal collections served as conversation starters as much as green gestures. What a relief these practices are for educators who encourage their students every day to take such actions at school, and to understand why it's important.
Another hallmark of a meaningful gathering is when participants feel safe to geek out about their passions. A biology teacher from North Carolina, a former employee of the U.S. Fish and Wildlife Service, was first to forage into SERC's wetlands and oyster baskets to find the frogs, eels, and other reptiles that allowed the rest of the group to have a closer look. An Affiliate educator from Dubuque showed off her knowledge of the medicinal properties of all kinds of plants, offering ideas for balms and teas after hikes. Another Affiliate educator from Raleigh had experience handling crabs to avoid pinches, which allowed everyone to analyze this creature from all angles. Great professional development makes space for the expertise of participants to shine.
In their presentations, participants quickly revealed another cornerstone of cohort learning. Vulnerability deepens trust. Educators spoke frankly about the challenges they faced with their students, organizations, or within their communities. "At the beginning of the year, my students didn't care about the environment at all," shared a teacher from California. "I had to make sure their basic needs were being met first, and then tie the environment into their own health and well-being." Teachers from Arizona shared that "some of our students come directly from a detention facility to our school. We engage them in project-based learning, to give them a sense of ownership in what they create." Students in rural North Carolina felt devastated after a forest behind their school was clear-cut for a housing development, until "we started talking about how to design an action plan to replant trees around our school campus," explained their teacher. An Affiliate educator related, "our students got so into their Earth Optimism action projects that their classwork suffered and their grades started to slip. We had to impose a pause and talk to them about priorities." Creating the space for educators to be vulnerable about their challenges and failures as well as their accomplishments keeps a gathering real, and creates space for meaningful support from the cohort.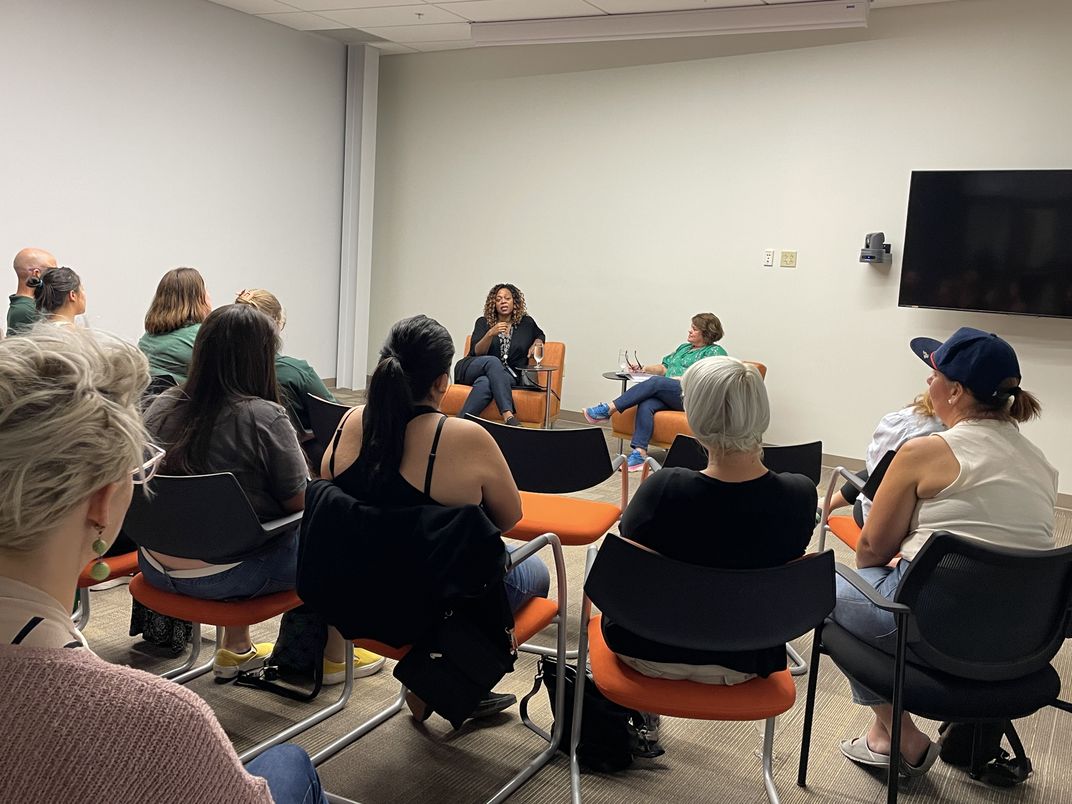 It takes a village as they say, and this gathering was significantly enhanced by collaborators close to home. The staff at Smithsonian Affiliations go above and beyond for the "family reunion" that is any gathering that brings staff from Affiliates to our house in D.C. As host, SERC showed why its reputation is world-renowned, from its research and scholarship to its education and outreach. Colleagues from the Smithsonian Science Education Center, the World Wildlife Fund, Prince George's County Public School District in Maryland, Zero Hour, and the Smithsonian Under Secretary for Education all lent valuable local perspectives to the national gathering. In one particularly memorable exchange, several educators shared how hard it was to find diverse voices in the green sectors of their home communities. Asantewa Boakyewa, Deputy Director at the Anacostia Community Museum, offered very powerful advice. "Look harder." People of color have been working in all kinds of environmental spaces for generations. "You may not find them in the places where you are accustomed to look, but that doesn't mean they aren't there doing the work." A galvanizing call to action on the Summit's last night, the advice prompted an Iowa educator to share, "that lit a fire under me like nothing I've heard before."
Cultivating empathy, with our students and with each other, is tinder for environmental justice.
To paraphrase T.S. Eliot, at the end of our exploring, we arrive back to where we started and see it as if for the first time. Sometimes, professional development gatherings can have a similar effect, offering new perspectives and dimensions of understanding on the communities we call home. Smithsonian Affiliations treasures our Affiliate and teacher explorers for making these journeys we take together so rejuvenating and impactful.