'We Are Here' Introduces Readers to 30 Inspiring Profiles
The Smithsonian Asian Pacific American Center's new middle-grade anthology dives into stories of Asian Americans and Pacific Islanders who shaped the United States
---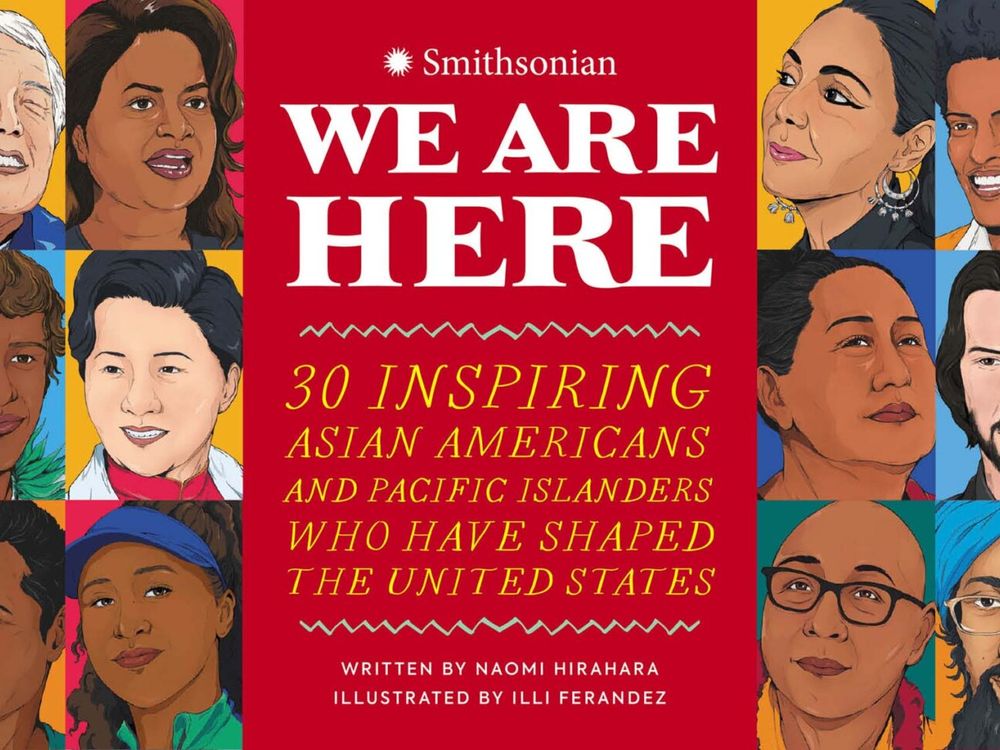 "We are here...because you were there."
That sentence has become shorthand for a number of experiences--sojourns, migrations, and movements. It can certainly be used to trace that long arc of Asian American and Pacific Islander (AAPI) stories that this book suggests through individual portraits. Who is the 'you' in that sentence?
- Excerpt from the book's foreword, by Theodore S. Gonzalves
---
We Are Here: 30 Inspiring Asian Americans and Pacific Islanders Who Have Shaped the United States is a new anthology by the Smithsonian Institution, Asian Pacific American Center (APAC), and published by Running Press Kids. It is authored by Naomi Hirahara and illustrated by Illi Ferandez. We Are Here is the Smithsonian's first middle-grade anthology centering stories of Asian American and Pacific Islander people who have made great impacts on the cultural, social, and political fabric of the United States and the Pacific.
When APAC was approached to create the book, the team decided early on that the 30 profiles would be split evenly—15 Asian Americans and 15 Pacific Islanders, all from diverse ethnicities, genders, lived experiences, and livelihoods. It was important for us to balance stories we wished to share, from well-known celebrities and community figures such as actors Keanu Reeves and Dwayne "The Rock" Johnson, and tennis star Naomi Osaka, to lesser-known activists, artists, and community leaders in mainstream media, such as Sikh American artist and activist Vishavjit Singh, Lao American leader Channapha Khamvongsa, and Marshallese poet Kathy Jetñil-Kijiner. Our hope is that young readers, with their families and school communities, will read We Are Here and walk away with new understandings of Asian American and Pacific Islander lived experiences and histories.
Many of the individuals featured in the book have collaborated with APAC before, through the staging of site-specific performances and the creation of educational resources. Craig Santos Perez, a CHamoru poet, shared his story and poetry for an insightful, teacher-focused interview about the importance of including Pacific Islander stories in lessons about the Pacific and climate change. Thenmozhi Soundararajan was an important collaborator on the development of the We Are Not a Stereotype video series breaking down biases in AAPI communities, sharing her expertise about caste oppression. It was important for APAC to extend our relationships with community members with young readers, and a reflection guide at the end of We Are Here aims to focus on the importance of relationship building. Readers will reflect on questions about what they learned from the book as a whole, which stories resonated with them the most, and what new insights they would want to share with their families or communities. We also ask readers to think about what they would want to tell people in the book about them, their lives, and interests.
The reflection guide also comes with a QR code that will take readers to a new series of collections on the Smithsonian's Learning Lab. Each collection provides viewers with access to images of art, interviews, music videos, archival materials, and much more. Additionally, APAC has collaborated with Smithsonian Wikipedia experts Kelly Doyle and Andrew Lih to improve articles about some of the individuals profiled in the book. Below, Julie Haas, a former intern and education contractor for APAC, shares more information about the Learning Lab collections.
We Are Here Learning Lab Collections Provide Complementary Resources to Extend Student Learning
During the development of the Learning Lab collections, I considered this online learning platform to be similar to a museum exhibition, a way to curate a collection with an intended purpose, and share it in a trusted space. Our goal for the We Are Here Learning Lab collections was to build an extension of the book that not only shared more information about the individuals in a visually appealing way, but also allowed users to dynamically explore critical, related topics.
To make each collection recognizably connected to We Are Here, we opted to use the artwork made by Filipino American artist and illustrator, Illi Ferandez. You may instantly recognize some of the celebrity profiles, such Bruno Mars, without having to read their names on the thumbnail. When you click through the collection, you will find a rich assortment of multimedia resources to expand each individual's story in the book. Every collection contains a short introductory biography, a table of contents, a Project Zero Thinking Routine, and the reflection guide.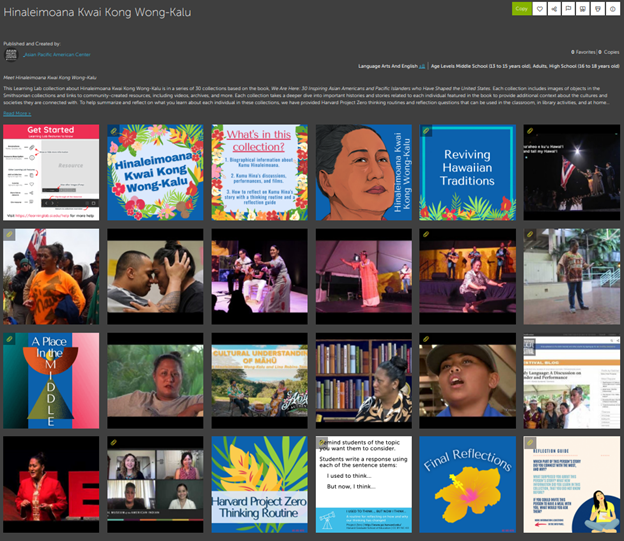 I highly recommend watching the videos in the collections. In most instances, the videos offer more insights about certain aspects or events from one of the profiled individual's lives than can be pulled from only reading articles or the We Are Here biography alone. In some cases, such as Momi Cazimero's collection, Long Story Short with Leslie Wilcox from PBS Hawaiʻi was also one of the only resources we could access online about her story. In Shirin Neshat's collection, Portraying History: Gender and Politics in Iran is an important video to watch. Beyond videos, each collection includes compelling photographs, images of objects, and more, to better visualize the stories readers learn from the book.
We Are Here Profiles Enhanced in Everyday Internet Searches via Wikipedia
On October 26, 2022, APAC, the Smithsonian American Women's History Initiative (AWHI), and the Bishop Museum, hosted a multi-pronged event in Honolulu, Hawaiʻi. First, a "WikiAPA-Edit-a-Thon" that attracted 25 people who added 23,000 words to Wikipedia and increased representation of AAPI people on the site. AWHI's Wikipedia experts Kelly Doyle and Andrew Lih trained edit-a-thon participants on how to edit and update articles in Wikipedia. Later that same day, they took high-resolution headshots of notable figures from We Are Here and Honolulu's community in attendance for a celebratory launch of the book that could be included in relevant Wikipedia articles.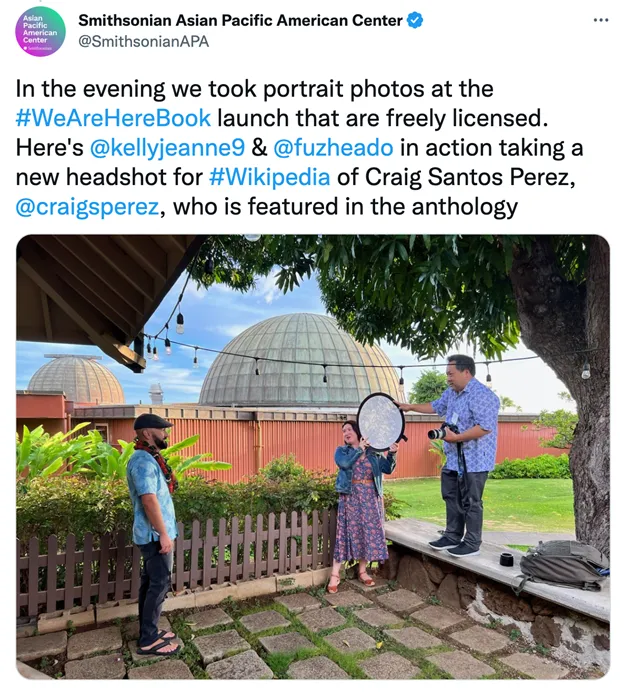 There are always more stories to tell, and we hope that We Are Here sparks dialogue among readers in their communities and schools.