Bringing the Smithsonian to Learners Beyond the Museum
Educators can make a big difference in the lives of young students who have never met a scientist, seen a microscope, or been to a museum.
---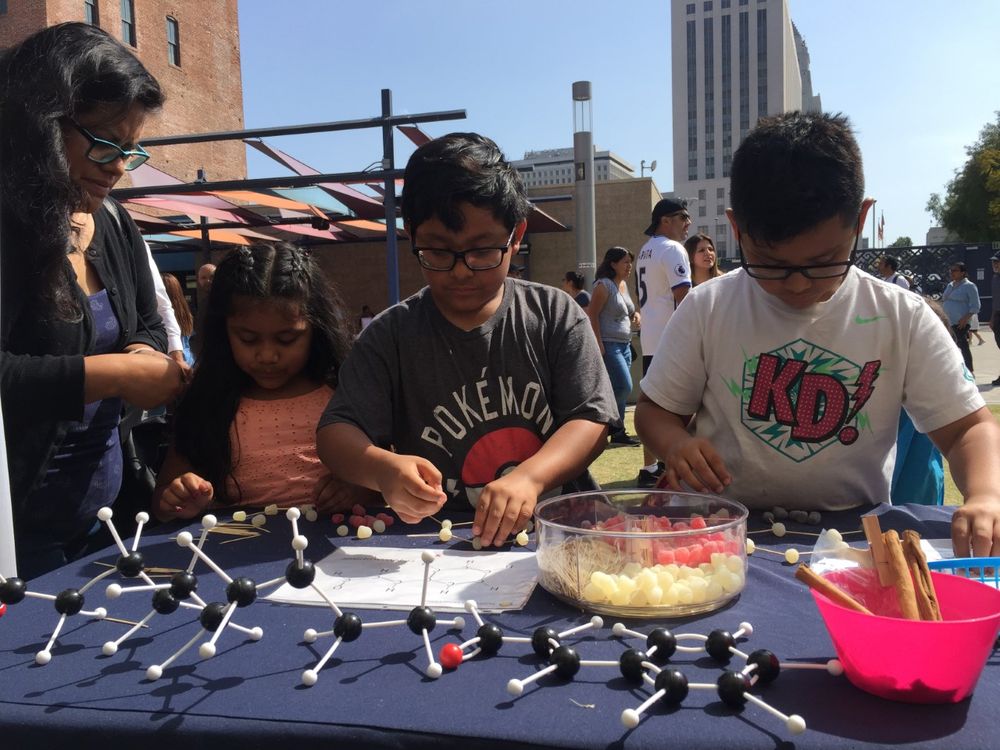 [Versión de este artículo en español disponible aquí.]
Many parents share the dream that their child will grow up to have a stable, financially-sound career. Smithsonian museums push the envelope of that dream by sharing a broad vision of the world that includes and extends beyond traditional careers. Doctors, lawyers, businesspeople and everyone else benefit from learning more about the depth of our history, the breadth of our cultural heritage and the science of our world: from tiny microbes to distant galaxies.
Going beyond museums into communities bridges the divide between cultures and helps Smithsonian staff to better understand the needs of our audiences. Educators can make a big difference in the lives of young students who have never met a scientist, seen a microscope, or visited a museum. Through innovative community programs, educators can reduce access barriers and make connections within the K-12 ecosystem. If students can't come to us, we will go to them!
The Punta Culebra Nature Center at the Smithsonian Tropical Research Institute (STRI) in Panama and the Smithsonian Latino Center have taken these ideas and brought them to life.
Q?Bus Brings the Wonder of Hands-On Science to Students and Teachers
On a beautiful, sunny morning in October 2019, before rain from scattered clouds brushed the Pacific entrance of the Panama Canal, a colorful 12-passenger bus parked at the Smithsonian's Punta Culebra Nature Center is packed and ready to go. Today it will head to Escuela Jose Leandro Solis, a public school near the canal's Atlantic terminus, where 66 students and their teachers await the arrival of a team of guides who will take them on an exciting hands-on-science adventure. 
Since Panama invited the Smithsonian to undertake a biological survey in 1910, Smithsonian scientists have studied Panama's tropical forests and reefs. Punta Culebra Nature Center is one of the Smithsonian Tropical Research Institute's (STRI) four public programs aimed at bridging this information with the community. Every year, more than 20,000 students from public and private schools learn about science here.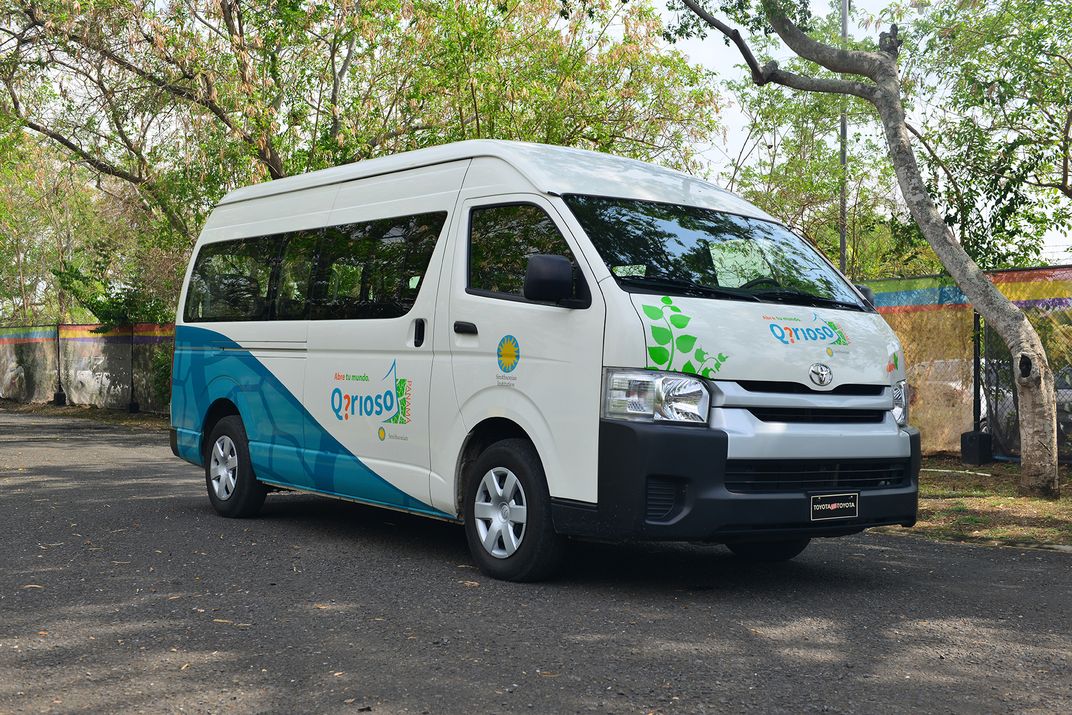 As the number of student visitors from public schools dwindled, mainly due to reduced funding allotted for field trips, the staff decided: "If students can't come to us, we will go to them!" Since 2018, STRI educators have taken to the streets aboard the Q?Bus to spark curiosity about the natural world among teachers and students. This free educational service blends elements of the Q?rius initiative at the National Museum of Natural History with a mobile platform to eliminate logistical and economic barriers for 10,391 third-tenth grade students and more than 300 teachers in 190 public schools and community organizations. 
Offering interactive activities based on real research, STRI unleashes innate curiosity among youth and empowers them with scientific knowledge and understanding. Using methods of inquiry and play, a space is created in which exploration and experimentation go hand-in-hand with mentors guiding each child by their own imagination and creativity to ask themselves questions.
The Q?Bus also invites teachers to actively participate in the activities as well as in a teacher training, providing effective class management skills, increasing their ability to implement new content and contributing to school and student success.
As the COVID-19 pandemic continues to evolve in Panama and globally, educational programs like the Q?Bus are temporarily on hold. But that has not stopped our staff, who continue to innovate, creating Q?Digital, a new virtual learning experience incorporating the Q?Bus curriculum. This curriculum now has the potential to reach an international community of learners and foster curious kids who will become future leaders of a biodiverse world. 
Speaking of going on the road, let's check out how ¡Descubra! reaches not only students and teachers, but also their families across the United States.  
¡Descubra! Showcases Experts and Career Pathways Across Subject Areas for Families and Museum Visitors
Latinos in the United States make up 18% of the nation's population and 25% of the nation's K-12 classrooms. Latinos live in cities across the country like New York, Atlanta, Chicago, Omaha, San Antonio, and Los Angeles, to name a few. Latinos can be recent immigrants or 6th generation Americans and often speak Spanish, English, Spanglish, or are bilingual.
Given this breadth of diversity, the Smithsonian Latino Center has a prime opportunity to meet our communities beyond Washington, D.C. Our goal is to serve as a bridge between our communities and the Smithsonian.  ¡Descubra! helps bring Smithsonian content to Latino communities across the United States and highlights their contributions locally and nationally.
¡Descubra! brings Latino experts, like scientists or artists, to existing family days, festivals, or events at partner museums and cultural centers across the country. The events feature bilingual educational resources and activities that are both physically and financially accessible. At its core, working with local community organizations, together we create culturally responsive experiences that connect to Smithsonian collections.
Since the pandemic, the SLC education team continues to build innovative approaches to make our resources accessible. We partnered with museums to bring ¡Descubra! kits to home learners, reaching 1,000 kids in Massachusetts and D.C. area in June 2020 alone. These Create-It! Handouts evolved from downloadable PDFs to now, a series of Smithsonian Learning Lab collections. They feature primary source images and videos that go with activities, like building your own rocket. The handouts have also become at-home maker kits thanks to our work with Smithsonian Affiliations, the Springfield Museums, and the National Museum of American History. Since its 2015 debut, ¡Descubra! has reached over 320,000 community members in 11 cities beyond D.C.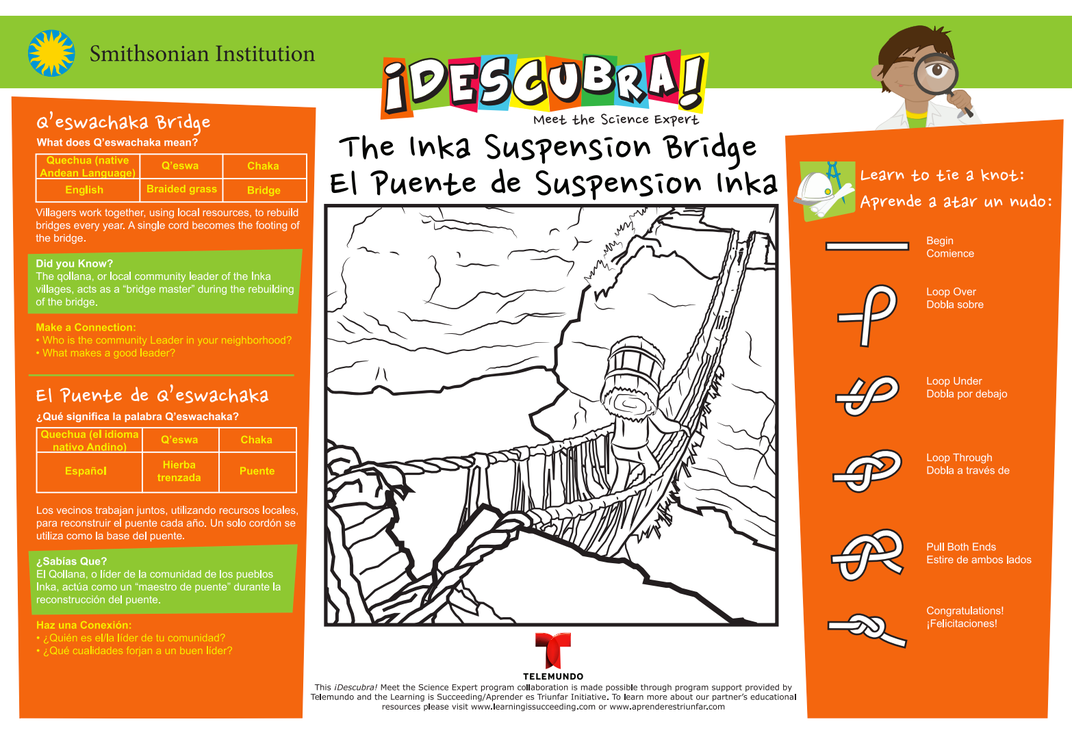 Building on what we learned from ¡Descubra!, the SLC education team is creating learning packs called mini-mochilas. These learning packs feature a curated collection of multi-sensorial activities responding to U.S. History themes. They are augmented with texts, images, audio and video QR links as well as tasks and prompts. This allows learners and families to explore their own interests. Research becomes play, objects become readable texts piquing curiosity. These mini-mochilas are anchored in Smithsonian collections will feature extended learning opportunities through the Smithsonian Learning Lab.
Shaping Learners' Positive Self-Identity through Representation
Creating these transformative experiences goes deeper than the skills we hope to build. They are an opportunity to contribute to the creation of a positive, innovative learning culture. While problem solving and creative thinking are important to foster, the transformation is found in creating a sense of belonging, of saying "I can do this!" and "I want to learn more!", no matter where you are, who you are, or the resources you may have. 
You might ask why we do this work? Representation matters, in large part because as scholar Dr. Rudine Sims Bishop shared, learners need to both see themselves in the mirror, you're their own experiences reflected as well as learn about other experiences, a window into the diversity of the human experience. Join us in showing our young people of today, the legacy of yesterday, and the importance of tomorrow. 
Llevamos la Institución Smithsonian a los estudiantes más allá del museo
Por: Emily Key y Jimena J. Pitty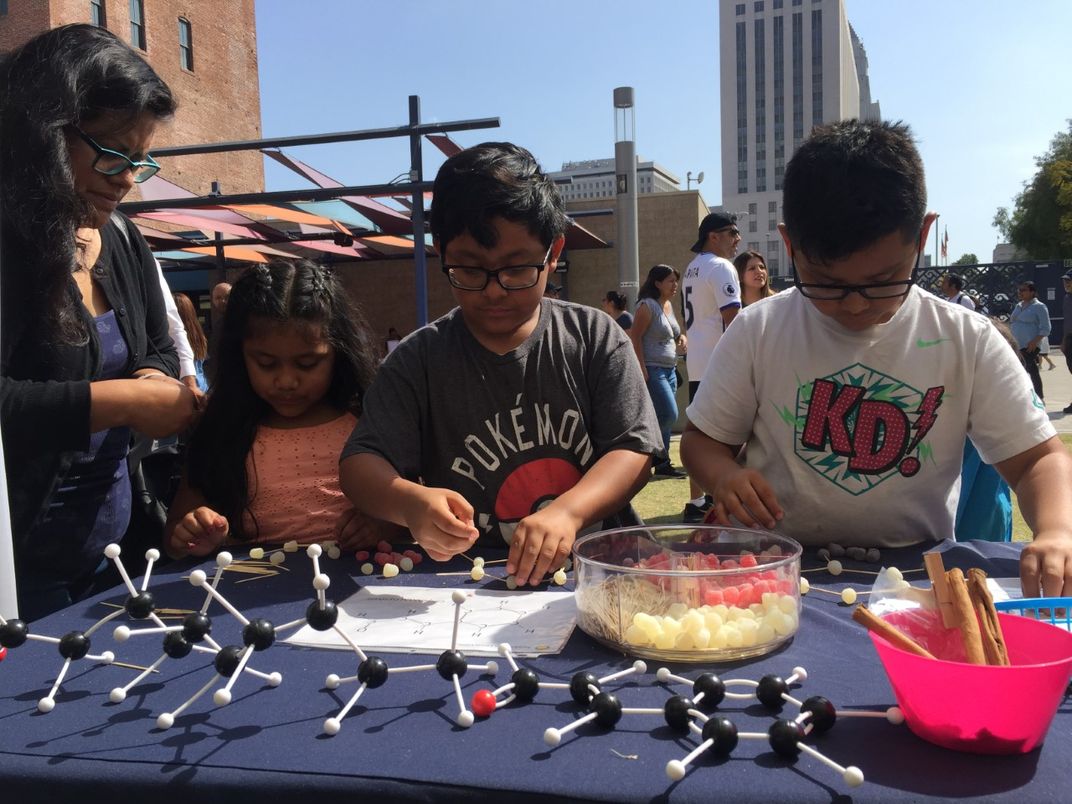 Muchos padres comparten el sueño de que sus hijos crezcan y tengan una carrera estable y económicamente sólida. Los museos del Smithsonian amplían ese sueño al compartir una gran visión del mundo que incluye y se extiende más allá de las carreras tradicionales. Nuestro público, incluyendo médicos, abogados y empresarios, se benefician al aprender más sobre la profundidad de nuestra historia, la amplitud de nuestra herencia cultural y la ciencia de nuestro mundo: desde pequeños microbios hasta galaxias distantes.
Salir de los museos hacia las comunidades cierra la brecha entre las culturas y apoya al personal del Smithsonian a comprender mejor las necesidades de nuestro público. Los educadores pueden representar una gran diferencia en la vida de los estudiantes jóvenes que nunca han conocido a un científico, visto un microscopio ni visitado un museo. Los educadores pueden reducir las barreras al acceso y establecer conexiones dentro del ecosistema de la educación, que va desde el kindergarten hasta el 12º grado, mediante programas comunitarios innovadores. Si los estudiantes no pueden venir hasta aquí, ¡nosotros iremos hasta donde ellos estén!
El Centro Natural Punta Culebra del Instituto Smithsonian de Investigaciones Tropicales en Panamá y el Centro Latino Smithsonian han adoptado estas ideas y las han hecho realidad.
El Q?Bus lleva la maravilla de la ciencia práctica a los estudiantes y maestros
En una hermosa y soleada mañana de octubre del 2019, antes de que la lluvia de las nubes dispersas rociara la entrada del Canal de Panamá en la costa del Pacífico, un colorido autobús de 12 pasajeros estacionado en el Centro Natural Punta Culebra de la Institución Smithsonian está lleno y listo para salir. Hoy se dirigirá a la Escuela José Leandro Solís, una escuela pública situada cerca de la terminal atlántica del canal, donde 66 estudiantes y sus maestros esperan la llegada de un equipo de guías que los llevarán a una emocionante aventura de ciencia práctica.
Desde que Panamá invitó a la Institución Smithsonian a realizar un estudio biológico en 1910, los científicos del Smithsonian han estudiado los bosques tropicales y los arrecifes de Panamá. El Centro Natural Punta Culebra es uno de los cuatro programas públicos del Instituto Smithsonian de Investigaciones Tropicales (STRI, sigla en inglés) destinados a hacer llegar esta información a la comunidad. Cada año, más de 20.000 estudiantes de escuelas públicas y privadas aprenden aquí sobre ciencia.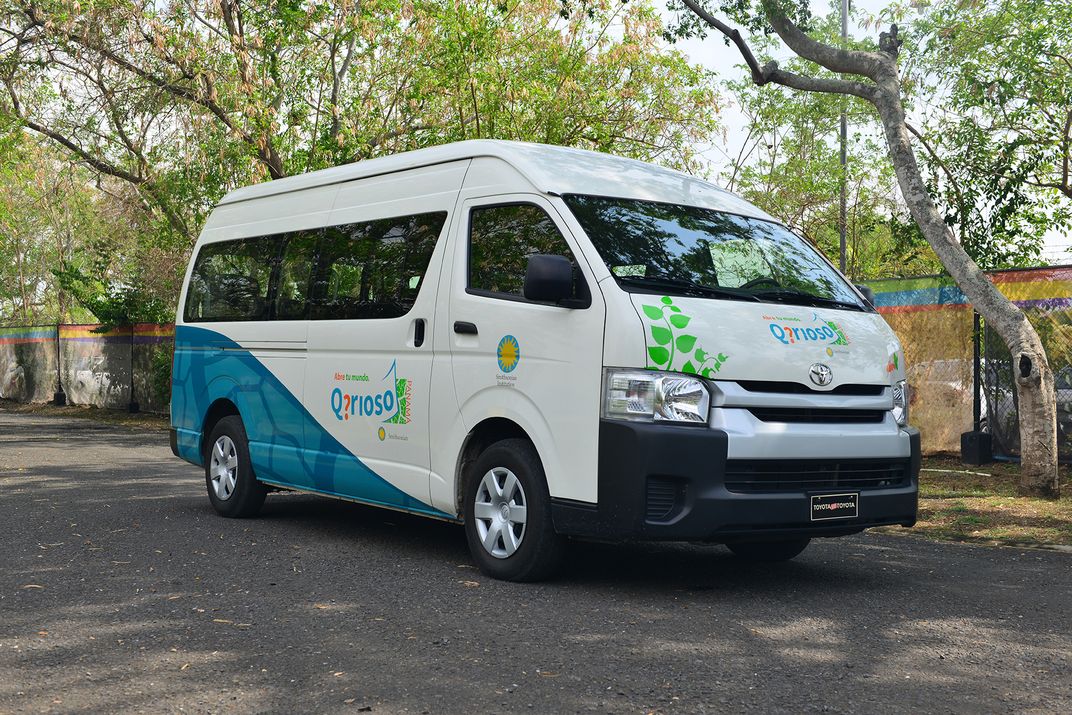 A medida que el número de estudiantes de las escuelas públicas que visitaban el museo disminuía, debido principalmente a la reducción de los fondos asignados a las excursiones, el personal decidió que: "Si los estudiantes no pueden venir hasta aquí, ¡nosotros iremos hasta ellos!". Desde el 2018, los educadores del STRI han salido a las calles a bordo del Q?Bus para despertar la curiosidad por el mundo natural entre maestros y estudiantes. Este servicio educativo gratuito combina elementos de la iniciativa Q?rius del Museo Nacional de Historia Natural con una plataforma móvil a fin de eliminar las barreras logísticas y económicas para 10.391 estudiantes de tercer a décimo grado y para más de 300 maestros de 190 escuelas públicas y organizaciones comunitarias.
Al ofrecer actividades interactivas basadas en investigaciones reales, el STRI da rienda suelta a la curiosidad innata de los jóvenes y los dota de conocimientos y comprensión acerca de la ciencia. Al utilizar métodos de indagación y juego, se crea un espacio en el que la exploración y la experimentación van de la mano, con mentores que guían a cada niño a través de su propia imaginación y creatividad para que se haga preguntas.
El Q?Bus también invita a los maestros a participar de manera activa en las actividades, así como en una capacitación para educadores, que los prepara para la gestión eficaz de las clases, aumenta su capacidad para aplicar nuevos contenidos y contribuye al éxito de la escuela y de los estudiantes.
Los programas educativos como el Q?Bus se han suspendido de forma temporal mientras la pandemia de la COVID-19 sigue evolucionando en Panamá y en todo el mundo. Sin embargo, eso no ha impedido que nuestro personal, que sigue innovando, haya creado Q?Digital, una nueva experiencia de aprendizaje virtual que incorpora el plan de estudios del Q?Bus. En la actualidad, este plan de estudios tiene el potencial de llegar a una comunidad internacional de estudiantes y fomentar la curiosidad de los niños, que se convertirán en futuros líderes de un mundo biodiverso.
A propósito de llegar hasta otros lugares y personas, veamos cómo ¡Descubra! llega no solo a los estudiantes y maestros, sino también a sus familias en todo Estados Unidos.
¡Descubra! presenta a expertos y trayectorias profesionales en todas las áreas temáticas a las familias y a los visitantes del museo
Los latinos de Estados Unidos representan un 18% de la población del país y un 25% de los salones de clase desde kindergarten hasta el 12º grado. Los latinos viven en ciudades de todo el país, como Nueva York, Atlanta, Chicago, Omaha, San Antonio y Los Ángeles, por nombrar solo algunas. Los latinos pueden ser inmigrantes recientes o estadounidenses de sexta generación, y suelen hablar español, inglés, espanglish o ser bilingües.
Gracias a esta amplia diversidad, el Centro Latino Smithsonian tiene una gran oportunidad de conocer a nuestras comunidades más allá de Washington D.C. Nuestro objetivo es servir de puente entre nuestras comunidades y la Institución Smithsonian. ¡Descubra! ayuda a acercar el contenido de la Institución Smithsonian a las comunidades latinas de todo Estados Unidos y destaca sus contribuciones a nivel local y nacional.
¡Descubra! lleva a expertos latinos, como científicos o artistas, a celebraciones de los días de la familia, festivales o eventos organizados en museos y centros culturales asociados de todo el país. Los eventos cuentan con recursos educativos bilingües y actividades accesibles tanto física como económicamente. En esencia, al trabajar con organizaciones comunitarias locales, juntos creamos experiencias culturalmente receptivas que están relacionadas con las colecciones de la Institución Smithsonian.
Desde el comienzo de la pandemia, el equipo de educación SLC ha seguido creando métodos innovadores para hacer accesibles nuestros recursos. Nos asociamos con varios museos para llevar los ¡Descubra! kits a los niños que estudian desde casa, y llegamos a 1.000 niños en las áreas de Massachusetts y D.C., solo en junio del 2020. Estos folletos Create-It! han evolucionado desde PDF descargables hasta, en la actualidad, una serie de colecciones del Laboratorio de Aprendizaje Smithsonian. Presentan imágenes y videos de fuentes originales que acompañan a las actividades, como la construcción de cohetes. Los folletos también se han convertido en kits para hacer en casa gracias a nuestra colaboración con diversas organizaciones como Smithsonian Affiliations, Springfield Museums y el Museo Nacional de la Historia Americana. Desde su inicio en el 2015, el programa ¡Descubra! ha llegado a más de 320.000 miembros de la comunidad en 11 ciudades más allá de D.C.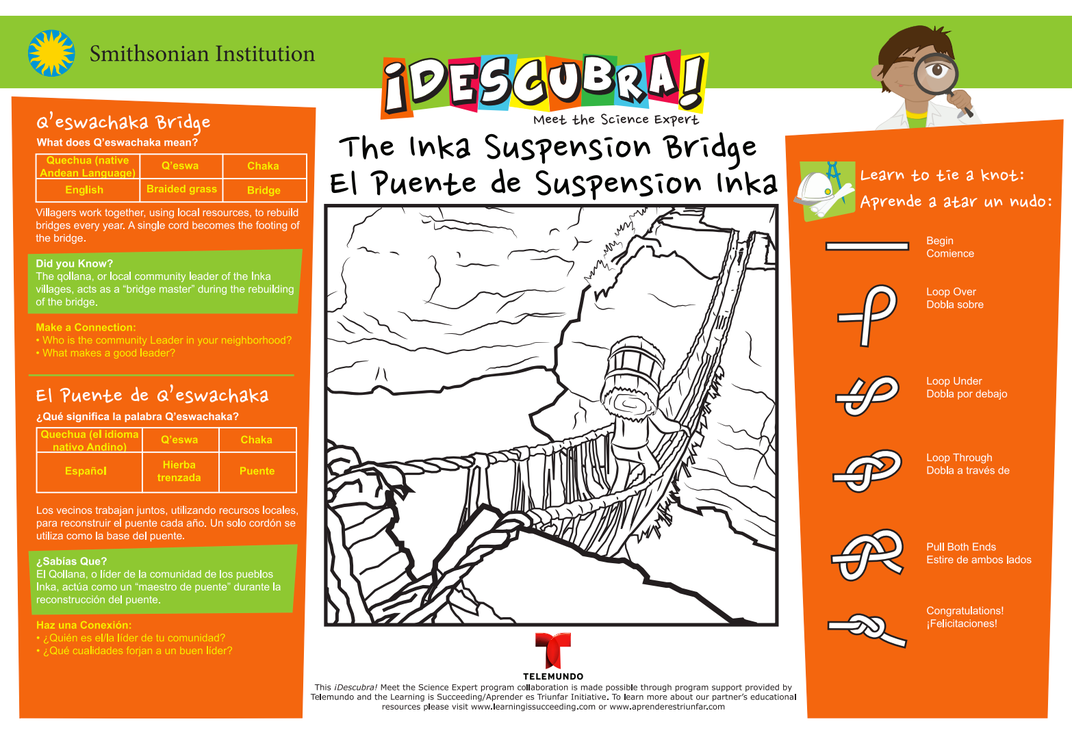 A partir de lo que hemos aprendido con ¡Descubra!, el equipo educativo del SLC está creando paquetes de aprendizaje llamados mini-mochilas. Estos paquetes de aprendizaje presentan una colección seleccionada de actividades multisensoriales que corresponden a temas de la historia de los Estados Unidos. Se complementan con textos, imágenes, enlaces a códigos QR de audio y video, así como con tareas e instrucciones. Esto permite que los estudiantes y las familias exploren sus propios intereses. La investigación se convierte en un juego y los objetos en textos legibles que despiertan la curiosidad. Estas mini-mochilas están vinculadas a las colecciones del Smithsonian y ofrecerán oportunidades de aprendizaje ampliadas a través del Laboratorio de Aprendizaje Smithsonian.
Formación de una identidad propia positiva de los estudiantes por medio de la representación
La creación de estas experiencias transformadoras va más allá de las habilidades que esperamos desarrollar. Brindan una oportunidad para contribuir a la creación de una cultura de aprendizaje positiva e innovadora. Si bien es importante fomentar la resolución de problemas y el pensamiento creativo, la transformación tiene lugar cuando se crea un sentimiento de pertenencia, cuando decimos "¡puedo hacerlo!" y "¡quiero aprender más!", sin importar dónde estamos, quiénes somos ni los recursos que tenemos.
Quizás se pregunten ¿por qué hacemos este trabajo? La representación es importante, en gran medida porque, como dice la Dra. Rudine Sims Bishop en espejos, los estudiantes necesitan no solo verse en el espejo, usted representa el reflejo de las propias experiencias de ellos, sino que también quieren aprender de otras experiencias, se trata de una ventana a la diversidad de la experiencia humana. Acompáñenos para mostrarles a nuestros jóvenes de hoy el legado del ayer y la importancia del mañana.