How the Extraordinary Life of an Ordinary Girl Inspired an Exhibition
The discovery of a forgotten document leads to an online exhibition and a deep dive into a family's history that was all but lost.
---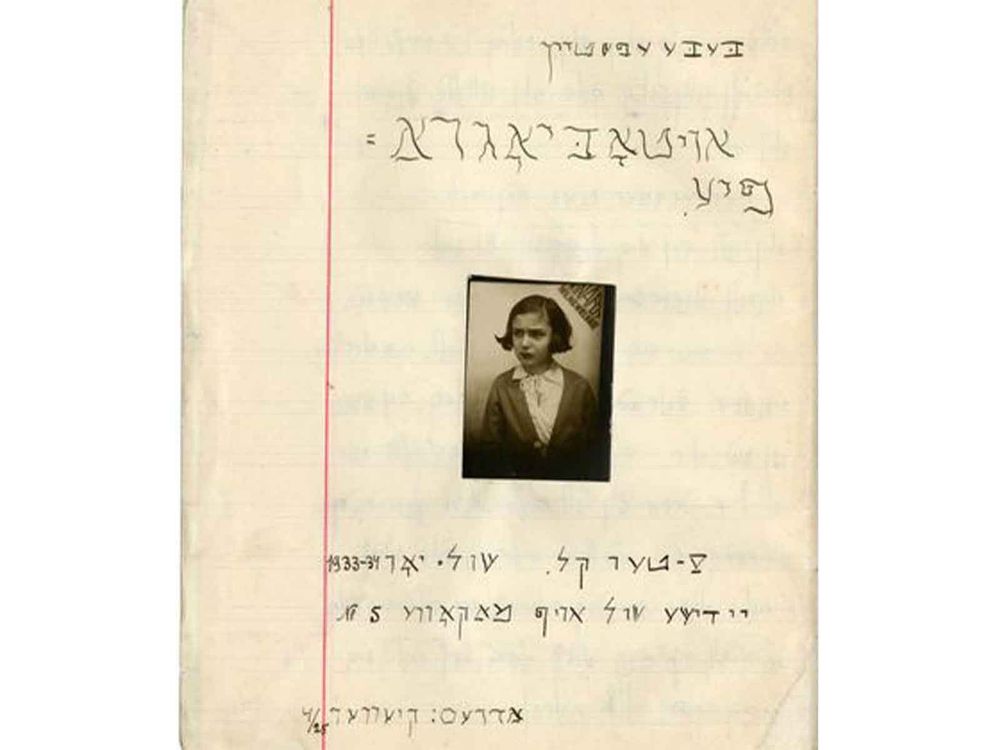 The YIVO Institute for Jewish Research, a Smithsonian Affiliate, has an archive of more than 23 million unique items and a Library of over 400,000 volumes. It is dedicated to the preservation and study of the history and culture of East European Jewry worldwide and is the single largest resource for such study in the world. In order to share its treasures with the world, in August 2020 YIVO launched the YIVO Bruce and Francesca Cernia Slovin Online Museum. In this article the museum's Chief Curator, Karolina Ziulkoski, will share insights about the development of the first exhibition of the museum, Beba Epstein: The Extraordinary Life of an Ordinary Girl.
The development of the YIVO Cernia Slovin Online Museum was guided by our understanding of what defines a standalone online museum. The digital presence of museums is usually seen as an extension of a physical institution and is usually focused on exploring existing on-site collections. But when a museum exists only online, as is the case of the YIVO Cernia Slovin Online Museum, different principles must apply.
This led to rethinking the concept of an online museum. How can the behavior of users in digital environments be leveraged to make digital exhibitions more engaging? What can be done effectively only online? The answers to these questions provided the basis for the framework of the YIVO Cernia Slovin Online Museum. Taking advantage of a medium that is ideal for storytelling and a multiplicity of interactive experiences, the exhibitions of the online museum are narratives based on a character's journey told through a combination of different archival objects, written text, animations, videos, interactive 3D environments, games, and more.
These narratives provide living context and meaning to the historical artifacts from the YIVO archives and show the importance of conservation and archival work. Character-based stories connect and present different topics of Jewish life in Eastern Europe. Specific stories were chosen because of what can be learned through their journeys. Each story is divided into chapters that cover different parts of the character's path and different parts of history. It expands from a singular point of view to the bigger historical context through a selection from YIVO's unique archives of some 23 million documents and artifacts. The development process of the online museum went from the micro journey of a character to a macro understanding of the world at that time.
The first exhibition, Beba Epstein: The Extraordinary Life of an Ordinary Girl, began by examining a document that was lost for decades: the autobiography Beba wrote in the 1930s when she was 11 or 12 years old. In it she presents her family, her school, her favorite activities, her summer holidays and more in a very intimate, complete, and earnest portrait of the life of a middle-class Jewish child in pre-war Vilna, Poland (now Vilnius Lithuania). It is almost impossible for her to have conceived the impact her simple account would have almost 90 years later.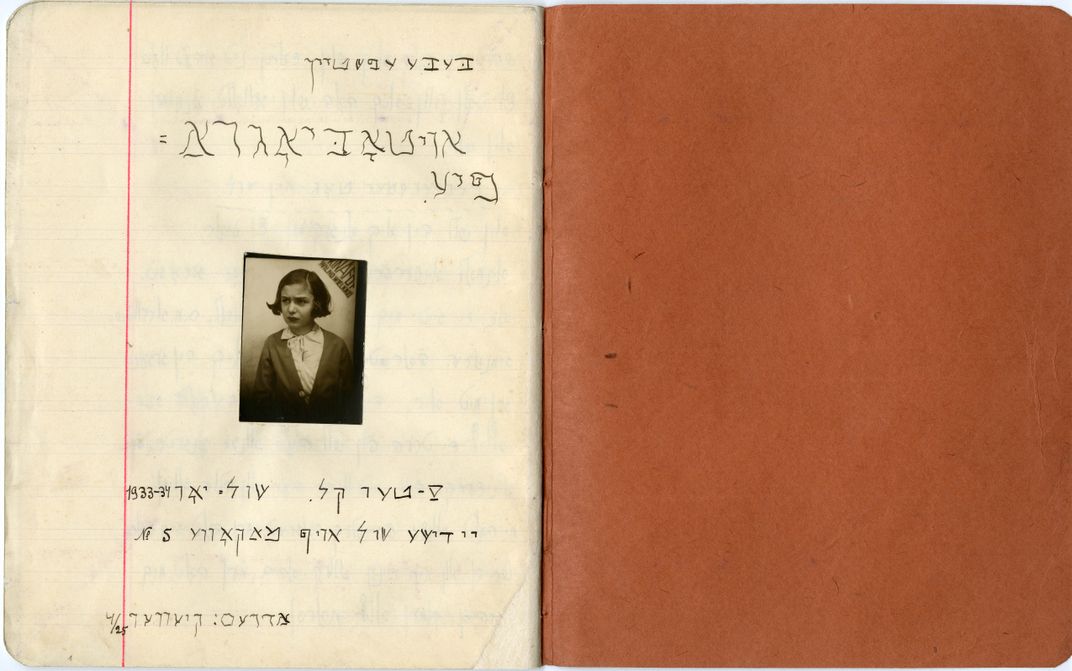 Before we dive deeper into the exhibition development, it is important to talk about the story of the autobiography itself. The autobiography is part of YIVO's prewar collection, which was saved from the Nazis during World War II by brave members of the Vilna Ghetto. Later, these documents were again saved by the Lithuanian librarian Antanas Ulpis, who hid them from the Soviets inside a church in Vilnius that had been converted by the Soviets into the Lithuanian National Book Chamber. A cache of these documents was found in the 1990s with the fall of the USSR, and another collection of materials in 2017. Beba's autobiography was among the most recent findings. The discovery was reported in a New York Times article that featured the first page of Beba's autobiography including her photo. No one at YIVO knew what had become of Beba and it was assumed that she had perished during the Holocaust. Our surprise was great when Michael Leventhal, Beba's son, called the next day to say that his mother had survived and raised a family in Los Angeles. A friend had seen the article and told him it might be his mom – and indeed it was.
The decision to feature Beba's story in the first exhibition of the Online Museum was made early, but at that point all the information we had about her came from her autobiography and her 1984 testimonial to the Los Angeles Holocaust Testimonies Project in cooperation with the United States Holocaust Memorial Museum. However, from her autobiography we were able to outline a set of topics and began research to find artifacts in the YIVO archives that both related directly to her experience and expanded on it.
As we started to explore the archives, we realized YIVO held the papers of Beba's uncle, Lasar Epstein, who played a very important part in her life and was a prominent member of the Bund, a Jewish socialist party. In Lasar's papers there were considerable family correspondence that provided details not mentioned in Beba's autobiography. A handwritten note from Beba's younger brother Khayim is likely one of the only things to document his life. Many of the documents we found pertain to Beba's immigration process to the US: a letter she sent to the Jewish Daily Forward trying to get in touch with Lasar after the war, while she was recovering at a hospital in Sweden; cables between Lasar and a friend of his in Stockholm as he was trying to locate Beba; a denial letter from the American Legation following her first application for permanent residency in the United States; and a letter thanking a distant relative for writing a sponsorship letter for Beba, which eventually secured her visa. All of these documents, along with her testimony, became the basis of the chapter in the exhibition about immigration.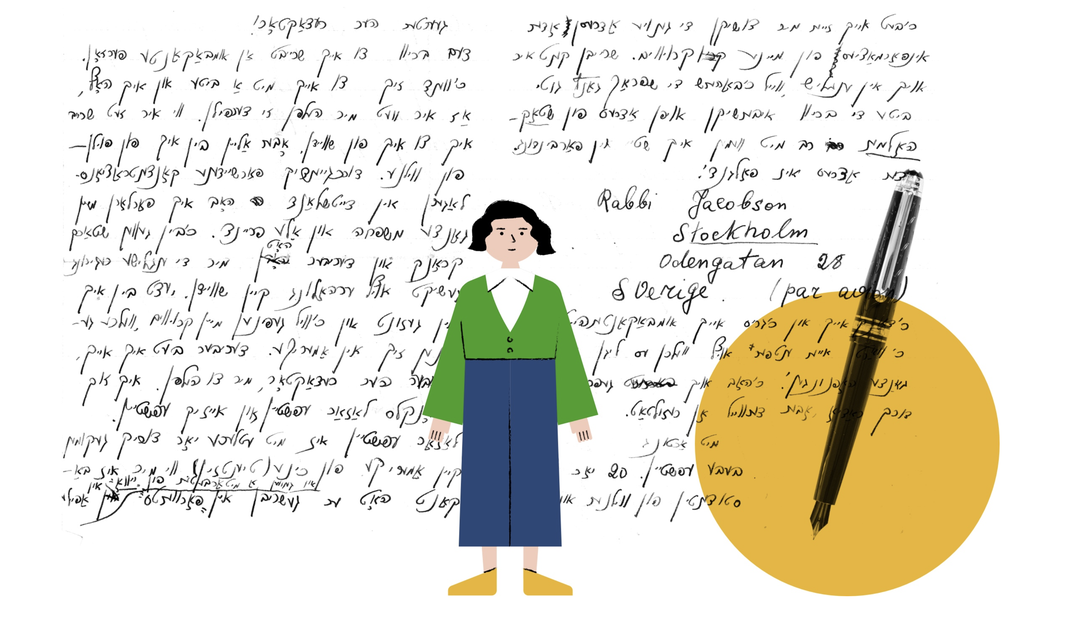 The chapter on immigration also helps us understand what it would be like today to immigrate into the United States as a refugee from World War II and tells the incredible story of Lasar's son, Israel, who ended up being one of the very few high-ranking non-Chinese members of the Chinese Communist Party.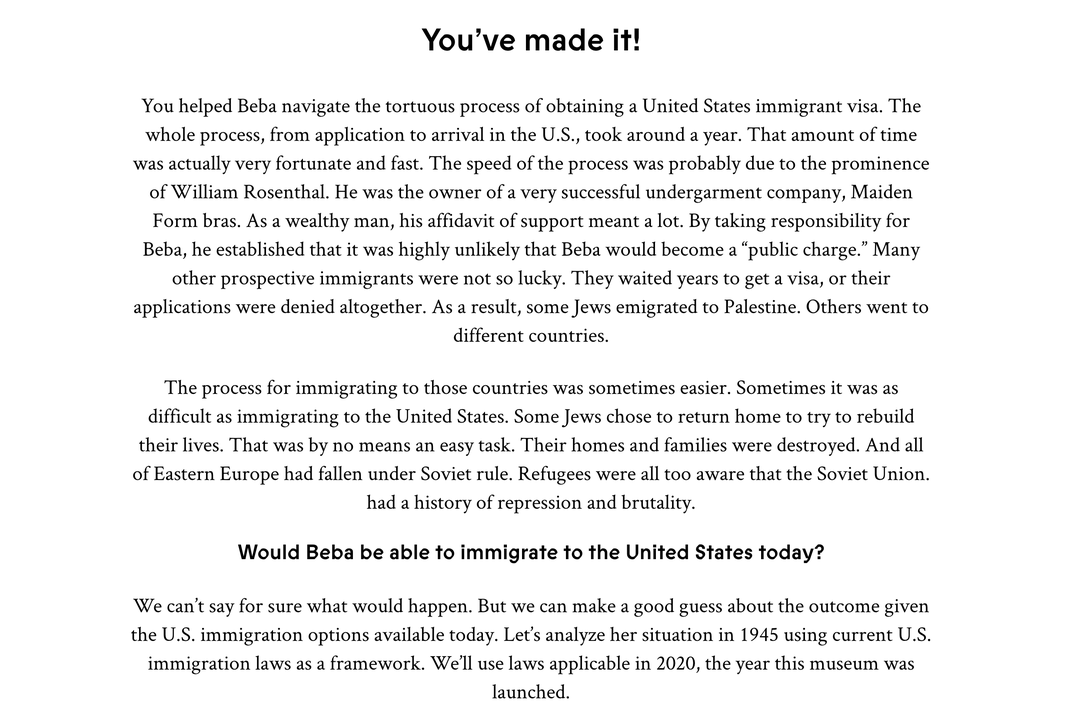 We found remnants from Beba's primary and high schools as well as documents and photos detailing the summer camps she attended in YIVO's archives. From her autobiography we learn that Beba's 5th grade teacher was Stefania Szabad, wife of the beloved Vilna doctor Tsemach Szabad, the inspiration behind the children's book "Dr. Ow It Hurts" [Доктор Айболит] by the Russian writer Kornei Chukovsky, which is part of YIVO's library and was translated for the first time into English for this exhibition. Beba's family noted that Dr. Szabad was someone Beba highly regarded, and that she visited Dr. Szabad's grave in Vilnius in 2005.
Little by little we discovered not only Beba's life but the world she inhabited. Her story by no means represents everyone's experience at the time. It is a full and complete portrait of one young woman's journey. This is precisely why we chose to focus on an individual: Jewish life in Eastern Europe was not monolithic, but diverse, full of nuances, and with so many different experiences that any attempt to fit this entire civilization into a single description or "fate" must distort it through generalizations and stereotypes. Future exhibitions focusing on the life and experience of numerous other individuals—some famous, some "ordinary"—and making ample use of YIVO's unique archives will tell the little known story of Eastern European Jewish life in a much more complete and nuanced way than has been available up to now.
We invite you to discover our inaugural exhibition, Beba Epstein: The Extraordinary Life of an Ordinary Girl, available free of charge at https://museum.yivo.org
YIVO Institute of Jewish Research, part of the Center for Jewish History in New York, New York, is a Smithsonian Affiliate.