Jessica Cox Flies in the Face of Challenges
The world's first licensed armless pilot is an advocate for people with disabilities and motivates people around the world to overcome their differences.
---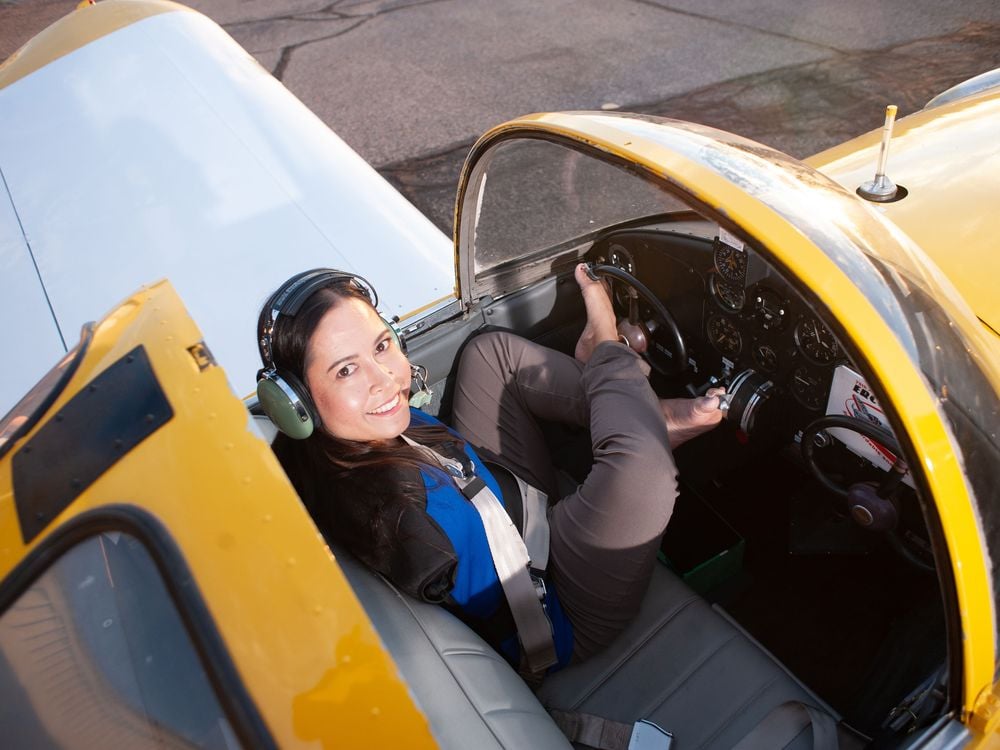 "Handicaps are mindsets. Whatever it is that stands in the way of achieving something, that's when it's a handicap. I prefer to see them as obstacles or challenges. This is how I've been my whole life. I don't know any different. I just live my life through my feet."
Born in 1983, Jessica Cox is part of a small group of women pilots, only about 6% of non-commercial pilots in the US are women. But what makes her stand out is that she is the world's first armless, abled aviator. Born without arms, Cox never let her disability become her disadvantage. She learned at a young age how to use her feet as her hands. She was frustrated and would act out because she did not have arms. She confesses that she was a "bratty child," and just could not understand why she did not have arms when her older brother, her younger sister, and her parents all had arms. At the beginning of eight grade, after eleven years of wearing prosthetic arms, she decided to be "the real Jessica" and ditch her arms. This was the start of her new life and the start of new beginnings.
During recess, she loved swinging because it was something that she could control and imagine flying over everything. This launched her imagination and determination to become a pilot. She knew that if she were able to become a pilot, she could have her freedom, and literally fly over everyone. She started Tae Kwan Doe when she was 10, and advanced quickly, earning a black belt when she was 14. After college, Cox continued practicing and met Patrick Chamberlain, who she married in 2012.
Her journey to become a pilot started after she gave a speech to a Rotary chapter where Robin Stoddard invited her to participate in his nonprofit organization, Wright Flight. This was going to give her the opportunity to fly with the organization. But before flying with them, she had her first taste of being a pilot. During a trip to Mexico in a small, single-engine plane, she had the opportunity to place her foot on the yoke and feel the experience of being in the air. After that, her childhood fear of planes vanished. The feeling of control, of the freedom in the air, was more powerful than her fear and on that day, she made a commitment to herself and pursued her dream of becoming a pilot. This was not without obstacles though. Finding an instructor was a challenge. A lot were uncomfortable teaching and qualifying an armless pilot. Cox perservered and eventually found a teacher who agreed. Cox refused to let her disabilities affect her pilot's test and her instructor expected her to pass and successfully complete all tasks without assistance. Her dream became a reality in 2008 when she took her first solo flight.
Cox is not only a pilot and advocate for women in aviation but also a champion for people with disabilities. As a motivational speaker, she has traveled across the world to inspire others. She is a fighter for the Americans with Disabilities Act (ADA) and became an advocate for the adoption of the Convention of the Rights of Persons with Disabilities (CRPD), which gives people with disabilities access to education, health care, and the same advantages she had growing up. She has become a Goodwill Ambassador with Humanity and Inclusion and has traveled throughout Europe, Africa, and Australia.
2020 celebrated several important milestones in history. Nationally, it marked the 100th anniversary of the 19th Amendment and the 30th anniversary of the Americans with Disabilities Act, and locally, the 80th anniversary of the Ercoupe, which was manufactured in Riverdale, Maryland. Designed by Fred Weick, the Ercoupe was described as a "fool proof" plane – simple and safe—a plane that anyone could fly. The two-seat Ercoupe 415 became available for purchase in 1940. The ease of its design made it accessible to Cox.
In honor of both the anniversary of the Ercoupe and the anniversary of the ADA, Cox and her team flew to the College Park Airport, the oldest continuing operating airport in the world, founded in 1909, in College Park, Maryland. Adjacent to the Airport is the College Park Aviation Museum, owned by the M-NCPPC, Department of Parks and Recreation, Prince George's County and is a Smithsonian Affiliate. The museum hosted Jessica's fly-in on the anniversary weekend in July 2020.
Jessica Cox's documentary, "Right Footed," chronicles her story of overcoming adversity and follows her over a period of two years as she becomes a mentor for children with disabilities and their families. She is also the author of "Disarm your Limits: The Flight Formula to Lift You to Success and Propel You to the Next Horizon."
The College Park Aviation Museum opened in 1988. It is located on the grounds of the world's oldest continuously operating airport in College Park, Maryland. The airport was founded in 1909 when Wilbur Wright visited to give flight instruction to the first military aviators. More information at collegeparkaviationmuseum.com