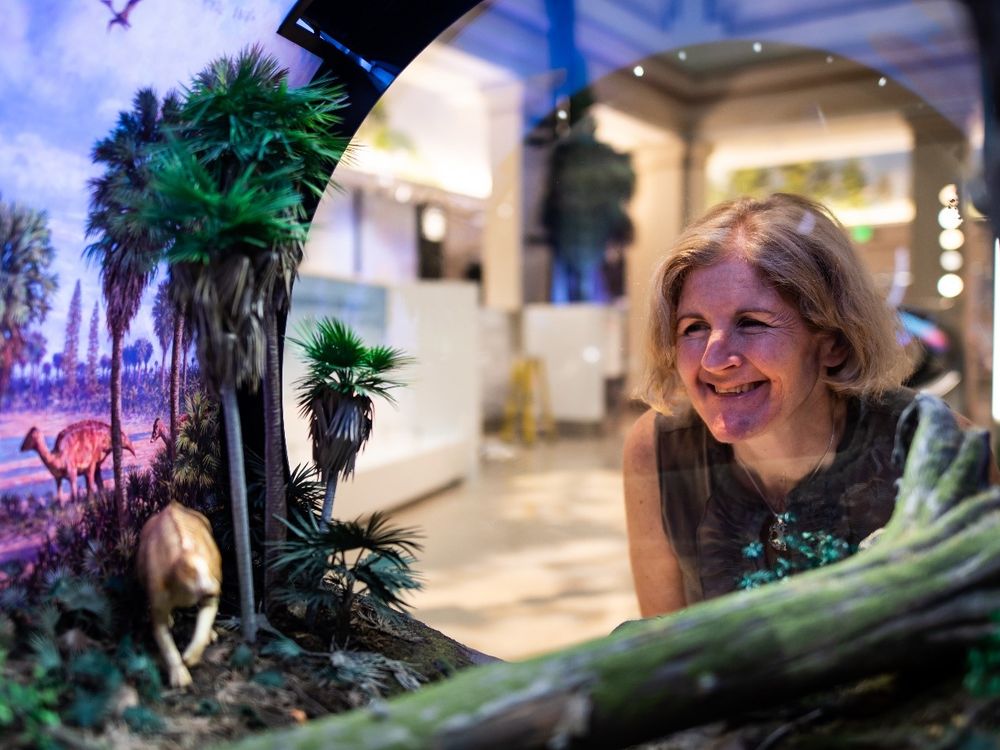 It was early on a hot July day in 2013 and Siobhan Starrs was terrified.
Starrs – the Exhibition Project Manager for the National Museum of Natural History's newest exhibit, "David H. Koch Hall of Fossils – Deep Time" – was standing on a narrow earthen cliff face at the edge of a gorge in North Dakota, clutching a barbed wire fence for support. Below her was a dauntingly long way to fall.
Members of the "Deep Time" team were traversing a steep cliff to access a spot in the Hell Creek Formation called "Pachy Point," where they were scheduled to spend the day digging up fossils. The group had woken up around sunrise and driven SUVs packed with gear across the mostly flat landscape blanketed in prairie grass to the middle of a field. From there, they unloaded and began their trek across a gorge toward fossil-infused bedrock.
Despite being an avid hiker, Starrs was shaken. The bluff had once been used as a bison jump – a formation that Native Americans exploited to kill large numbers of bison at once. Hunters herded the animals and drove them off the cliff, where they fell to their deaths. As project manager, Starrs was there to learn about fieldwork and fossils from Smithsonian curators and scientists. Crossing a harrowing path that felt like a tightwire was not high on her field trip bucket list.
But her colleagues were there to boost her courage and she made it across.
"To this day, I still can't believe that I did it," Starrs says.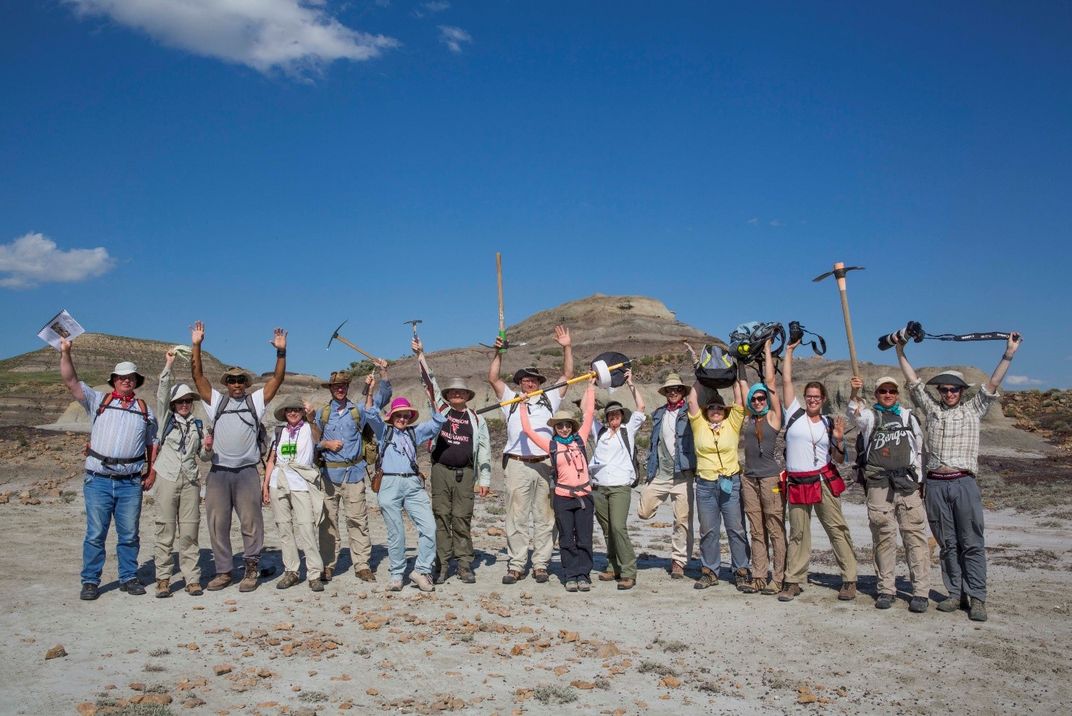 That perilous walk was part of an overall fantastic bonding experience, says Hans Sues, a Smithsonian Curator of Vertebrate Paleontology who was on the trip. "Folks from the education and exhibits departments experienced first-hand what we science folks do."
With the help of Starrs, two exhibit writers, and an education videographer, the "science folks" were after 66 million-year-old plant and animal fossils from the Cretaceous period for "Deep Time" – an exhibit that details 4.6 billion years of Earth's history. Today, some of the fossils that the team uncovered are on display in the renovated hall.
Starrs left North Dakota with a new perspective on fossil hunting and her colleagues. Watching the scientists at work revealed the prowess of the people she was learning from. Anna "Kay" Behrensmeyer, a Smithsonian Curator of Vertebrate Paleontology, for instance, "can read a landscape like you would read a book," Starrs says.
And the first time Starrs found a real fossil – a turtle shell fragment – it took her breath away. "It was amazing," she says.
An unexpected career
As a Northern Virginia native and member of a family with eight children, the Smithsonian was at the heart of Starrs' childhood.
Her father – a law and forensic science professor – commuted by bike to George Washington University, where he taught and worked on criminal investigations. If the weather got bad or he couldn't bike in, Starrs' mother would drive him with their children in tow. Until it was time to go home, Starrs and her siblings would roam the zoo or one of the museums.
Back then, Starrs never imagined that she would one day work for the Smithsonian. Instead, driven by her love of reading, she dreamed of becoming an English professor like her grandfather. In 1991, she moved to Blacksburg, Virginia to attend Virginia Tech. There, she earned bachelor's and master's degrees in English, got married, had a baby and bought a house.
"I was settled on staying," Starrs says. "I hoped my trajectory was going to be to join the English faculty there."
But then her father got sick and her husband was offered a job with the Navy. Starrs and her husband decided to move north in 1995 and she has been there ever since.
Upon returning to Northern Virginia, Starrs got a Navy job as a research analyst. She worked under an admiral where she did communications work. But her heart was not in it and she was struggling. To take her mind off work, Starrs' father proposed that she tackle something fun in her spare time and volunteer at the National Museum of Natural History.
Starrs landed in archaeology, working under Gus Van Beek, an archaeologist who she describes as "Indiana Jones meets gentleman" and says is on her list of top six dream dinner party invitees. Along with a group of older women, she helped piece together pottery fragments for Van Beek. Then one day, someone said to her, "You know you could have a job working in a museum, right?"
Starrs immediately balked, saying she was too old to go back to school and get a PhD to become a researcher. But she learned about graduate programs in museum studies, including one at George Washington University, where she could train to work in administration or specimen conservation.
"I never would have thought of a museum as a place to work," Starrs says. "I didn't even know museum studies programs existed."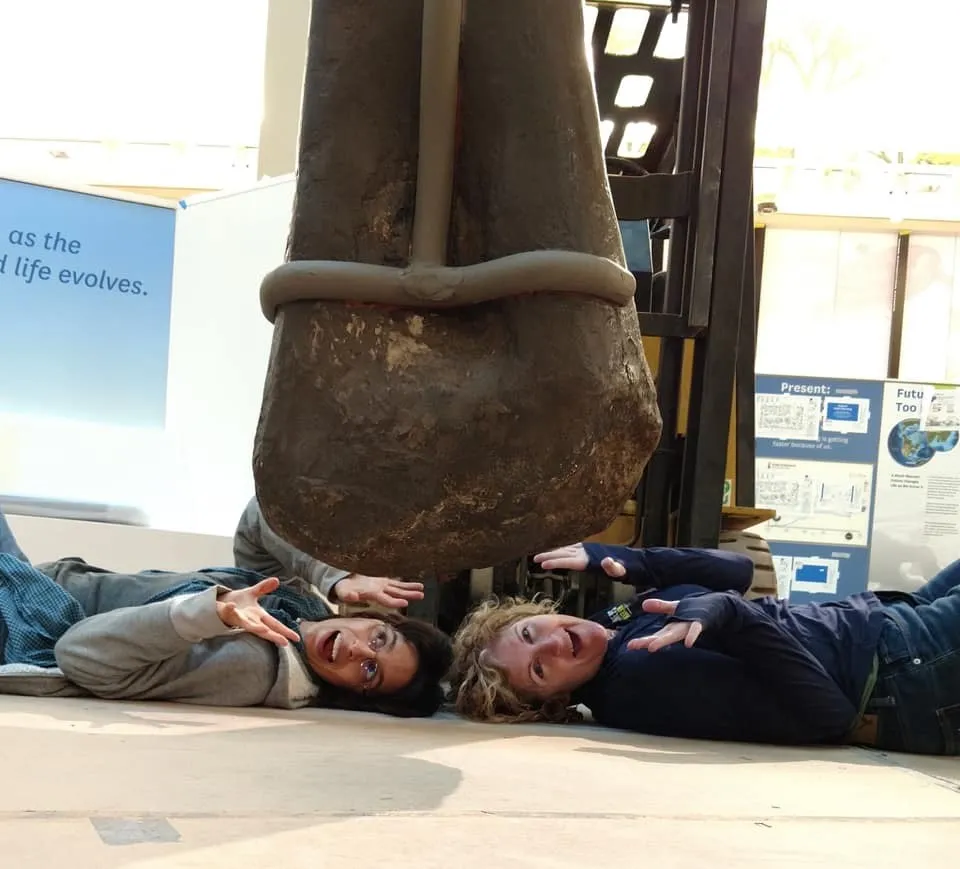 As a graduate student at GWU, she interned within the Museum's Department of Anthropology and was eventually hired as a contractor to help with a series of temporary exhibits. In 2004, she finally secured a full-time staff position as a project manager and exhibit developer.
Diving into dinosaurs
Starrs will never forget the moment when then-Director of Exhibitions Michael Mason asked her to work on "Deep Time" in 2009. Mason strode into her office, took a seat on the worn brown couch next to her desk and asked, "What do you think about dinosaurs?"
She was finishing up "Written in Bone," a temporary exhibit depicting the lives of 17th century colonists, farmers and slaves living the Chesapeake Bay region. It featured multiple case studies to illustrate what forensic anthropologists can learn about people's lives from their skeletons.
Thanks to her father's forensic background, Starrs was well-versed in the subject matter for "Written in Bone." "When the anthropologists spoke, I could understand them," she says. But the idea of working on a significantly bigger project – on a topic she was completely unfamiliar with – was nerve-racking. Starrs never had a "dino-maniac phase" as a child and felt the exhibit was out of her element.
But in the end, she agreed. "It was the biggest project ever and really meaty," Starrs says. "I was humbled to be asked."
The next decade was dedicated to a complete renovation of the old fossil hall into an exhibit that covers Earth's entire living history. Starrs became cheerleader, mom, couch therapist, captain and mediator for an enormous team of curators, writers, architects, artists and more. She oversaw the functional aspects of creating "Deep Time," such as managing schedules and budgets. She also had a hand in shaping, creating and implementing its vision – including themes that all life is connected, and that humans are now shaping the future of life on Earth.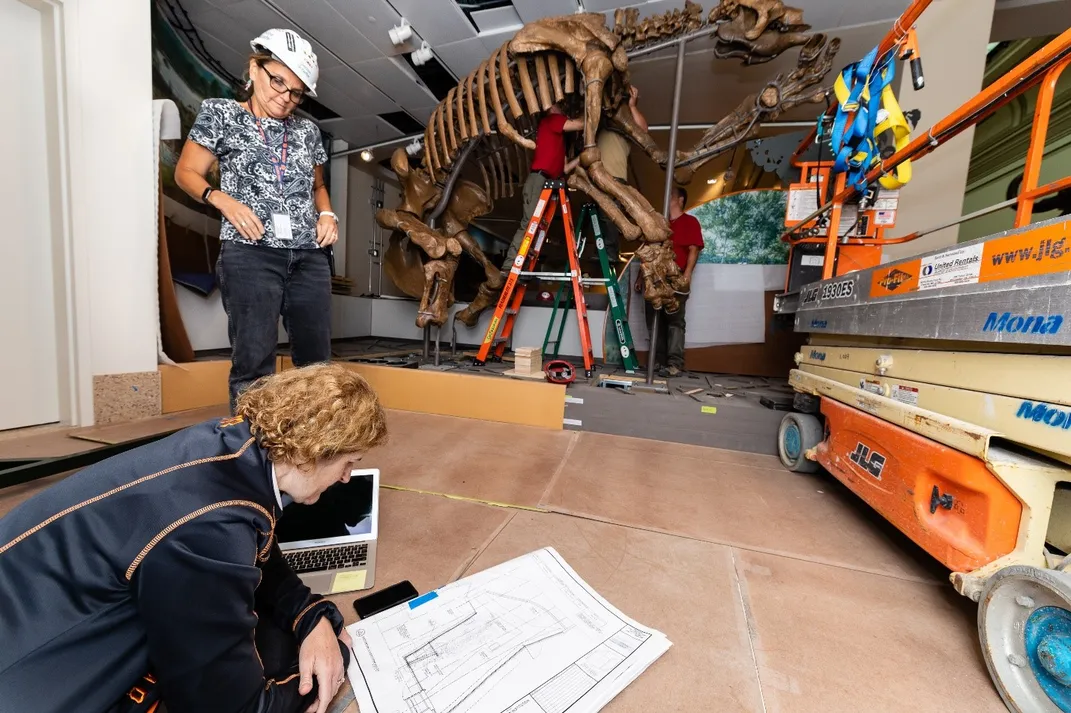 Starrs is largely responsible for the fact that "Deep Time" finished on time, says Scott Wing, a Smithsonian Curator of Fossil Plants. She ensured that each piece of the exhibit was completed on schedule and guided scientists not used to working on such stringent deadlines.
"She kept us all going when we needed to," Wing says.
Open to the public
The day of the hall's opening on June 8, Starrs arrived at the museum at 5:30 a.m., worried because some of the lighting hadn't been working the day before. Parts of the team had stayed late putting last minute touches on some of the models.
Her make-shift office in the exhibit was gone. What was once a folding table and chair strewn with technical drawings and building materials was now the best vantage point at the center of the hall overlooking the Nation's Tyrannosaurus rex chewing on a Triceratops.
"It was sad, because I knew everything was going to change," she says. "But it was also incredibly exciting. It felt like the day my son graduated college – proud, anxious, yet ready for the world."
But when the first visitors arrived, fanfare and excited energy filled the hall. The public, it seemed, was jazzed about "Deep Time" and the team could finally celebrate.
"The opening was everything you could have hoped for," Starrs says. "I was so thrilled and proud for all of my colleagues."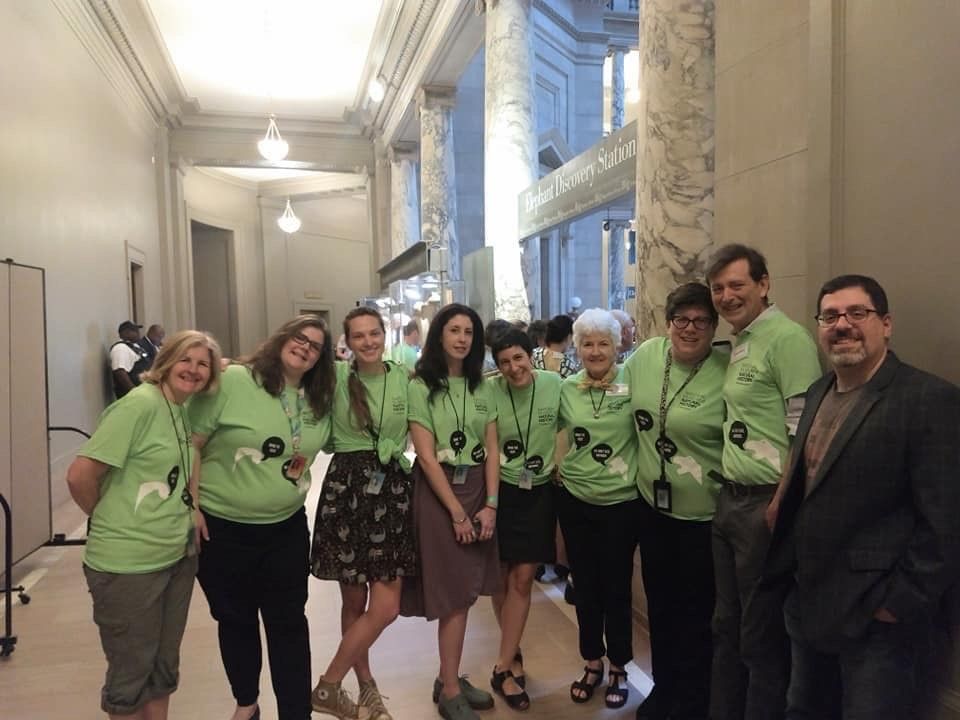 What started out as a project Starrs was hesitant to take on has now become a dynamic exhibit that she hopes will inspire visitors to learn about Earth's history and its future. Much like her experience crossing a gorge in North Dakota on pieces of wood and barbed wire, she relied on the backing of the "Deep Time" crew to bring the project to fruition.
"I find my choice to follow the bravery of my colleagues and walk across that 'tight rope' very symbolic of this amazing – sometimes scary, but always rewarding – journey of discovery," Starrs says. "A journey of both self-discovery and discovery about science."
Related Stories:
Five Things You Shouldn't Miss in the New Fossil Hall
How Exhibit Writers Tackled Earth's 4.6 Billion Year History in "Deep Time"
The Experts Behind the New Fossil Hall Wrap Their Minds Around "Deep Time"
Old Fossils, New Meanings: Smithsonian Exhibit Explores the History of Life and What it Means for Our Future
Q&A: Smithsonian Dinosaur Expert Helps T. rex Strike a New Pose