Who Is Linda Tatersmith?
If flashy package design lure people into eating factory-extruded chemical slurries, why shouldn't it work to trick food addicts into eating vegetables?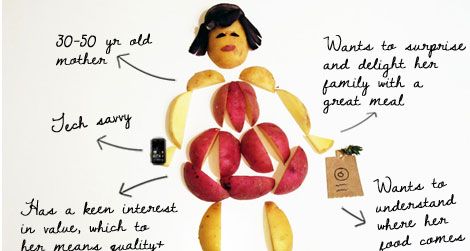 Linda Tatersmith lives on your block. You might not know her by that name, but when she goes to the supermarket, her alter ego emerges. "What drives Linda, part of what Linda enjoys doing, is delighting her family with a great meal," Says Don Goodwin, president of Golden Sun Marketing, in Minnetrista, Minnesota.
Linda Tatersmith is the name of the consumer persona developed for the US Potato Board, which Goodwin's team used in designing the brand identity and marketing strategy for Tasteful Selections gourmet potatoes. Like almost all busy American consumers, Mrs. T. wants speed and convenience. Tasteful Selections delivers both by requiring no washing or peeling. But there's something else Linda wants from her potatoes. "One of the points of affirmation she gets in a week is when her family says, 'Mom, that's a great meal,'" Goodwin says.
The key to helping her reach this high point—which is also the Tasteful Selections differentiator—is size. "The consumer has dissatisfaction because potatoes cook unevenly," Goodwin reports, "So we size them more precisely. They're round, not oblong like other potatoes, and their size range is very consistent so they come out even." To make the product pop off the shelf, Golden Sun Marketing produced plastic bags adorned with brightly colored graphics that match the hues of the tubers in their product line—red, pink, purple, and gold.
Golden Sun's strategy signals a major shift in how a successful agricultural brand is crafted: it treats fresh produce like a consumer packaged good (CPG). This is the same story with Cuties, the citrus company discussed earlier in this series. Goodwin has worked on several niche citrus brands (including Disney's agricultural licensee, Imagination Farms, of which Goodwin was an owner) and he admires the Cuties approach. "They saw the opportunity to be more snacklike," he observes, "They created a great design and put all their equity in the consumer…You get coupons in your Sunday newspaper, billboards, TV, and other media forms like Facebook." While Golden Sun hasn't developed a Lorraine Orangesmith to target the citrus consumer, "I do take much of what we learned about Linda Tatersmith and apply it elsewhere in produce."
Of course, essential to framing produce more like a CPG is the packaging itself. "Where in the past most everything was sold without any kind of package, you now have QR codes and clamshells with information about products for consumers," notes Roberta Cook, an agricultural marketing economist at the University of California at Davis, "Before, if your variety was different and tasted better but looked the same, nobody knew. How can you get consumer loyalty and willingness to pay a price premium if consumers can't distinguish it? The movement toward packaging is starting to help in that regard. We'll see greater consumer connection with specific products than we have over the last 100 years."
This theory was taken to the extreme a couple of years ago when powerhouse ad agency Crispin Porter + Bogusky set out to give the baby carrot a new lease on life. While most agricultural brands are battling to convert consumers from processed snacks to fresh produce, Crispin went against the grain. As the agency's creative director put it in a 2011 Fast Company story by Douglas McGray, "The truth about baby carrots is they possess many of the defining characteristics of our favorite junk food. They're neon orange, they're crunchy, they're dippable, they're kind of addictive." In other words: They're just like Doritos.
Though the unwholesome package hasn't become ubiquitous in supermarkets, the campaign delivered plenty of cultural value as a conceptual project alone. If flashy package design can lure people into eating factory-extruded chemical slurries, why shouldn't it work to trick junk food addicts into eating a vegetable? It seems feasible that this would be the key to boosting consumption of fresh food. But this approach is next-gen, to be sure—readymade for when Junior Tatersmith starts earning an allowance.
Follow @sarahrich
Follow @smithsonianmag