Want to Know How to Make Great Pizza? Consult the Guy Who Wrote the Bible on It
Tony Gemignani knows everything there is to know about making pizza, and now he's telling you his secrets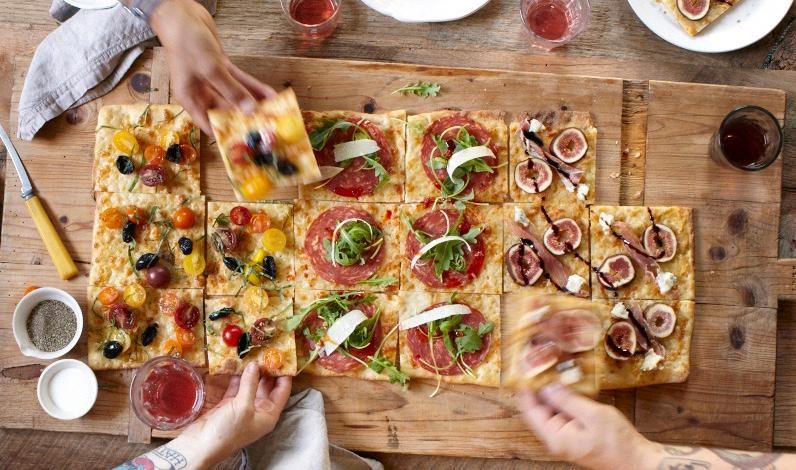 It's safe to say that few people know pizza like Tony Gemignani, or at the very least understands pizza the way he does. The 40-year-old has been making pizza for the last 22 years and is now the owner of seven pizza restaurants, including three in San Francisco, where he resides. He holds numerous pizza-related accolades, such as 'Best of the Best World Champion/Master Pizza Maker' at the 2012 Pizza Expo in Las Vegas, and 'World Champion Pizza Maker' at the 2007 World Pizza Cup in Naples, Italy—the first American and non-Neapolitan to ever hold this title. Gemignani is also a pizza acrobat, honored twice by the Guinness Book of World Records, once for creating the largest pizza and a second time for performing the most consecutive rolls of pizza dough across the back of his shoulders. If all this weren't enough, the city of Naples named Gemignani the official U.S. Ambassador of Neapolitan Pizza, one of the most prestigious titles in the pizza industry. But if you're still not convinced that Gemignani is a living and breathing pizza encyclopedia, this much-heralded pizza maker's latest book, The Pizza Bible, should do the trick.
As well as being a comprehensive cookbook, The Pizza Bible is a guide to pizza's regional and global styles and a course in pizza theory. It also features plenty of history and reveals many little-known facts, such as:
That Chicago-style deep dish pizza was invented at the original Pizzeria Uno in 1943…
That Rome has its own style of pizza known as pizza in pala, a rectangular pizza that's sliced and then sold by weight in bakeries and specialty food shops…
That pepperoni isn't from Italy at all, but is actually an Italo-American invention dating back to the 1930s.
Gemignani peppers his chapters with such facts and stories, giving readers lots to mull over as well as to make.
Talking with Gemignani is even more of an education, as he offers his thoughts on everything from pizza toppings ("I love using Peppadew, a type of sweet pepper," he says) to why you should always demand that a pizzeria reheat your slice before serving ("It's that 20-30 seconds in the oven that gets the slice to fold and crack, but not break—they kind of slice that NY pizzerias are famous for."). The key to a great pizza, says Gemignani, is balance: "Some guys just throw fontina cheese onto ciabatta bread and call it a pizza. Complexity should be there, but if I'm using a great cheese and went through the trouble of removing the seeds from tomatoes for an ideal sauce, I don't want a dough with too sour of a starter. That will just overpower the other flavors."
The ingredients you choose are just as important, says Gemignani. "The best cheese in the industry is Grande mozzarella, a Wisconsin cheese that's used by 99.9 percent of New York pizzerias," he says. "It's the Ferrari of cheeses." Then there's the dough. "Typically a lot of pizzerias make their dough on the same day they serve it, and that's not good," says Gemignani. "You want to let the added yeast feed longer on the dough—say 36 hours—to help with digestibility." It also allows the starter, an ingredient that Gemignani recommends using for increased flavor, a chance to work its magic.
When it comes to producing a great crust, Gemignani stresses that you should not underestimate water. Cities like New York and Chicago have it made when it comes to quality water, but places like San Diego and Jacksonville, not so much. "If you don't drink your tap water, why would you use it to make your dough?," says Gemignani. "If it comes out of the faucet tasting bad and looking cloudy, why would you do that?" As Gemignani points out, water is pizza dough's second largest ingredient behind flour, and it's what affects how the dough handles, stretches, and holds together. Gemignani employs a reverse osmosis system at his restaurantsfor consistency's sake (literally), though he says that for home pizza makers, bottled water is an easy substitute.
Gemignani understands that everyone may not have the time or even desire to start their pizzas from scratch (However, The Pizza Bible does provide step-by-step instructions). In this case he offers an ingenious suggestion: stop into your local pizzeria -- ("Make sure it's a mom & pop place and not a chain," he says) -- and ask if you can purchase a couple of nine-to-fifteen-ounce balls of dough. "But first you want to be sure you have an oven you can cook it in," he says. "Wood-fire doughs cook very hot (800-900 degrees) and so the doughs used in wood-fire ovens are not meant for cooking at home. [So make sure the mom and pop joint you go to doesn't use a wood stove.] Doughs that cook at 500-600 degrees should work."
Gemignani also mentions Trader Joe's pizza dough as an option, citing that he's heard both pros and cons about it. "On the plus side," he says, "it's easy to use and it's tacky," meaning it won't stick all over your hands when you work it. 
As a longtime resident of Northern California, Gemignani also has thoughts on another important question: why does the average pizza taste so well, different out west, compared to New York and New Jersey styles?
 "On the East Coast you have third generation Italians running the corner pizzeria their grandfather started," he says, "but a lot of the guys making pizza out here during the '80s and '90s just didn't grow up with it. They got into it for the money, but there was no real research. They may not have been using the correct flour or the right cheese. Some of them weren't even using the proper oven." Gemignani contends that things out west are definitely changing, "though some guys still don't know what goes into a good pizza."
All they'd have to do is pick up a copy of The Pizza Bible, where Gemignani not only provides a list of suggested ingredients but also offers recipes for every type of pizza imaginable. There's the Detroit Red Top, a thick, rectangular pizza with both cheddar and brick cheeses that cook until they're golden brown; and the Honey Pie, a California-style white pie that serves as a showcase for its toppings, which include beer-battered caramelized onions and a generous drizzle of honey. There's a section on regional Italian pizzas and another completely devoted to Neopolitan, the gold standard of pizza in Italy, including recipes for authentic dough, sauce, and cheese. Gemignani even includes recipes for calzones and pepperoli, focaccia bread, and—a surprise addition—Chicago-inspired cocktails that Gemignani says are ideal for enjoying while your deep-dish pizza cooks.
All images reprinted with permission from The Pizza Bible by Tony Gemignani, copyright (c) 2014. Photography (c) 2014 by Sara Remington.