The Other Autobiography of Alice B. Toklas
In her cookbook, the author pairs food with the people and events that highlight her life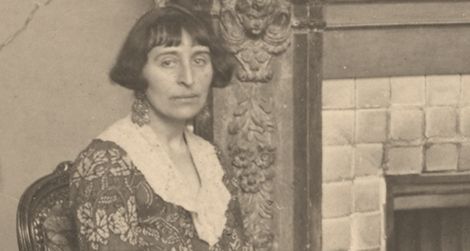 In 1934, author and modern art collector Gertrude Stein began a tour of the United States. Her book The Autobiography of Alice B. Toklas, a memoir written by Stein from the perspective of her longtime lover, was generating considerable buzz. Stein, an American who called Paris home, stopped off in 37 cities to give lectures, solidifying her celebrity status in the course of six months. And while Toklas was never in the limelight, she was always in tow, and people grew fond of her and suggested she mount a project of her own. Toklas came out with The Alice B. Toklas Cookbook in 1954, a memoir of her own told from the perspective of the kitchen.
It's an appropriate filter because, in the kitchen, Toklas was in her element. "Gertrude only ate—she loved to eat—but she was not a cook," says Wanda Corn, curator of Seeing Gertrude Stein: Five Stories, currently on view at the National Portrait Gallery. "She is never mentioned with food—that is totally Alice's domain. Alice regularly cooked on the cook's night off and that's how she and Gertrude started their relationship. Alice would make American food for Gertrude, which she was feeling a little nostalgic for. Alice was also a really demanding supervisor of the cook. Shopping had to be done 'just so' and at the very right places, veggies had to all be picked that morning. It was the one room, she said, where nobody else was allowed."
Toklas's cookbook, first published in 1954, moves beyond being a simple collection of recipes; the author pairs food with the people and events that highlight her life. She recounts her childhood and formative culinary experiences by way of foods prepared by her mother's cook, who is remembered through fritters and ice cream. Dinners with artists—including an anecdote about serving bass to Picasso—and their adventures trying to continue their habit of eating well even during wartime are vividly recounted. Even the 1934 American tour is remembered by way of food. Stein and Toklas were concerned that the food—which they were told was stranger than the people, predominantly consisting of canned goods—would not be agreeable, and they had a friend send them a menu from one of the hotel restaurants where they would be staying. "The variety of dishes was a pleasant surprise," Toklas writes, "even if the tinned vegetable cocktails and fruit salads occupied a preponderant position. Consolingly, there were honey-dew melons, soft-shell crabs and prime roasts of beef. We would undertake the great adventure."
The cookbook acquired a degree of notoriety on account of a token recipe for hashish fudge, "which anyone can whip up on a rainy day." Toklas cheekily describes this blend of fruits, nuts, herbs and spices  as "an entertaining refreshment for a Ladies' Bridge Club or a chapter meeting of the DAR." Omitted in the first American edition, a second edition surfaced in the early 1960s with the fudge recipe restored—just in time for the burgeoning hippie movement. "Alice Toklas Brownies" soon became a catch-all term for chocolatey baked goods laced with contraband. But Toklas is prudent in her instructions. "It should be eaten with care," she advises. "Two pieces are quite sufficient."
In spite of this particular claim to fame, The Alice B. Toklas Cookbook deserves a much closer look. "First of all, it's a great memoir," Corn says. "Her stories are fabulous—it's definitely worth a read. But also I've been eating her food. They served it at the opening of the NPG show. It was fantastic. The beef bourguignon was spectacular, as was the chicken dish." Indeed, there seems to be a special something about Alice Toklas chicken. When waxing rhapsodic about her prowess in the kitchen, chef and New York Times food writer James Beard remarked that she "had endless specialties, but her chicken dishes were especially magnificent. The secret of her talent was great pains and a remarkable palate."
For those of you wishing to sample Toklas' culinary tastes, her cookbook remains in print. For those in the D.C. area and are looking for dinner plans, today is the last day that Proof, located across the street from the National Portrait Gallery, is offering a four-course menu inspired by Toklas and her personal cuisine. The exhibition Seeing Gertrude Stein: Five Stories remains on view at the National Portrait Gallery through January 22, 2012.