Peeling Open the 1947 Chiquita Banana Cookbook
What do ham banana rolls with cheese sauce and salmon salad tropical have to say about politics?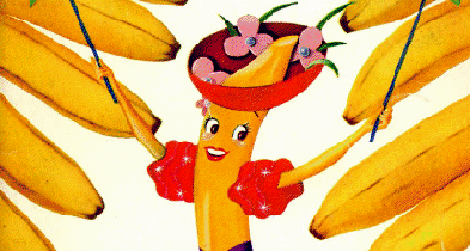 In 1947, the United Fruit Company released the Chiquita Banana's Recipe Book. The book was a strategic attempt to market the still "exotic" banana and make it palatable for the entire American family. How did they do it? Well, the banana would appeal to everyone ("Doctors recommend fully ripe mashed bananas for infant feeding"; "Old folks find bananas a pleasant, satisfying treat because they are a bland food, easy to chew, easy to digest, and low in fat content"). The book's recipes include ham banana rolls with cheese sauce, salmon salad tropical, broiled bananas with curry sauce, and an obligatory Jell-O mold with bananas.
In a recent paper, "The Banana in the Tutti-Frutti Hat," Christina Ceisel, a PhD candidate at the University of Illinois at Urbana-Champaign, writes, "While these recipes have fallen to the wayside, the United Fruit Company succeeded in making the banana as commonplace as peanut butter and jelly."
The cookbook also showcases Miss Chiquita (originally drawn in 1944 by Dik Browne, who's probably better remembered as the creator of the comic series "Hagar the Horrible"). Her character invokes Latin American women such as Carmen Miranda, and this, Ceisel argues, symbolically links the banana to a prevalent stereotype of Latin America and the Caribbean as "tropicalized"—marked by bright colors, rhythmic music, and brown or olive skin. Miss Chiquita's ruffled skirt and fruit basket hat have become icons of Caribbean ethnicity.
Of course, Chiquita's spokeswoman also acts as a kind of distraction—weaving a trope of the tropics as lazy and primitive, Ceisel argues. Miss Chiquita is a piece of the symbolic groundwork for the enduring involvement of the United States government and multinational corporations in Latin America. Ceisel again:
The image of Miss Chiquita as a tropicalized Latina does the cultural work of providing Americans with an affordable, exotic fruit year-round, while masking the labor of the very real Latin Americans who provide these foodstuffs. Thus, while Miss Chiquita's 1947 recipes sought to include the banana in the everyday vernacular of the American household, today they also function as a none too subtle reminder of the history of cultural representation and US hegemony and intervention in Latin America.
It's a reminder that cookbooks are not merely books filled with recipes for foods—even uncommon recipes for everyday fruits—they're also conduits for potent political ideas.