Nigella Seeds: What the Heck Do I Do with Those?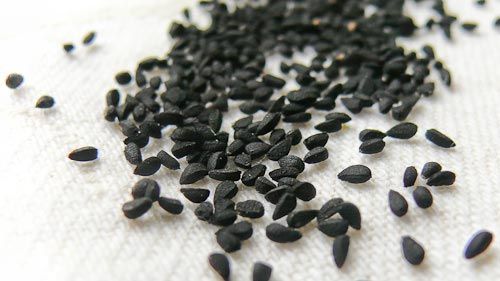 Welcome to a new recurring feature at Food & Think called "What the Heck Do I Do with That?" Every so often we'll highlight an obscure ingredient (obscure in this country, anyway), including its history, where it comes from and other interesting information—most importantly, what the heck you can do with it. It was inspired by my recent trip to Australia, where I went a little crazy in a cooking shop, buying all sorts of spices I knew were unavailable in my hometown supermarket. When I brought them home I realized I had no idea what to do with some of them—for instance, our first ingredient: nigella seeds.
What are they?
I've heard of Nigella Lawson, the British cooking show goddess who preaches the importance of a well-stocked pantry, and it appears from a few of her recipes that her pantry includes nigella seeds. But they are not a branded food à la Rachael Ray's EVOO—the seeds had the name first. In fact, they have a whole bunch of names, some of them misleading: onion seeds, black cumin, charnushka and kalonji, to name a few. Although they resemble onion seeds or black sesame seeds, they are actually the seeds of Nigella sativa, an annual flowering plant of the Ranunculacae family.
Where do they come from?
According to Domestication of Plants in the Old World, by Daniel Zohary and Maria Hopf, nigella seeds were found in Tutankhamen's tomb. They also got a mention in the Old Testament, and the prophet Mohammed reportedly declared that they could cure "anything but death." Since wild versions of the plant grow in southern Turkey, Syria and northern Iraq, that is probably where the seeds were first used for culinary purposes. They are still used in those countries, as well as in Indian and other South Asian and Middle Eastern cuisines.
Well, what do they taste like?
The seeds have a slightly bitter flavor and resemble cumin or oregano, depending on whom you ask. To me they taste like the bits of burned onion, poppy and sesame seeds that fall off of a toasted everything bagel.
So, what the heck do I do with them?
For starters, toast them lightly to release the essential oils. Then grind them or throw them whole in an Indian dish. I added them to my favorite curried red lentil soup, but they would work in all kinds of South Asian dishes, from simple vegetable curries (like a Bengali potato stir-fry or a spiced butternut squash) to naan bread. They're also part of the spice mixture called panch phoran, along with fenugreek, mustard, fennel and cumin seeds, common in Bengali dishes.
Bread seems to be a cross-cultural use for nigella seeds—aside from naan, it's also used to top flatbreads in Turkey and elsewhere in the Middle East, and in Eastern Europe is sprinkled on Jewish rye bread in place of caraway seeds. So my bagel reference might not be much of a leap.
I could try the recipe on the back of my packet of nigella seeds for "seeded savoury biscuits," but it also calls for another ingredient I've never heard of—ajowan seeds. Maybe next time.