Meet Edith and Fanny, Thomas Jefferson's Enslaved Master Chefs
Monticello research historian Leni Sorensen offers an impression of what life was like for these early White House chefs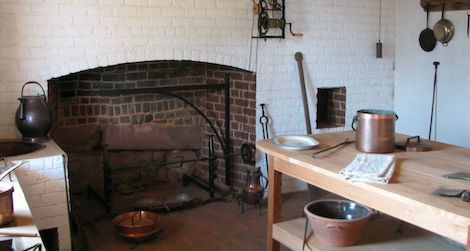 While Julia Child may have popularized French cuisine in America, she wasn't the first to lend it prominence in our culinary culture—that credit goes to Thomas Jefferson. Perhaps more precisely, credit should go to the slaves in Jefferson's kitchen who were trained to cook in this style and were producing meals every day of the year. These highly-skilled people were running the kitchen of one of the most powerful men in the fledgling nation, and yet, their personal stories are aggravatingly elusive because few people thought to write about "the help." The forthcoming book, Thomas Jefferson's Crème Brûlée, focuses on Jefferson's life in France, during which time he made a deal with slave James Hemings that if he learned the art of French cooking and imparted this knowledge to another slave, James would receive his freedom. The bargain was kept, with Hemings ultimately freed in 1796 and his younger brother Peter taking the reins of Monticello's kitchen. The book stops just as Jefferson becomes commander in chief of a fledgling nation, but doesn't touch much on the cooking that was happening at the executive mansion. In 1802, Jefferson brought two young women, Edith Fossett and and Fanny Hern, to Washington and Monticello research historian Leni Sorensen is able to offer an impression of what life was like for these early White House chefs.
Fossett and Hern were 15 and 18 respectively when they were tasked with cooking for the president. Under the tutelage of a French chef for about six years, they cooked for Jefferson until his death in 1826. "They were at the absolute top of the chef's game," says Sorensen. "But because they were women, because they were black, because they were enslaved and because this was the beginning of the 19th century, they were just known as 'the girls.' But today, anyone with that amount of experience under their belt would be Julia Child." Furthermore, for cooking in their own homes, these women were living off the same foods as the other slaves at Monticello, such as corn, greens, beans, squash and field peas. So why were these two people who were versed in the foodways of the poor picked to prepare haute cuisine for Washington's elite? Here, Sorensen could only provide a best educated guess looking at contextual evidence. "We know that Edith was listed as the baby minder for Sally Heming's daughter, Harriet," she says. "We know that at 8, she was around the house. That's exactly the child who might be recruited to do some scullion work in the kitchen. And if they're the kind of child who is patient, interested, tractable, intelligent, companionable, capable—you keep them and you teach them. And I think that's how Edith and Francis would have been recognized. At some point a few years later, they were tapped to go to the president's house. Who's more logical? Someone who has kitchen experience."
And we don't definitively know much more about Fossett and Hern outside of their duties, the children they had, where they lived and that they were ultimately sold. "We don't even know if they liked each other," Sorensen observes. "We don't have a record of that. They worked together for all those years and didn't manage to cut each other up. Well, OK. All we can really look at is: what are the processes that had to be done =to make a meal that would suit the taste of Mr. Jefferson and see what it takes to do that: to grow it, to buy it, to store it, to cook it, to present it and then start again the next day." And indeed, this was a tall order, cooking for anywhere between 12 and 25 people a day.
While we will never know these women in great detail, Monticello's kitchen provides another impression of what their lives were like. "Go to the kitchen," Sorensen recommends. "The first thing visitors are going to notice is this row of raised holes—the stew stove—and it's that unit that really made a difference in cooking in that kitchen. At that time, it was like having an eight-burner Viking range. It gave you the ability to cook at waist height, to work with copper pots and to cook creams and sauces and all the delicate dishes that French cooking has in its repertory." And although visitors to Monticello might not have thought to remark on the chefs themselves, they did remark on the meals while Edith served as head chef there. In 1824, statesman Daniel Webster described the food was "served in half-Virginian, half-French style, in good taste and abundance."
If you're planning a trip to Monticello, be sure to stop off at the kitchen—but for those with only a computer at your disposal, you can take a virtual tour of the state-of-the-art 19th century cooking space. Also, for a hearty helping of food, culture and kitchen savvy, be sure to check out the cooking classes offered by Leni Sorensen at her Charlottesville, Virginia, home.