Look, But Don't Eat: Delicious Crocheted Dishes
This British designer crochets pizzas, veggies and cakes that look almost realistic enough to eat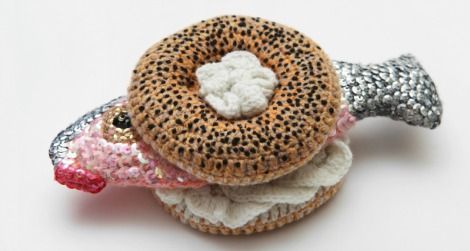 Throughout history, food has been sketched in pencil, painted in watercolors and oils and cast in stone. In the 1960s, Wayne Thiebaud replicated cakes and pastries in great pastel detail. Centuries before that, the Italian painter Giuseppe Arcimboldo painted fruits and vegetables in the shape of human faces.
Designer Kate Jenkins immortalizes food in a different medium: lambswool.
Jenkins crochets meals that look almost realistic enough to eat, from birthday cakes and chocolates to roasted chicken and topping-heavy pizzas. "The possibilities are kind of endless with food, because it appeals to everybody," says the Brighton-based designer. "We all have to eat."
Jenkins began crocheting food in 2003 to boost publicity for her new accessories label, Cardigan. "Everybody loves food," says Jenkins, who studied fashion and textile at Brighton University. Before that, she spent a decade as a knitting consultant, selling her designs to fashion labels such as Marc Jacobs, Missoni, Donna Karan and others.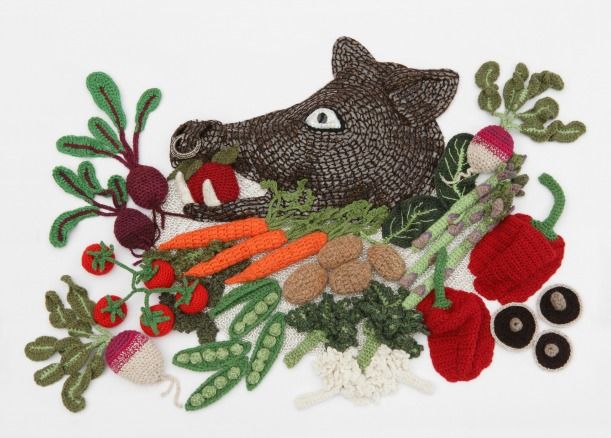 Her first piece was a take on the full English breakfast. Jenkins fashioned the eggs, sausage, bacon and beans out of wool, which she says is "a comforting kind of textile to use." The medium aligned perfectly with her first collection, "Comfort Food," which chronicled the usual suspects of British cuisine: fish and chips, bangers and mash and fried eggs and beans on toast.
A few years later, Jenkins borrowed inspiration from across the pond. "Kate's Diner," a collection of classic New York foods, featured burgers and fries, hot dogs, pretzels and donuts. Her crocheted chow mein in a takeout box appears on Smithsonian magazine's June cover.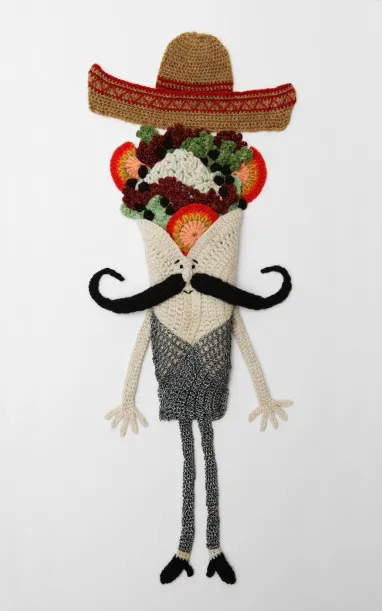 One crocheted dish can take between one to three weeks to complete, depending on the level of detail involved. She usually lays out the ingredients, or photos of them, out in front of her as a reference. While traditional artists can sketch out an idea on paper and erase what they don't like, Jenkins must weave crochet part, if not all, of an ingredient before seeing if it will work.
"Often I'm making something for the first time, and there's a lot of trial and error involved and stopping and starting," she says. "It's not as quick as a pencil sketch—it's a lot longer because I'm making a 3D piece."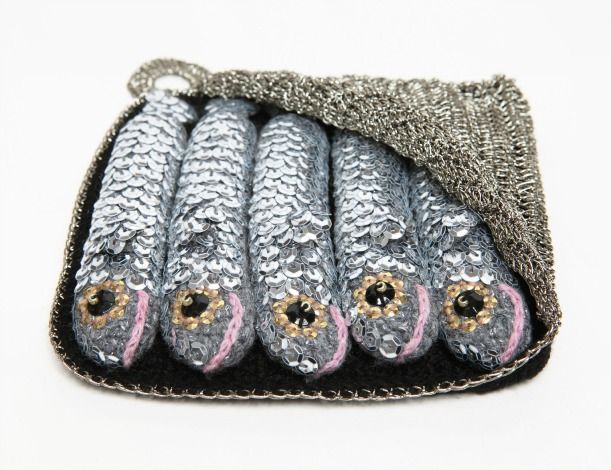 Jenkins' favorite foods to crochet are crustaceans, which are usually adorned with shiny sequins. She's woven crocheted enough of them in her career to fill an entire collection featuring canapes, caviar, "sewshi" and different types of fish. Crocheting bread is another story. "A slice of bread is quite boring to look at," says Jenkins, who will spice plain-looking loaves and slices with a more textured look or deeper color in the crust.
While Jenkins says she's a healthy eater who cooks for herself, she's not an avid home chef. "I'd prefer to crochet the food than spend hours making it. Being a cook is an art form in itself, and I think it takes a lot of practice to become really good at cooking. My time is best spent sticking to something I'm good at."