Last Minute Food-Themed Gift Ideas
Food, jewelry, toys and books for those hard-to-shop-for people on your gift list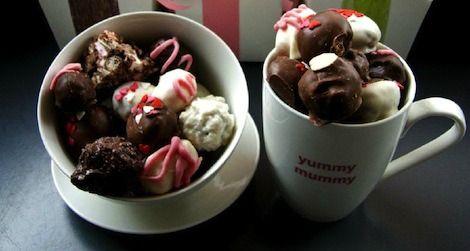 Shopping this time of year is nothing short of stressful, especially if you (like me) are still trying to figure out the tokens of affection and appreciation you are going to give to those you hold dear. Throw in a mob of similarly indecisive and uninspired shoppers, and the ability to enjoy this time of year can go down the tubes. For those considering food-themed gifts this year, here's hoping the following gift ideas will ease your last-minute shopping woes.
Food: Let's start with the obvious. Food can make a great gift for people who are impossible to shop for, are downsizing or trying to de-clutter their home, or really don't want anything material for the holidays. Consider their everyday eating habits and give them foods that you know they'll love and maybe throw in a few things that might expand their horizons a bit, but aren't so off the beaten path that they'll go to waste. (For example, if they enjoy a cup of hot tea, offer something standard like Earl Grey or English Breakfast and pair it with a blend from your local tea shop that you probably won't find on your standard supermarket shelf. Throw in some teatime nibbles, maybe some tea-themed trivia cards and you have yourself a themed gift basket.) If you're going out of town to visit friends and family, give foods from your hometown or state, like peanuts and ham if you're from Virginia. It takes a little bit of careful thought and planning, but a DIY food basket can make for a very considerate present.
Jewelry: Have your food and wear it too! But if you are in the D.C. area and can make a trip out to the American Art Museum and National Portrait Gallery gift shop, they offer a selection of pins created by artist Debbie Tuch, who encases foods—from slices of citrus to candy corn and peanuts—in glittery resin, turning them into wearable, fabulously fun pieces of food art.
Toys: A while back I did a post on food-themed toys for the young and the young at heart, and of the items on that list, the lightsaber chopsticks would be a fun stocking stuffer for older children and teens. I can also personally attest that the newly redesigned Easy Bake Oven, which forsakes the soon-to-be-retired 100 watt lightbulbs in favor of a built-in heating element, hit store shelves for the holiday season. For kids who see the kitchen as a science lab, ThinkGeek offers a home carbonation kit that lets you add some fizz to your favorite drinks by way of the chemical reaction between baking soda and vinegar. (Don't worry, those ingredients don't make it into whatever you're sloshing down.) For the baby who has everything, they also offer an illuminated bib with the picture of an airstrip and an accompanying jet-shaped spoon, perfect for an epic game of "here comes the airplane." And again, be mindful of shipping deadlines if you need to have your internet-ordered goods by a certain date.
And then there are gifts for the bookshelf.
Feed Our Small Word: For little chefs, this Disney book introduces children to international cuisine by way of simplified recipes and fun facts. I also appreciate the few recipes where the authors point out that cooking is a creative medium and that it's OK to do something different from what's pictured—like trying different fillings for quiche, finding your own mix of veggies to use in quesadillas or making substitutions to suit your palate, like using kielbasa to make a mild version of paella.
Culinary Reactions: Learning about chemistry shouldn't be relegated to the classroom, and Simon Quellen Field's book explains why food does what it does. The writing style is very personable and he does a great job of illustrating concepts with recipes, such as a tutorial on homemade cheese after a lesson on suspensions and emulsions.
Essential Pépin: Chef Jacques Pépin has been in the business for six decades and here he collects some 700 recipes, revised and updated for the modern cook. Each recipe is preceded by a short introduction from Pépin that offers advice for preparation as well as personal anecdotes. It reads like a warm invitation from a master chef to come into his kitchen and savor a meal, and with recipes that range in difficulty, there ought to be something in here for everybody. And for those who need a little extra help, an DVD explaining all the techniques used in the book is also included.
The Better Homes and Gardens Cookbook: This is an old standby that I think is perfect for someone who is hesitant about cooking or is just starting out. I probably use this one the most for my day-to-day cooking. It gives you nutritional information and cooking times for recipes, which makes it easier to figure out if something is going to ruin your diet or if you can manage to fit it in your busy schedule. (College students and young professionals, I'm looking at you.) Furthermore, I like this one because the recipes, while good on their own, are also basic enough that anyone who is culinarily curious will feel free to tinker around with recipes to personalize them.
Menu Design in America: If your interests include both food and the visual arts, there is no passing on this extensive volume published by Taschen. A stunning compilation of menu art from the 1800s through the late 20th century that documents changes in dining culture and graphic design, it's the perfect accompaniment to your coffee table.