How to Plan a Party Based on Renoir's Luncheon of the Boating Party
I'm putting on my event planner hat to offer up the following ideas for a party inspired by an Impressionist painting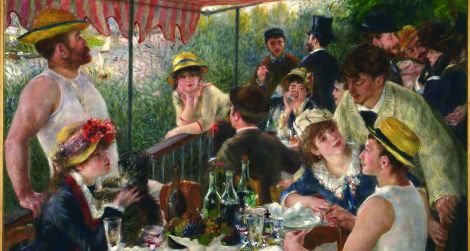 A while back I wrote a post about what the diners in Pierre Auguste Renoir's Luncheon of the Boating Party were eating during their alfresco midday meal—only to find out that, aside from some fruit and bottles of wine, we really don't know what was on the menu. Nevertheless, the image struck one of our readers as being a fine inspiration for a full-fledged party—with themed décor, entertainment party favors and, yes, the food—and she commented on the original post asking if I had any ideas on how to go about planning such an event. I'll preface this by saying that I'm no expert on art or historic French gastronomy by any stretch of the imagination, but just the same I'm putting on my event planner hat to offer up the following ideas on how to throw a party inspired by an Impressionist painting.
Let's start off with creating a little atmosphere. Looking at Luncheon of the Boating Party, this is a party meant to be thrown outdoors, be in on a deck, a lawn, park, whatever have you. But if all you have is a closed-in space to work with, throw open the windows and get as much natural sunlight into your space as you can. Impressionist painters were fascinated by light and how its qualities changed throughout the day, so hold the romance of candlelit noshing for another occasion.
The dining decor itself is pretty simple with a plain, white tablecloth covering the table, but it beautifully sets off the vibrant bowls of fruit and bottles of wine. When contemplating your spread, consider similarly colorful foods that will "pop" off the table. There are also brilliant red flowers in the scene, seen on the ladies' straw hates. (Maybe they're Gerber daisies? I'm not enough of a green thumb to know.) Other Renoir paintings, such as A Girl with a Watering Can and Two Sisters (On the Terrace) feature flowers in reds, pinks and whites. You might draw inspiration there for table displays. And add in some greenery—all that lush, verdant foliage makes the warmer colors stand out. The only other prominent piece of decoration is the red-and-white striped awning covering the dining area. If you could find similar colors and patterning in an umbrella or a tent, you'd have some beautiful shaded area should you be entertaining on a lawn. You could also bring in the motif via tablecloth, and dress some tables with the white linen and others with the more colorful material.
Furthermore, just as one would readily crib entertaining ideas presented in books and magazines, look to Sacramento's Crocker Art Museum for ideas on how to throw an Impressionist-themed party. This event coincided with their exhibition Landscapes from the Age of Impressionism and featured outdoor games and music by composers of the era such as Ravel and Debussy.
I'd be remiss in not addressing the issue of favors to give to your guests. For this theme, I might spring for simple art supplies and encourage guests to get creative, maybe even get them to sketch scenes from the party in lieu of taking a photograph. You can find small sketchpads and pair them with a basic set of pencils or watercolor paints. (There is also a product on the market called watercolor pencils. It has been several years since I have done studio art so I've no idea how well they work; however, traditional watercolors can be very aggravating to work with and might discourage someone who is apprehensive about taking up a paintbrush. Offhand, the watercolor pencils look like they would give someone more control and work well as regular colored pencils.) Throw in a few post cards of Impressionist paintings to serve as a muse to your guests.
Another gift idea would be a book on Renoir himself. Taschen publishes art books with beautiful color reproductions and they have one that details the life and work of Renoir. The Philips Collection, which is home to Luncheon of the Boating Party, has a selection of products based on the painting that are available for purchase online. You could pair any of these things with small foodstuffs. I have seen chocolate bars with masterworks painstakingly recreated thereon; however, these treats can be cost-prohibitive, depending on one's budget. On the other end of the economic and gastronomic spectrum, candy buttons are somewhat evocative of the painting style used by post-Impressionists like Georges Seurat, who used tiny dots of color to create an image. You would need to include a post card of a painting done in the pointillist style so that people can get the joke, and this would work best for a good-humored crowd with an appreciation for kitsch. You could even make a game out of seeing what images you and your guests can make out of the candy buttons—an edible riff on Pictionary.
And, oh yeah, what to do about the food? We already know that we don't know what the diners ate for lunch, aside from some fruit—grapes and pears, perhaps peaches—and red wine. The Philips Collection, which is home to the painting, held their own Luncheon of the Boating Party-themed dinner last August, and their menu included Vichyssoise soup and escargot for appetizers, coq au vin and oven-roasted sea bass for main courses and French toast with pear and caramel sorbet. For more ideas, thumb through Escoffier's Le Guide Culinaire (yes, it's available in an English translation). A celebrity chef of his time, Escoffier is credited with modernizing how a kitchen is run and in 1903 he came out with his Le Guide Culinaire, a book that standardized French cuisine. With some 5,000 recipes therein, surely you can find something to suit your palate and skill level—and you'll be making food that's roughly of the same era as the painting. If all you want is a taste of France geared to a modern audience (and modern kitchen), refer to an old standby like Julia Child's Mastering the Art of French Cooking or an even more recent compendium like Essential Pépin.
I think all the basics are covered. And if you have any ideas to add—or have actually mounted a party to this effect—include your thoughts in the comments section below. And to Donna, thank you for the blog post idea and hope the above is helpful as you start planning your Mother's Day luncheon.