How to Make (and Where to Eat) the Best Dim Sum
One woman's love of dim sum takes her to Hong Kong, where she tries her hand at making the bite-size cuisine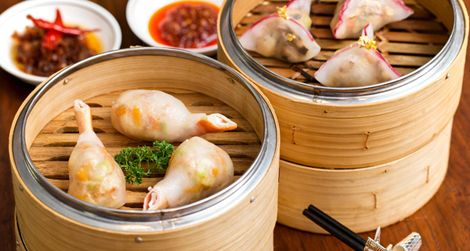 One of my favorite pastimes is joining the Sunday morning hordes outside San Francisco's Ton Kiang, a popular dim sum restaurant in the city's Outer Richmond neighborhood. So when the opportunity recently arose to visit Hong Kong and not only dine on the bite-size delicacies but actually learn how to make them, I jumped at the chance.
Hong Kong is dim sum's cultural epicenter and here, the cuisine is king. The name dim sum, which means 'to touch the heart,' derives from its roots as a simple snack food offered with tea to the weary travelers of Asia's Silk Road. Even today, dim sum and tea go hand in hand, and going for dim sum in Hong Kong is known as going for yum cha, which translates to 'drink tea.'
Cantonese immigrants first introduced dim sum to the U.S. during the mid-1800s, and the cuisine's varied selection and small, convenient portions eventually caught the attention of Westerners. Still, although there have been about 2,000 types of dim sum since its inception, most dim sum eateries in the States stick to several dozen offerings that appeal mostly to westernized palates and incorporate easy-to-find ingredients, such as sui mai (pork dumplings), wah tip (pot stickers), and ha yeung (crispy shrimp balls). In Hong Kong, however, chefs have the advantage of utilizing a larger variety of tropical vegetables from nearby Asian countries, as well as catering to a clientele that's grown up on dim sum and tend to be more adventurous in their tastes. This means exotic treats like Sun Tung Lok's baked sea conch shells, or steamed hairy crab roe with pork dumpling at the InterContinental Hong Kong's Yan Toh Heen.
For over a decade, Peninsula Hong Kong has been offering weekday workshops in dim sum making as part as their larger Peninsula Academy, a series of location-specific workshops that range from paper mache and Chinese puppet mastery to insights into the region's contemporary art scene. The hour-and-a-half-long course takes participants behind the scenes of the luxury hotel's 1920s Shanghai-inspired Spring Moon restaurant and into its industrial kitchen to learn the art of crafting both shrimp and vegetable dumplings. Henry Fong, Peninsula's dedicated dim sum chef, has been working in the culinary world for nearly 20 years. He is also the workshop's teacher and will be leading our group of six in our efforts to mix, roll and wrap restaurant-style cuisine.
With so many dim sum eateries across Hong Kong, it takes an extra something to stand out. To keep his clientele happy—and his creative juices flowing—Fong hits up local farmers markets and specialty stories like the region's popular City's Super on weekends, searching out fresh, new ingredients to incorporate into his menu. He says it's the endless variety that makes dim sum more interesting to him then other types of cuisine. Though well-versed in creating traditional dim sum favorites like wah tip (pot stickers) and lo mai gai (sticky rice and meats wrapped in lotus leaves), Fong also likes coming up with innovative creations by mixing the conventional with the unusual, such as drumstick-shaped steamed dumplings filled with carrots, spider crab leg and pumpkin; steamed vegetarian dumplings packed with locally grown imperial fungus and topped with gold leaf; and baked crispy buns filled with minced Wagyu beef, onions and black pepper.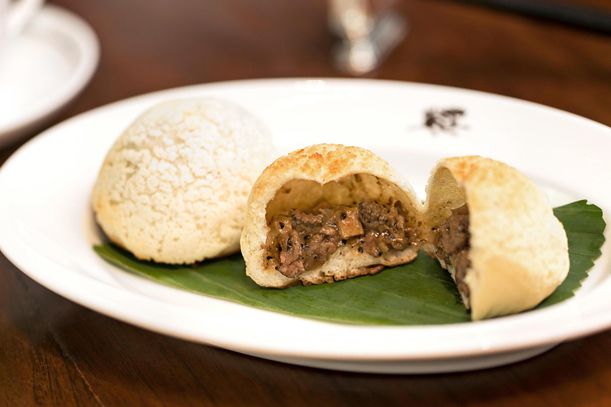 As the workshop begins, Fong provides us each with an apron and invites us to gather around a large stainless steel table. He then begins mixing what will be the translucent skin for shrimp dumplings. First, he measures out equal portions of corn starch and high protein powder and pours them into a bowl together, and then adds some boiling water and a small bit of vegetable oil. Next he begins working the mixture with his hands. As he presses, scoops, and turns the mix repetitively it becomes thick and doughy, almost like marzipan. Fong then offers each of us a try.
Once the dough cools, Fong rolls it into a long, thin, rope-like stretch and slices off half-inch pieces, using a blunt stainless steel Chinese cleaver to flatten them each into paper-thin circles. When it's my turn, Fong shows me how to press down on the flat side of the cleaver with the palm of my hand, turning it as I go. My first attempt at creating a dumpling skin is nearly perfect, though my excitement is short-lived. As it happens, wrapping a shrimp dumpling is not so easy. Fong demonstrates, topping the skin with a teaspoon-size portion of dumpling filler—a blend of finely minced prawn meat, shredded bamboo shoots, and chicken power with some salt, sugar, and vegetable oil—and using two fingers, quickly creates a dozen uniform folds across its top, almost akin to a fan.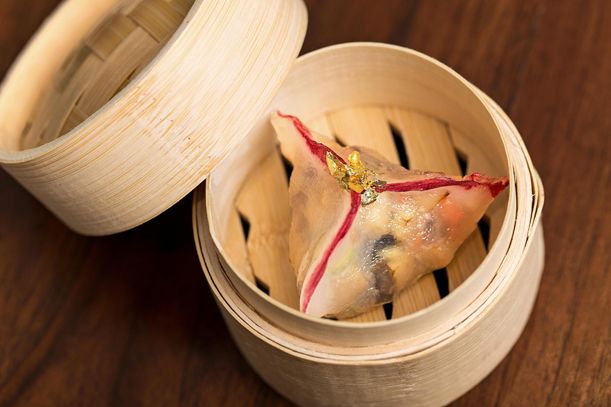 "The trick," he explains through a translator, "is to not let the two sides touch in the middle." When through my creation looks more like a shrimp-nado than dumpling, though it's still perfectly edible (and delicious), which I find out soon enough. Someone then asks Fong if there are any natural dim sum makers. "Not too many," he says, laughing. "If there were I'd be out of a job."
For the next 45 minutes we continue honing our shrimp dumpling skills, and also give vegetable dumplings (easier to fold because they require less dexterity) a go. Once we're through, Fong steams them all on a stove top. After five minutes, they're ready to eat. Along with our own creations, Fong also treats us to plates of roast pork buns, custard balls, and—for the group's vegetarians—mushroom dumplings. He then offers each of us a cup of jasmine tea.
We are weary travelers, after all.
Where to get delicious dim sum in the States? Fong offers his recommendations for a range of price levels:
Less expensive: "The food is good quality and comparable to dim sum in Asia," says Fong.
365 Gellert Blvd
Daly City, CA
Moderately expensive: "There is a great variety of dim sum," says Fong, "and the choices are the same as what we offer in most restaurants in Hong Kong."
14 Elizabeth Street
New York City, NY
212-619-0085
Most expensive: "Every dim sum dish is hand-made with the finest seasonal ingredients and the taste is authentic," says Fong. "Also, the food presentation is outstanding."
529 Hudson Street
New York City, NY
212-792-9700