How to Eat Like a Pirate on International Talk Like a Pirate Day
While we all have a communal sense of how pirates talked, our sense of how pirates ate lies, by comparison, in uncharted waters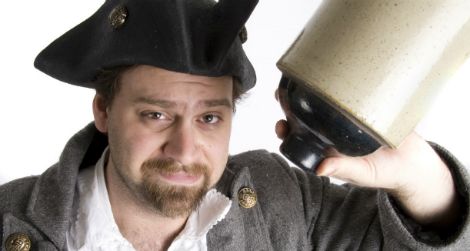 It's September 19, which means it's International Talk Like a Pirate Day, your once-a-year opportunity to embrace linguistic absurdism and greet your friends and colleagues with a cheery "Ahoy, matey!" Started in 1995 by John Baur and Mark Summers, the holiday is celebrated all over the world with the official Talk Like a Pirate Day website offering a vocabulary crash course in English, German and Dutch. But really, what's a holiday without food to enhance the celebration? While we all have a communal sense of how pirates talked—or how we like to think they talked—our sense of how pirates ate sits, by comparison, in uncharted waters. Pirates had to survive on more than a bottle of rum.
From a food standpoint, a pirate's life was problematic. Being at sea and without easy access to major seaports meant that there was rarely a steady supply of food and hunger was a regular aspect of day-to-day living. Much of their lives were spent on board a ship, and perpetually damp conditions put normal pantry staples such as flour and dried beans at high risk of mold. Climate also presented preservation problems: if sailing in warmer regions of the world, such as the Caribbean, keeping fresh fruits and meats was near impossible. Fresh water was also difficult to keep during long sea voyages because it could develop algae scum. By contrast, alcohol would never spoil, making beer and rum the preferred preferred beverages. Rum, in addition to being consumed straight up, was used along with cinnamon and other spices to sweeten stagnant water and make grog. Dried meats and hardtack, a relatively shelf-stable biscuit, were regular parts of a pirate's diet, although the latter was frequently infested with weevils.
With such a bleak dining situation, what's a pirate to do? For one, they pillaged. For pirates sailing the waters of Spanish America, beef was a hot commodity for pirates as a single head of cattle could go a long way when it came to feeding a hungry crew. In 1666, French pirate François l'Onnais promised to leave the Venezuelan port city of Maracaibo if, among other riches, he was supplied with 500 head of cattle. In 1668, Henry Morgan, the namesake of the rum, invaded Puerto del Principe in Cuba, also demanding a ransom of 500 cattle. And in 1682, Captain Jean Toccard took the Mexican port of Tampico for the sole purpose of slaughtering cows for provisions. In addition to beef, turtle was also a valued source of protein, and ideal in that it was readily found along beaches and could be kept alive and serve as a source of fresh meat when out to sea.
Pirates also had to be resourceful with the staples that they had—especially when it came to making pickled and salted foods palatable. In the West Indies, a popular pirate dish among marauders was salmagundi, a stew of the odds-and-ends of meat and vegetables thrown into a communal pot and heavily seasoned. In his book Pirates and Piracy, author David Reinhardt provides a litany of ingredients one might find in the cauldron and the manner of preparation:
Included might be any of the following: turtle meat, fish, pork, chicken, corned beef, ham, duck and pigeon. The meats would be roasted, chopped into pieces and marinated in spied wine, then mixed with cabbage, anchovies, pickled herring, mangoes, hard-boiled eggs, palm hearts, onions, olives, grapes and any other pickled vegetable available. The entire concoction would then be highly seasoned with garlic, salt, pepper, and mustard seed and soaked with oil and vinegar.
Legend has it that Bartholomew Roberts, whose years of marauding earned him the posthumous Forbes magazine distinction of being one of the highest-earning pirates, was eating salmagundi when he was attacked—and killed—by the Royal Navy ship HMS Swallow.
The historical pirate diet may not appeal to the modern diner. Nevertheless, for those wishing to celebrate Talk Like a Pirate Day to the hilt by setting an appropriately-themed spread, you have a few options. The New England Pirate Museum has a freeform salmagundi recipe that'll allow you to make the classic pirate meal, but without all the pickled and salt-cured ingredients. You can also use the day as a personal challenge to raid ye pantry and figure out how you can turn the provisions you have on hand into a hearty stew.
Although grog in its original conception was utilitarian more than anything else, it has since been re-imagined as a cocktail to be enjoyed for its palate-pleasing merits. Check out these three on-the-rocks versions of the cocktail here, with recipes using a variety of rums paired with grapefruit, lime and orange juices. You can also enjoy your grog hot, spiced with cinnamon and brown sugar. If you're dying to try hardtack, recipes and videos are out there to show you how to make this classic survival food. Personally, I'd dive into a package of Wasa crackers and call it a day.
Sources
Breverton, Terry. The Pirate Dictionary. Canada: Pelican, 2004.
Marley, David F. Daily Life of Pirates. Santa Barbara: ABC-CLIO, 2012.
Hamilton, John. A Pirate's Life. Edina: ABDO Publishing Company, 2007.