How to Make Khinkali and Khachapuri, Sochi's Delectable Delicacies (With Recipes!)
Eat your way through the Olympics with these foods native to the Caucasus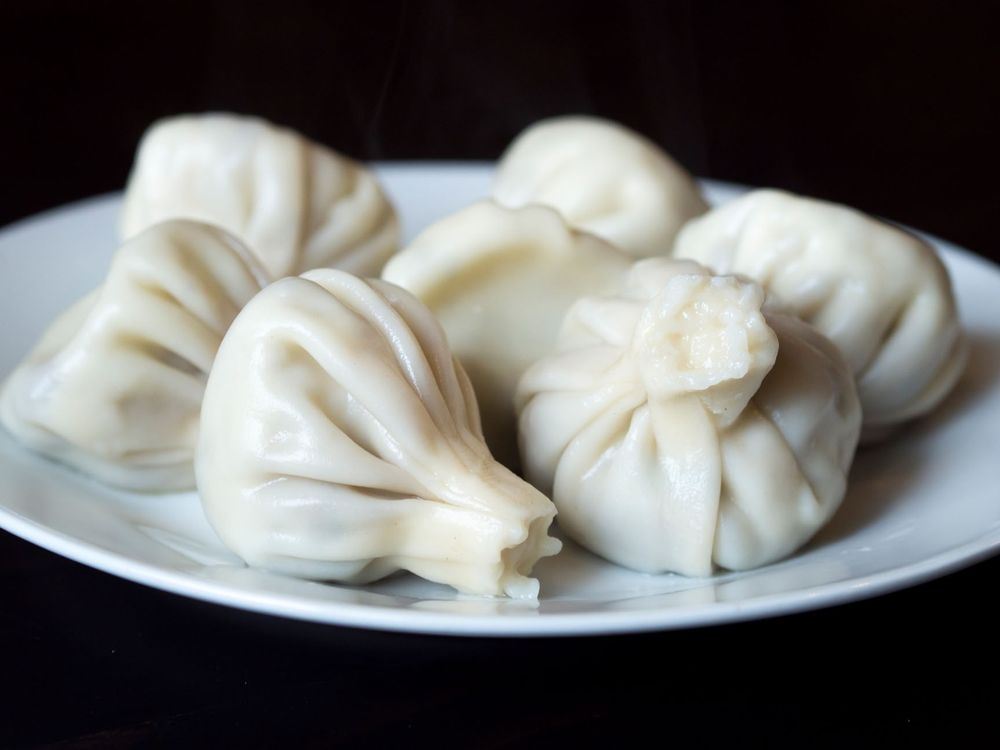 This month in Sochi, Russia, the world's athletes have access to one of the hottest venues for cuisine on the planet: the three dining halls in the Coastal, Mountain, and Endurance Athlete Villages in Sochi. Often the size of several football fields, these massive pop-up food courts are home to everything from carbonara to curried rice to quinoa. Here, athletes can basically eat their way around the globe. For those of us who aren't Olympians, however, gaining access to such a smorgasbord of various countries' cuisines requires a bit more footwork. Just ask graduate students Lindsay Fullerton and her husband Matthew F. Rarey. Since 2007 the Chicago-based couple has been on a quest to eat food from all 196 of the world's countries, an adventure they've been chronicling in their blog, Eating the World. So far they're up to about 95. "We're approaching the limit of places we can get to without leaving the country," says Rarey.
Both Rarey and Fullerton agree that Eating the World is more than an ode to food or a personal goal; it's also a great way to learn about countries, as well as ways their regional cuisines reflect things like cultural identity and immigration patterns. For example, every time a lesser-known country like Grenada won a gold medal during the 2012 Summer Olympics in London, Fullerton took the opportunity to research and profile that country's national dish. She's doing something similar for Sochi. "I'd love to tie in the Olympics with Russian food," says Fullerton, "because I feel like there's a lot we don't know." While the couple has already checked Russia off of their list, the cuisine they ate was more northern-based: dishes like pelmeni (dumplings) and Herring Under a Blanket, a layered dish of fish, potatoes, vegetables and mayonnaise. "It seems like Sochi and southwest Russia have lots of food that came about as a result of trade through the region," says Fullerton.
Sochi delicacies include khinkali, a Georgian-style dumpling that's typically filled with spiced meat and boiled in salted broth. Locals dip them in tkemali, a sauce made from the area's sour plums, and eat them by hand. Along with the sauce, the main difference between khinkali and Russia's pelmeni is the added broth. With khinkali you hold each dumpling upside down and take a small bite, sucking out the broth before devouring.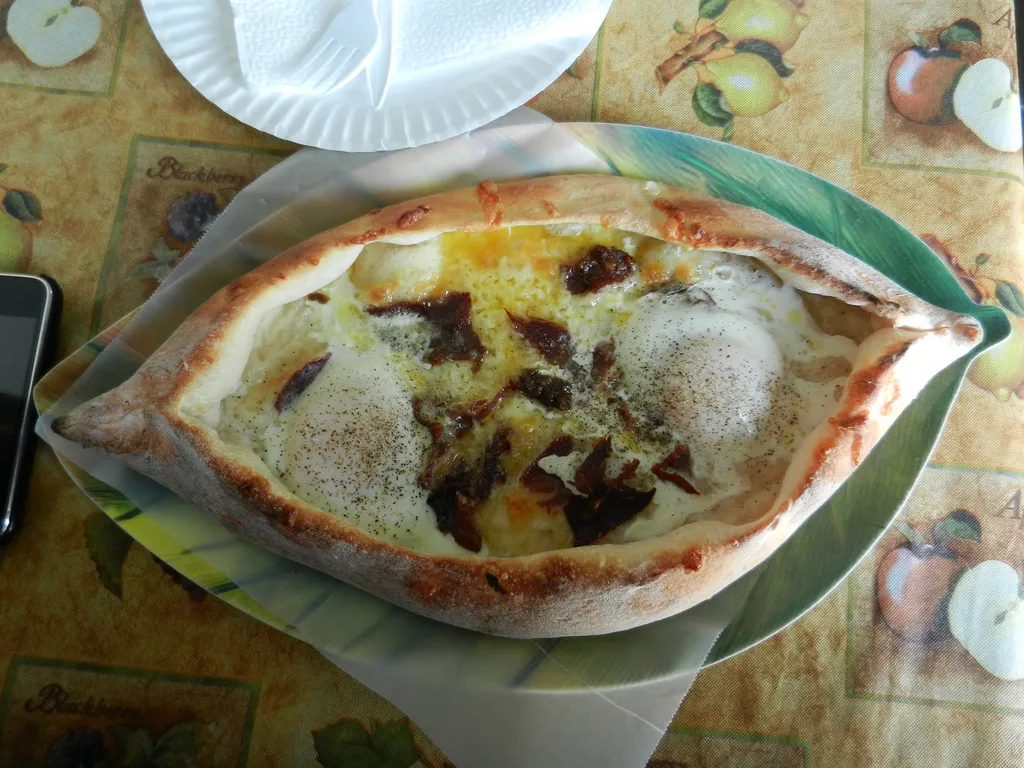 Khachapuri is another Sochi staple. It's the ultimate grilled cheese: a homemade bread that can be shaped in a variety of ways, from flat and round to a boat-like pocket, then filled with a gooey mixture of cheese (most commonly sulguni, a pickled Georgian cheese similar to mozzarella) and egg before baking. Khachapuri varies from eatery to eatery, with each place having its own distinct take on the doughy dish.
Located in Manhattan's Lower East Side, Moscow 57 opened this month and specializes in classic Russian dishes as well as the lesser-known fare of Central Asia and the Caucasus, including southwest Russia. Here are Moscow 57 Chef Seth Goldman's takes on both khinkali and khachapuri:
Khinkali - Georgian Style Dumplings
(Makes 25 dumplings)
Dough
4 cups unbleached white flour
1 teaspoon salt
1 cups warm water
Filling
1 pound mixed ground beef and lamb (not too lean)
3 Tablespoon lamb fat (Found at most butchers, or buy a fatty cut of meat and don't trim it.)
1 teaspoon freshly ground black pepper
1 teaspoon salt
1 teaspoon ground caraway seed
1 teaspoon finely chopped cilantro
Pinch of cayenne
3 small onions, peeled
1 cup warm beef stock
Combine the flour, salt, and warm water to make a firm dough. Knead for 5 minutes, then let sit, covered, for 30 to 40 minutes.
Make the filling: Mix the ground meats, fat and spices. Grind the onions and stir them into the meat mixture. With your hands, knead in the stock.
Divide the dough into 25 pieces. On a floured board, roll each piece out to a 6-inch round. Place about 2 tablespoons of filling in the center of each round.
Make accordion pleats all the way around the filling by folding the edges of the dough in toward the center. Move in a clockwise direction, allowing each fold of dough to overlap the previous one, until the filling is completely enclosed in dough. Hold the dumpling in one hand and twist the pleats together at center to seal. Break off the excess dough at the top.
Cook the khinkhali in salted, boiling water for 12 to 15 minutes. Serve hot.
Traditionally served with Tkemali (sour plum sauce)
sesame oil and chopped cilantro
¼ cup low sodium soy sauce combined with 1/3 cup plum preserves (or prune butter) and a few drops lemon juice
Khatchapuri
Dough
2 cups all purpose flour
½ teaspoon salt
10 Tablespoons cold butter, cubed
2 eggs
¼ cup plain, full fat yogurt
1 egg yolk, beaten
Combine flour and salt in a bowl, cut in butter (with two knives or pastry blender) until it resembles coarse cornmeal.
Beat the eggs, combine with the yogurt, add to flour mixture.
Combine it with your hands until you can form a ball.
Chill for 1 hour
Cheese filling
½ pound Muenster cheese
½ pound mozzarella cheese
¼ pound Havarti cheese
1 egg, beaten
Grate the cheese and combine with egg
Heat the oven to 350 degrees
Grease baking sheet
Divide the dough into equal portions, 4, or 8, depending on the size khatchapuri you want.
Roll dough into rounds, about ¼ inch thick. 
Divide the filling evenly in the center of each round, leaving a wide rim.
Pull the edges to the center and seal
Brush with yolk, bake 30-50 minutes (depending on the size and how dark you like them).
Serve hot
Editor's Note: The subheadline of this article originally stated that these dishes were native to southern Russia, when they are actually native to Georgia and its surrounding regions. We regret the error.