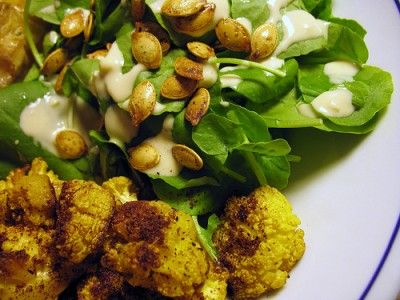 Recently, there was a discussion over at Epicurious about the essential ingredients home cooks always have on hand because they use them so frequently. For me, one of those items would be tahini, or sesame-seed paste. As I found during my "week without recipes" challenge a couple of weeks ago, it adds a rich, nutty flavor and creaminess (without the sweetness of many nut butters) to Mediterranean- or Middle Eastern-inspired foods. It also works well in other kinds of dishes.
Sesame seeds—sprinkled whole on breads, pressed for oil, or hulled and ground into tahini paste—have been used in cooking since ancient times. Although tahini is easily found in most supermarkets or health food stores, you can also make it yourself, as The Cupcake Project reports—however, the result will be less smooth than commercial tahini because it would be difficult, if not impossible (or at least insane), to hull the seeds yourself.
Tahini, like most nut and seed products, is relatively high in calories and fat, but mostly unsaturated fat. It is a good source of thiamine, magnesium and other minerals. Here are five delicious ways to use this versatile and nutritious ingredient:
1. Middle Eastern dips. Other than as a sauce for falafel, simply thinned with lemon juice and water, hummus is probably the most well-known use of tahini, where, in its most basic form, it joins pureed chickpeas, lemon juice, garlic and olive oil. Other versions mix in roasted red peppers, caramelized onions or green olives. The next-most famous use of tahini, I'd wager, is in baba ganoush, a tasty dip with mashed roasted eggplant. Less common is the Turkish walnut and tahini dip teradot.
2. Salad dressings. Salads and steamed vegetables get a serious flavor boost from a dressing or sauce made from tahini—it goes well with almost any green veggie. You can stay in the Middle Eastern range by blending it with yogurt and lemon juice, as this New York Times recipe does to top avocado (another great pairing). Or you can veer it over to East Asian flavors, as in this Japanese-inspired soba (buckwheat) noodle salad with miso tahini dressing.
3. Vegetable purées. Tahini not only tastes great on top of veggies; it also adds oomph and creaminess to vegetable purees. Look at this gorgeous (and healthy) winter squash purée with tahini, topped with pomegranate seeds. It can also provide an interesting twist on mashed potatoes or turn mashed carrots into a Moroccan-style side dish.
4. Soups and stews. Tahini creates a creamy, dairy-free base for soups and stews, like this simple Greek tahinosoupa with angel hair pasta, traditionally eaten during Lent. It's combined with coconut milk and spices in this fish stew; with soy sauce, ginger and rice vinegar in this Chinese chicken noodle soup with sesame and green onions; and with zucchini and lemon juice in this chilled soup.
5. Halvah. Possibly my favorite use of tahini is in the Middle Eastern candy called halvah. Although the word can refer to a variety of sweets, the one most familiar to Americans (especially those who frequent Jewish delis), is the crumbly, fudge-like sesame halvah sold commercially by Joyva, which was founded in 1907 on Manhattan's Lower East Side (and now based in Brooklyn). The texture manages to be both meltingly creamy and a little crunchy, and instantly brings me back to childhood trips to Art's Delicatessen in Studio City, California, when a bar of marble halva was the highlight. You can also make it yourself, with either tahini or whole sesame seeds.