Five Ways to Eat Strawberries
If you can get your hands on good strawberries (restrain yourself from just popping them like gumdrops), here are some options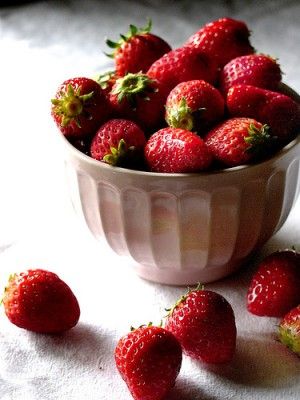 I grew up in Southern California, partly in Orange County, which at the time still had nearly as many strawberry fields as shopping centers. I remember looking out at the rows of low plants and feeling bad for the migrant farm workers hunched over picking off the berries in the hot sun. All the same, I loved the (literal) fruits of their labor, those sweet, juicy red berries, which my family bought by the box at farm stands.
Most of those fields have since been replaced by tract homes, and over the years it seems to have gotten harder and harder to find good strawberries. California produces about 75 percent of the nation's strawberries and, because they are so delicate and perishable, many of the ones you get in the supermarket now are large, flavorless and dry. I nearly gave up on my formerly favorite fruit.
So it was a pleasant revelation to me when I moved to upstate New York a few years ago and tried my first local strawberries—thumb-sized, ruby red and so packed with sweet strawberriness that I could have cried. The season here is short—only a few weeks in June and early July—but it just so happens that my wedding is planned for peak strawberry season, and my fiancé and I plan to serve them alongside the cake. I don't even care if I dribble some of the red juice on my dress.
Two years ago I went to a pick-your-own strawberry farm, and it turns out I was right to feel sorry for the migrant workers. After only an hour or so of picking, my back was screaming in pain. All the more reason to use them wisely.
If you can get your hands on good strawberries (and can restrain yourself from just popping them like gumdrops), here are five good ways to eat them:
1. With cream. This is as classic as it gets. Once you combine strawberries with cream (whipped or otherwise), you can use them to top shortcake or angel food cake, or mix with pieces of meringue for the English dessert called Eton Mess (which originated at Britain's most famous private school).
2. In a pie. The year that I picked my own strawberries, I decided to use them in a pie to bring to a July 4th barbecue. It was simple—just glazed berries in a cookie crust—but, thanks to the quality of the berries, it was good enough to garner raves from some Culinary Institute of America students.
3. In a risotto. One of my colleagues uses wild strawberries in an unexpected risotto, though I imagine cultivated ones would also work. This is a good use for berries that aren't very sweet. Just follow your favorite risotto recipe—or try this one from Saveur—adding chopped berries, and finish with fresh Parmesan cheese and a fresh strawberry garnish.
4. On a salad. Strawberries pair well with balsamic vinegar and make a good salad dressing, like one used to top a spinach salad from Gourmet magazine.
5. In a cocktail. Daiquiris are the popular choice, and margaritas a close second, but for something a little different try using a strawberry shrub—known as a gastrique in France—which is an old-fashioned boiled and chilled mixture of fruit, vinegar and sugar that can be drunk as is or added to a cocktail.