Five Ways to Eat Rutabaga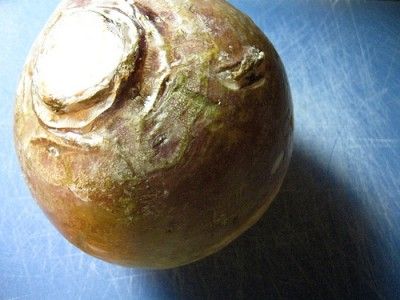 The first time I tasted rutabaga—or so I thought—was when I started spending Thanksgiving and Christmas with my fiancé's family. Bowls of mashed rutabaga, seasoned with salt and pepper and a little butter, are a staple of their holiday table, although some of the cousins turn their noses up at it. With a texture like winter squash and a slightly cabbage-like flavor, I find the dish pleasant enough but unexciting.
I set out to find other ways to prepare the root vegetable, which, it turns out, is a cross between a cabbage and a turnip. It also turns out that a lot of people call it a turnip—which is why I didn't realize I had tasted it before, albeit mashed with potatoes, when I spent time in Scotland. Neeps and tatties, or mashed rutabaga and potatoes, are a classic Scottish dish.
Here are some other interesting rutabaga preparations I dug up:
1) Do as the Swedes—and Finns—do. In England, the rutabaga is called a swede, or Swedish turnip. Swedes like their swedes much as my future in-laws do—boiled and mashed, sometimes with carrots. But in the next Scandinavian country over, Finns make a slightly jazzier version, called Lanttulaatikko. This casserole adds milk, eggs, nutmeg, molasses and bread crumbs to the rutabaga. To really perk things up (without adding a ton of fat), I like Kevin Weeks's idea of flavoring the mashed root with maple syrup and bourbon.
2) Add fruit. With its slightly sweet, slightly earthy flavor, I could see rutabaga marrying well with fruit, especially the ones most associated with fall, apples and pears. Apparently the people at Bon Appétit (via Epicurious) agree; they have a scrumptious-sounding recipe for smashed rutabagas with ginger-roasted pears. Sandy Smith, who blogs at Eat Real, tosses rutabaga with caramelized onions and apples.
3) Gratinée it. Starchy vegetables—OK, most vegetables—taste good bathed in cream and baked with a crunchy topping. I usually avoid this sort of preparation, though, because it's so high in fat, calories and cholesterol. But Cooking Light (via myrecipes.com) has a low-fat version of parsnip, turnip and rutabaga gratin that still sounds delicious.
4) Put it in a soup. If I was looking for zingier ways to prepare rutabaga, I found them in the soup category. Over at The Kitchn, Kathryn Hill devised a creamy rutabaga chipotle soup that sounds like my cup of tea. It calls for a lot of heavy cream, but I suspect it would still be good with quite a bit less. Chow does something similar, but with smoked paprika instead of chipotle, in this rutabaga bisque.
5) Make fries. I've heard of sweet potato fries and carrot fries. Apparently you can make rutabaga fries, too. Stephen Smith, a diabetic who loves to cook, devised a healthy recipe for rutabaga oven "fries" baked with rosemary, garlic and olive oil, or other flavors (the garam masala version sounds particularly good).