Five Ways to Eat Fresh Corn
Eating it only buttered and salted would be like limiting Ben Franklin to a single pursuit of inquiry. Why squelch such potential greatness?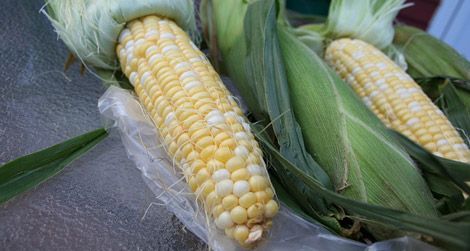 Between high fructose corn syrup, corn starch and corn-fed meat, most Americans eat far more corn—at least indirectly—than they realize. But the best way to eat the stuff, of course, is fresh off the cob. We're talking real fresh, as in within hours of being picked, if possible, before the sugars have a chance to turn to starch. (Unprocessed grain corn, the kind that ends up in packaged food or fed to animals, is a different variety from sweet corn and is inedible, or at least highly unpalatable, to humans.)
I could eat an ear or two of corn, simply slathered in butter and lightly sprinkled with salt, every day of summer. But that would be like telling Shaun White he had to choose either snowboarding or skateboarding, despite excelling at both, or limiting Ben Franklin to a single pursuit of inquiry. Why squelch such potential greatness?
Here are five other ways to let corn shine:
1. In salads. Good corn doesn't even need to be cooked to add sweet, crunchy flavor to salads. Blogger Heather Christo simply tosses the kernels with cut up mango, cherry tomatoes, scallions and a Mexican-inspired dressing. HoneySage's recipe for Fresh Corn Salad with Spicy Shrimp and Tomatoes calls for only the briefest of cooking. Summer Corn Salad from 101 Cookbooks includes pepitas (pumpkin seeds) and sunflower seeds and what Heidi Swanson describes as lemonade vinaigrette. And She Simmers explains a simple Thai snack of fresh corn and raw shredded coconut meat; the recipe is accompanied by a poignant recollection of the author's late mother.
2. In soup. Most Americans give hot liquids a rest in summer, but fresh corn soup is worth making an exception for, or saving for a cool late-season evening. Especially when it includes grilled poblano chiles, as suggested by the Cooking Photographer. For a heartier bowlful, go for creamy corn chowder packed with potatoes—the Reluctant Gourmet offers a vegetarian version, or add bacon, as demonstrated at Kitchen Catharsis.
3. With sage. Corn and sage, like tomatoes and basil, are a combination that always works well together. Gluten Free Cooking School pairs them in Savory Sage Corn Cakes. Food 52 shares a recipe for Corn Risotto with Anchovy Sage Leaf Bite. And KitchenDaily keeps it simple with Sautéed Corn with Brown Sage Butter.
4. With its sisters. The classic example of companion planting is the Iroquois tradition of the three sisters—corn, beans and squash. These three crops complement each other both in the garden and at the table. The blog Tigers & Strawberries sticks with a dish that also originated with Native Americans (and made famous by Sylvester the cat)—succotash, a simple mélange of corn, lima beans, zucchini and seasonings. A contributor at RecipesTap included international influences in Three Sisters Fritters, combining corn, fava beans and zucchini blossoms with tarragon butter and cayenne yogurt dipping sauce.
5. Don't forget dessert. Considering its natural sweetness, it's surprising that corn doesn't feature in more desserts. Brazilians have the right idea, simmering it in coconut milk and cinnamon to make corn pudding. A recipe at Taste of Home transforms fresh corn into dessert crepes topped with lemon cream and apricot jam. But the perfect summer dessert might be sweet corn ice cream—the Kitchn gives a simple recipe.