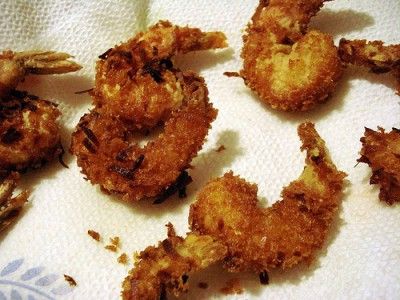 The coconut has long been a staple of cuisine in tropical places. As the trend toward Eastern flavors picks up here in the States, coconut has shown up in many flavor forecast lists for 2010.
The coconut is one of the most useful plants in the world. Some cultures use almost every part of the tree from the leaves to the water inside of the coconut fruit. In fact, the water is sterile, and was used as a intravenous solution in a pinch during World War II. The flesh of the coconut fruit, the fluid inside the coconut, coconut milk (made of liquid squeezed from the coconut flesh) and even the root of the palm, known as hearts of palm, are all eaten. Here are a few ways to enjoy the different parts of the coconut:
1. Batter: Think coconut-breaded shrimp. Use flakes of coconut flesh to coat shrimp and bake or fry. You can also coat other seafood, like tilapia, or try chicken with dried coconut flakes.
2. Salad: Hearts of palm are harvested from the root of a palm tree. Doing this kills the entire tree, so a salad made with the root was once called a "millionaire's salad." Today, rather than using coconut palms or other varities, most heart of palm comes from the peach palm—the only palm varietal not to die after its root has been harvested. Hearts of palm have a subtle flavor similar to asparagus or artichoke. Paula Deen has a recipe for a salad with spinach, strawberry and hearts of palm that I can't wait to try.
3. Curry: Coconut milk is the base for many Thai curries. I make a creamy red curry using red curry paste, a can of coconut milk, chicken and sweet potato. For more information, and some actual recipes, Serious Eats as a nice breakdown of curry type with recipes.
4. Substitute for dairy: While I don't keep kosher, recipes using coconut milk instead of dairy milk to follow kosher laws are intriguing. Take this Sweet Potato Coconut Crumble from Gourmet Kosher Cooking or these coconut milk scalloped potatoes. Coconut milk can also serve as the base of non-dairy ice creams for those lactose intolerant ice cream lovers. Grist recently reviewed non-dairy ice cream options, and the coconut milk varieties won.
5. Piña Colada: Some snow from the great snow storm of 2010 is still lingering on the ground here in D.C., but it's already March and spring will be here soon. When it starts to warm up, fix yourself a piña colada and pretend you're on a tropical beach somewhere. This popular cocktail is made from rum, pineapple juice and cream of coconut, which is derived from coconut milk.