Five Ways to Deck Your Halls With Food this Christmas
There are lots of ways to use goods in the pantry to make your digs a little merrier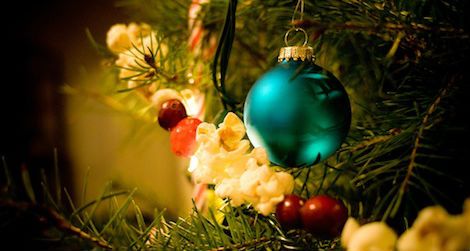 I love decorating my apartment for the holidays. The day after Thanksgiving, the tree goes up and it—along with windows and tables and other flat surfaces I can do without for the next four to six weeks—are festooned with whatever seasonal odds and ends I've amassed over the years. Not sure what it is, but when I walk into my home at night and am greeted by scads of novelty lighting, I suddenly feel at peace with the world. In recent years, I've indulged my love for shabby chic (or maybe just campy) decor by making beer can reindeer, which I'm currently using to decorate the living room shelf used to house bottles of my preferred adult beverages. (It's a theme. I'll work it for all it's worth.) But as I began to look at the decorations in my apartment, and ponder how the halls were decked in past Christmases, it occurred to me that there are lots of ways to use goods in the pantry to make your digs a little merrier. Here are a few ideas for the foodie who has yet to trim their home:
Popcorn and/or Cranberries: When I think of garland, my mind immediately gravitates to the metallic boas used to wrap around bannisters and trees—maybe even a younger sibling. But you can also make your own—and from products that will actually biodegrade. One option is to make a garland out of popcorn: buy yourself a bag of popcorn (not the kind you microwave), prepare and, using a needle threaded with waxed dental floss, string on as many fluffy white kernels as your heart desires. When you're through with the garland, set it outside for the birds. You can also use fresh cranberries. The fruit should dry nicely on the tree and keep for a few weeks; however, be careful about placing fruited garlands on surfaces that might stain. Alternate cranberries and popcorn, or, as Better Homes and Gardens suggests, add slices of lime for a festive splash of green. Some people spray their garlands with shellac so they can be used a little longer; however, if you do, please do not leave these outside for the animals to eat.
Gingerbread: How could you complain about edible ornaments for your tree? Martha Stewart has recipes for gingerbread that will be strong enough to be used as decoration, but not so tough that you can't enjoy the fruits of your labors. Roll out a tray of gingerbread people, remembering to make a hole so you can string through a length of ribbon. Bake, decorate and hang. The cookies need to set up overnight, but I also wouldn't let them stay on the tree but for so long. Stored in airtight containers, they keep for a week—so when out in the open, you have a much more limited time frame to eat them. This might be something you want to do a day or two before Christmas. What could be nicer than waking up on the 25th, gathering around the tree and having cookies to dunk in your coffee? You can also make a gingerbread house, which some people eat at the end of the season, but others spray it with a coat of shellac and use it for several years.
Dough: Another classic option is to whip up a batch of ornament dough. Nothing but flour, salt and water, I suppose this is technically edible while raw (not that I'd recommend that), but because you can make it with items you can find in your kitchen, I'm including it on this list. Roll out the dough and make festive cutouts, bake off and decorate with paints, glitter and any other craft trimmings you like. If you're a Michelangelo in training, sculpt figures—but remember that the back side is going to be resting on a baking sheet and will be completely flat. You can back those ornaments with colored felt to pretty up the undecorated side after they're baked and cooled. And before baking, don't forget to make a hole where you want your ornament hanger to go.
Cinnamon: If you have an abundance of cinnamon sticks in your pantry and you've no idea how to use them, I strongly suggest making yourself cinnamon stick Santas. Aside from the cinnamon, you just need some acrylic paint to render the facial features and a product called Sno-Tex (also sold under the name snow paint) to create a textured white beard. Attach a ribbon and hang on your tree.
Peppermint: I love wreaths. Between the splash of color and, if you're using live botanicals, an invitingly aromatic way to greet your holiday visitors at the door. You can also greet your guests at the door with food by crafting a wreath using star mints. For this, you need a coat hanger or metal hoop, bags of mints or other hard candy with the cellophane tails, and embroidery thread. If using a coat hanger, shape the hanger into a circle and begin tying candies onto your wreath form until you have a full wreath. Top with a bow, and you're good to go. If you're using candies with cellophane tails on both ends, your guests will have a tail to tug on to get at a holiday treat. If you're using hard candies with a tail on just one end, consider attaching a small pair of scissors to your wreath with a strand of ribbon or yarn so your guests can easily snip off their candy.
As our regular readers may know, we like our "five ways" posts so I'm cutting it off here. But I'm sure there are lots more ways to work food into holiday home decor. Let us know in the comments section below how you get crafty with food to make the season a little brighter in your home.
Read more articles about the holidays with our Smithsonian Holiday Guide here