Five Quintessential Cajun Foods
If you've only had the pleasure of eating a bowl of gumbo, queue up some Beausoleil and prepare some of these specialties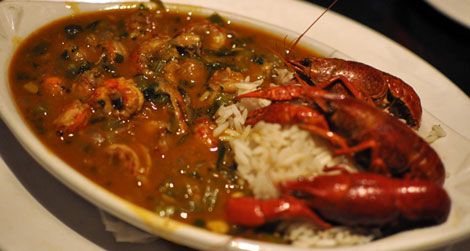 The Cajuns are one of Louisiana's unique subcultures. They are descended from French settlers exiled from Acadia. For a long time, they were met with derision. Holding onto their French heritage, the Cajuns were discriminated against by the English-speaking population, and it wasn't until the late 1960s that efforts were made to preserve Cajun culture. One major development came in the 1980s, when chef Paul Prudhomme earned Cajun foodways some long-overdue attention and respect. His restaurant, K-Pauls's Louisiana Kitchen, and a number of cookbooks pushed this unique cuisine to the forefront of the American consciousness. If you've yet to have the pleasure, of if you have only had the pleasure of eating a bowl of gumbo, queue up some Beausoleil and crack open your pantry to make the following classic Cajun meals.
Blackened Redfish: This is the dish that put Cajun food on the cultural map in the 1980s and is the thoroughly modern invention of Prudhomme. He aimed to recreate the taste of food cooked over an open fire by using a searing hot cast iron skillet and a mix of herbs and spices that creates a sweet crust on the outside of the filets. Part of his original Louisiana Kitchen cookbook, and later refined in The Prudhomme Family Cookbook, the recipe was often imitated in restaurants at the height of the Cajun craze—although not necessarily well, with some interpreting Cajun cuisine as anything that is ridiculously over-spiced. When done properly, the fish is supposed to taste sweet and smoky.
Boudin: These are specialty Cajun sausages, usually served as a snack food, that blend hog meat with rice, onion, bell pepper and spices. They come in two varieties. Boudin rouge incorporates blood into the mix and, given federal food regulations, is nearly impossible to find due to public health concerns—although you might have some luck if you go directly to a slaughterhouse. Boudin blanc is the widely-available, bloodless variety, recipes for which are available. Recalling my family making homemade Italian sausage, I would count on this being an all-day affair, but the results will surely be worth the effort.
Étouffée: Étouffée is another relatively modern dish that sprang up in Cajun cooking sometime in the 1930s in Breaux Bridge, Louisiana. From the French word for "to smother," étoufées are similar to gumbos and start with a roux—a mix of flour and butter—that classically engulfs a mix of onion, bell pepper, celery and crawfish tails and is served over rice. Lots of variations exist, including one that subs in alligator meat for the crawfish.
Jambalaya: This dish comes in two varieties: if it's red, you're noshing on the tomatoey Creole variation, but if it's brown—of slow-cooked meat drippings—it's Cajun. One story goes that this stew of vegetables, spicy andouille sausage and seafood originates from Spanish settlers in Louisiana's French Quarter trying to create a New World approximation of paella. And should you be down in Gonzales, Louisiana, later this month, the Jambalaya Capital of the World will be hosting its annual jambalaya festival, where you can sample a number of variants on the stew from cooks who are all vying for a world champion title. Could there be a better opportunity to introduce yourself to this stew?
Macque Choux: No one seems to be entirely sure about the origins of this corn dish. The name alone is confusing, with "maque" maybe being a Natchez Indian or Creole word for "corn," and "choux" being French for "cabbage," even though that veggie isn't usually used, at least not in modern iterations. Where there is some consensus is that when the French Acadians came down to Louisiana once upon a time, they adapted corn, a distinctively American Indian crop, into their cuisine. Whatever its origins, this spicy corn and tomato stew laced with peppers and onions can include meats such as chicken or crawfish or can be completely vegetarian.
Note: For easier referencing, please use the links below to explore recipes for the above Cajun dishes.
Blackened Redfish: The original version of Paul Prudhomme's famous recipe
Boudin: The bloodless variety.
Étouffée: This version from Sauveur uses crawfish, but if you're not one for shellfish, they also offer a recipe that uses chicken.
Jambalaya: Chicken, sausage, bacon, and a host of spiced veggies make for a decadent stew.
Macque Choux: The standard version of the dish is just corn and veggies; however this blogger kicks things up a notch by topping the corn dish with spicy, pan-fried shrimp.