Five Funky Ways to Make a Peanut Butter Sandwich
Although peanut butter and jelly is the classic combination, there are plenty of other, very strange permutations for your lunchbox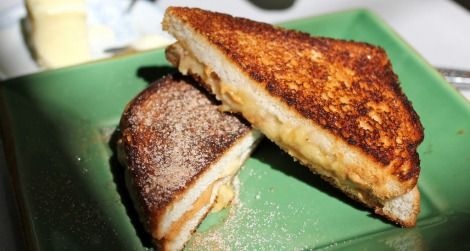 The peanut butter and jelly sandwich is a classic lunchtime staple that will be popping up in school cafeterias this fall. (Well, unless you go to a school that has a wholesale ban on nut products because of student allergies.) Initially, peanut butter and other nut butters were championed by vegetarians who used the product to create mock meat dishes, while non-vegetarians seem to be the ones who pounced on peanut butter's potential as a sandwich spread. The sandwich itself became a popular food in the United States in the late 19th century, and the first known recipe for a peanut butter and jelly sandwich was published in 1901. Although this is the most mainstream combination of peanut butter with another sandwich filling, there are other, fascinatingly strange permutations to be had. Will one of the following crop up in your lunchbox any time soon?
Fried Peanut Butter and Banana: Outside of your standard PB&J, this may be the most famous peanut butter sandwich out there. It's most frequently associated with Elvis Presley, although his penchant for this sandwich—peanut butter and mashed banana and pan fried until golden brown—might be a bit exaggerated. "He didn't eat that many," Joe Esposito, a close friend of Presley's, recalled in a biography on the king of rock 'n roll. "That peanut butter and banana sandwich thing was a treat for him once in a while. He didn't eat five or six of them, he ate one—they're very filling." For those wanting to try this, some recipes call for mashing the banana, others say to slice and arrange the fruit on the bread, while other variations include lettuce and fried bacon.
Fool's Gold Loaf: If the legend is true, this is Elvis' other peanut butter sandwich. The story goes that a Graceland guest described an incredible sandwich the guest had tasted at the Colorado Gold Mine Company near Denver. A loaf of Italian bread was hollowed out and filled with a jar of creamy peanut butter, a jar of jelly and a pound of sliced and fried bacon. The whole thing was then either warmed in an oven or deep fried. Elvis supposedly hopped a private jet out to Denver, where the restaurant owner delivered the coveted sandwiches—which are said to cost $49.95 a pop—to the airport. Whether or not the story is true, recipes for this hunka hunka sandwich do indeed exist. Eat at your own risk.
Novelty Sandwiches: So reads a chapter subhead in the 1953 edition of the Better Homes and Gardens New Cookbook. When I hear the phrase "novelty sandwich," I think back to my mom using cookie cutters to make fun shapes out of a PB&J sandwich. But in this particular cookbook, a novelty sandwich can be the blending of peanut butter with mayonnaise, a combination that is then spread on whole wheat bread and topped with shredded carrot. (Sadly, the book does not suggest an appropriate aspic to serve with this sandwich.) But this isn't some piece of freak cookery that came about during the mid-20th century's age of occasionally questionable taste. An 1896 sandwich recipe also recommended the marriage of peanut butter with mayo.
Peanut Butter and Cheese Curls: The brave souls who report NPR's Wait Wait Don't Blog Me "Sandwich Monday" series gave this one a go: peanut butter and cheese curls on a bun. The verdict? Not a far cry from the peanut butter and cheese cracker sandwiches. (They also tried peanut butter as a hamburger garnish. However, I don't think the paltry proportion of peanut butter relative to ground beef can qualify this culinary oddity as a bona-fide peanut butter sandwich.) This pairing of flavors also dates back to peanut butter's burgeoning days as the sandwich spread of choice and was served in upscale New York tea rooms. Whether you prefer sliced cheddar over cheese curls comes down to what kind of texture you prefer in your sandwiches.
SPAM Kahuna: The Nutropolitan Museum of Art may be a whimsical mesh of marketing and artistry from New York sandwich shop Peanut Butter and Company—or it may be a serious attempt to get you to think outside the lunchbox when it comes to constructing a peanut butter sandwich. In this edible ode to the 50th state, how well do you think SPAM, pineapple and peanut butter would complement each other? (And I'm hoping the peanut butter and PEZ sandwich is just a joke.)