Find These Beers Hidden in Paris and the French Countryside
Our intrepid writer devises a scavenger hunt in a low-tech geocaching game that every beer lover can enjoy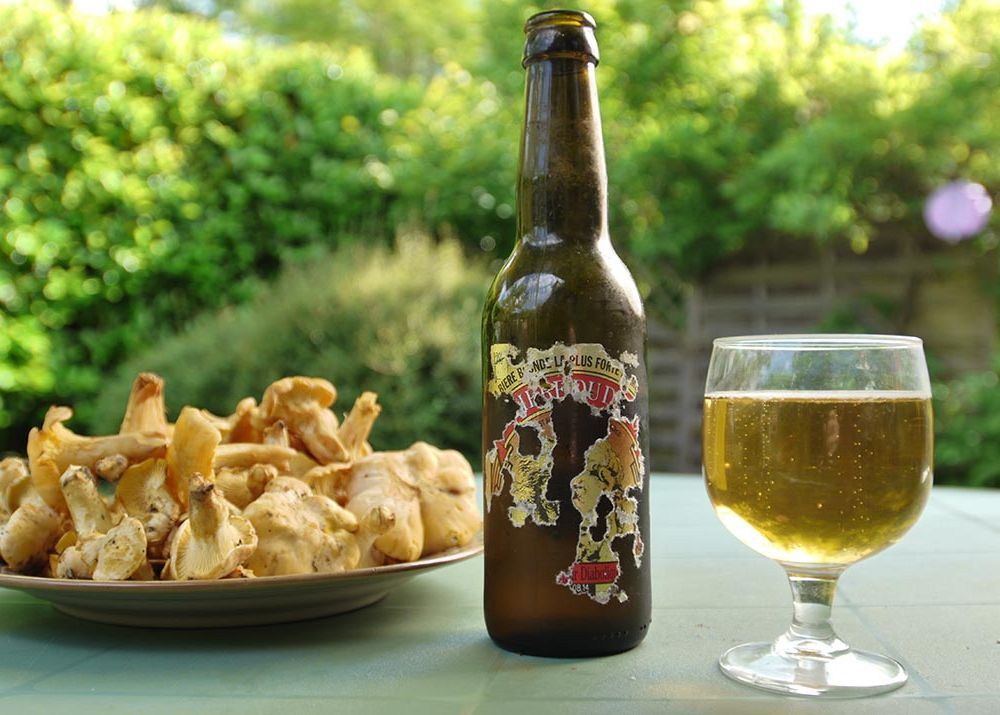 One was stolen. A number of the bottles have never been found at all. But most of the hidden beers and ciders, which I've stashed in rock walls or buried in scattered parts of France, California and the Pacific Northwest, have been retrieved and replaced by willing readers, eager to play the game I call "Find the Beer."   
It began two years ago as I cycled from the Périgord region of southern France, across the Pyrenees Mountains to Madrid. As I went, I left bottles of beer in cracks and crannies in the rock walls and cliff faces beside the road, then provided detailed directions to each cache on several Smithsonian blog posts. The idea was that future travelers, passing by these remote stashes, would replace the beers with selections of their own. I eventually introduced the game to the United States during cycling trips between Alaska and California. Since the game began in May of 2012, several of the California beers have been swapped more than once. At least one stash, in Mill Valley, has been plundered and left empty—an expected casualty, unfortunately. Of the French beer stashes, a few have been visited by readers of our blog.
In its simplest interpretation, Find the Beer is a treasure hunt. For those who play, however, it becomes something more exciting than that—a way to bridge the often dull and inane realm of the Internet to a real, tangible point in space where, when that hand makes contact with glass inside the correct rock hole, it becomes clear that another person, reading the same blog, has been before. What's more, beer—especially high-alcohol ones—can get better with age, taking on rich, thick flavors that they lack in the zesty freshness of youth. Those who play Find the Beer will have a chance to see what a year or two in a cool, dark place can do to a bottle of brew.
This spring, I am in France again. I have spent a week in the Périgord region, hunting chanterelles, hiking, drinking wine and cooking great dinners with my family. I am also, while no one is looking, dropping to my knees beside small roads and reaching into familiar rock holes, to see what taste in beer Smithsonian readers have. I have also been scouting for new stashing points and leaving behind fresh bottles—including two in Paris. You want to play? Following are the places to go. Should you find a beer and make a swap, please post a descriptive comment beneath this story.
The Dordogne Collection:  
Groléjac, Dordogne. Est. May, 2012. The first location to be incorporated into the game, the hole at the base of the cemetery wall in Groléjac was initially stocked with two cans of strong lager. A Pelforth Brune took their place in May of 2013. That beer was later replaced with a Fischer lager. What dwells there now? A blue label Chimay ale from Belgium, stashed on May 26, 2014. Go and get it, and please leave something nice in its place.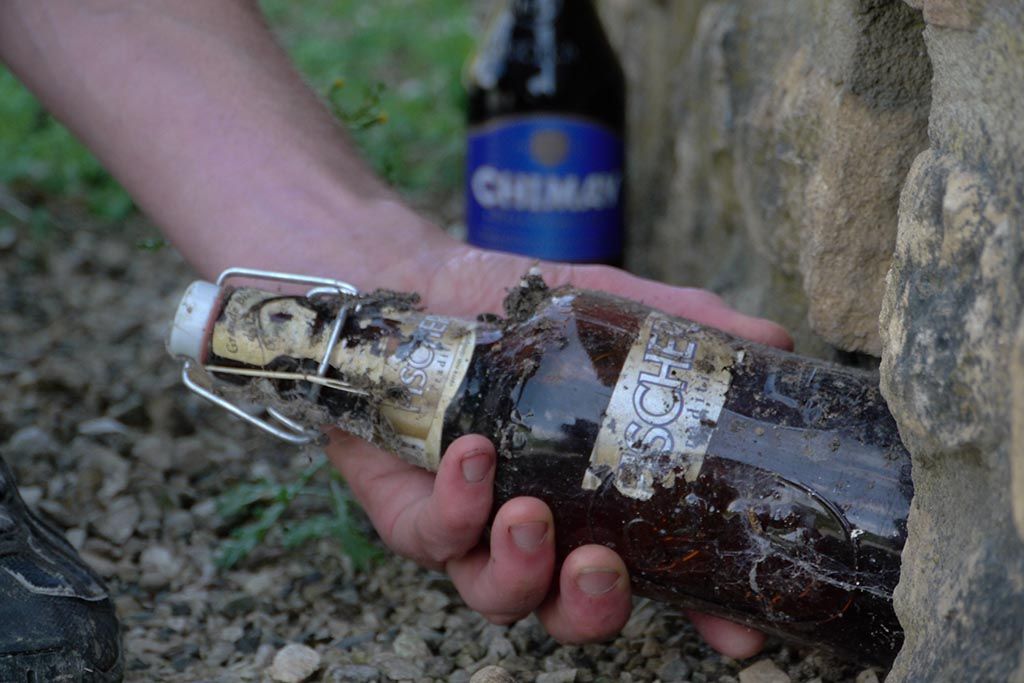 Le Bugue, Dordogne. Est. May, 2012. On highway D703, about a mile outside the thriving ancient village of Le Bugue and 100 yards east of kilometer marker 27, you will find yourself on a straight stretch of road, elevated about 80 feet above the Vezere River and with a fine view of the green cow country to south. In a drainage hole at the base of the wall, several beers, and a bottle of cider, have come and gone over the two years since this stash was first initiated. I last left a bottle of Chimay there in 2013. This May, I retrieved from the hole a bottle of Gayant Bière du Démon, which proclaims itself the strongest blonde lager in the world. In its place I left a bottle of dry Normandy apple cider.  
Carsac, Dordogne. Est. June 1, 2014. A quiet bike path passes underneath Highway D704, just west of the kilometer 89 marker, near the town of Carsac. Traveling west, cyclists will see a rocky wall to their left just before entering the tunnel beneath the road. Under a ledge at the base, a bottle of locally brewed walnut beer now resides. Drivers can easily access this stash, too, by pulling off the highway. Mind the stinging nettles as you reach for this brew. The crack is narrow and a tight fit, so you'd better bring a small bottle to swap.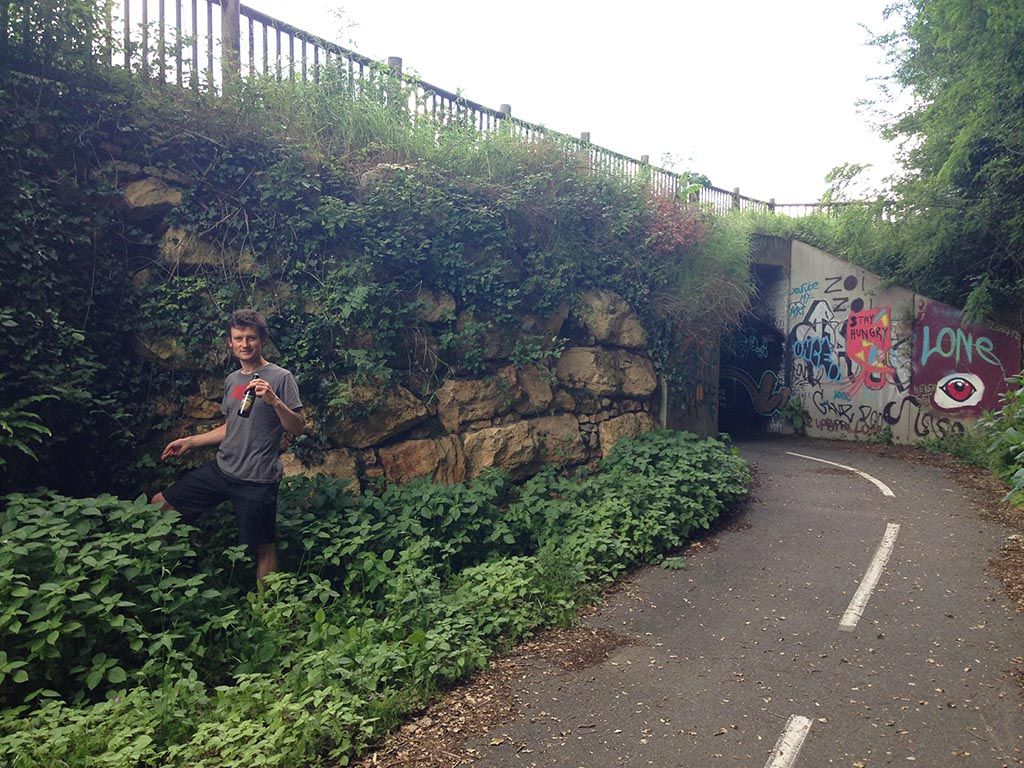 The Paris Bottles:
Luxembourg Gardens, Medici Fountain (adjacent to the Senate Building). Est. June 2, 2014. Amid throngs of tourists gazing across the gravel walkways and ponds and off-limits lawns of the Luxembourg Gardens, there is a bottle of Pelforth Brune quietly passing the early summer. It dwells in a vine hedge of ivy, at ground level, beside the pools of giant carp and goldfish of the Medici Fountain. If you wish to trade out this beer, go early in the morning, when only a few joggers are out, take a furtive look around, and make the swap unseen.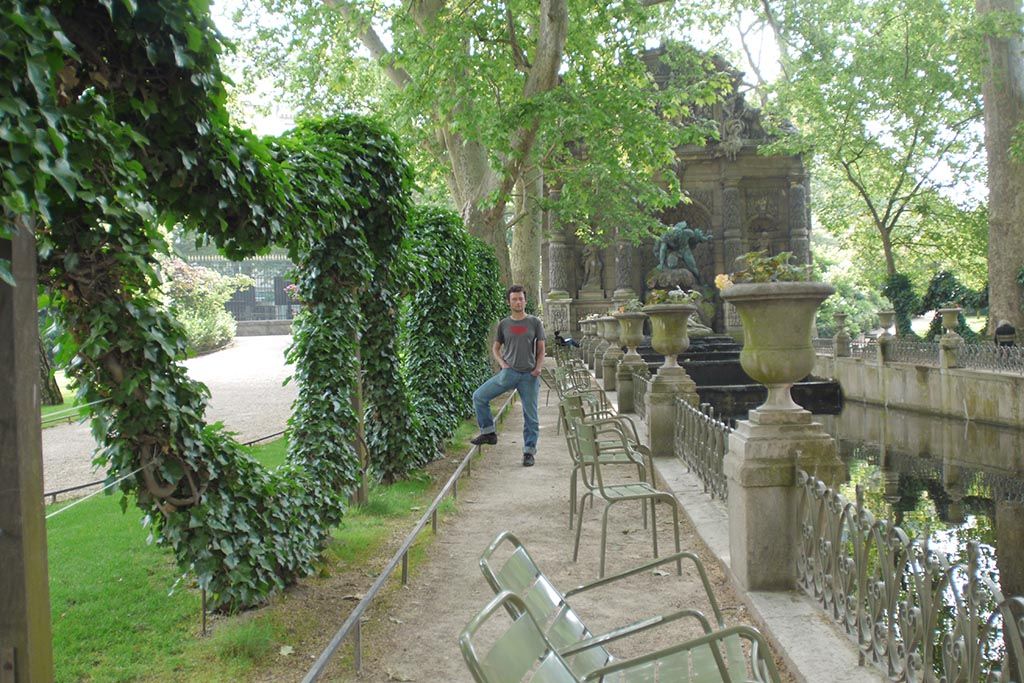 Père Lachaise Cemetery. Est. June 8, 2014: Near the entrance to this famed repository of deceased human talent dwells a fresh bottle of bière artisanale—a blonde ale brewed in the South of France. The bottle is hidden behind a green hexagonal kiosk, just outside the western wall of the Père Lachaise Cemetery. Go to the address 9 Avenue Gambetta. Directly across the street is the entrance to a park (le Jardin Samuel Champlain). Go in, and from the entrance, the kiosk will be along a path to your left. As with the Luxembourg Gardens beer, try and make this swap furtively so that no beer poachers should raid this tomb.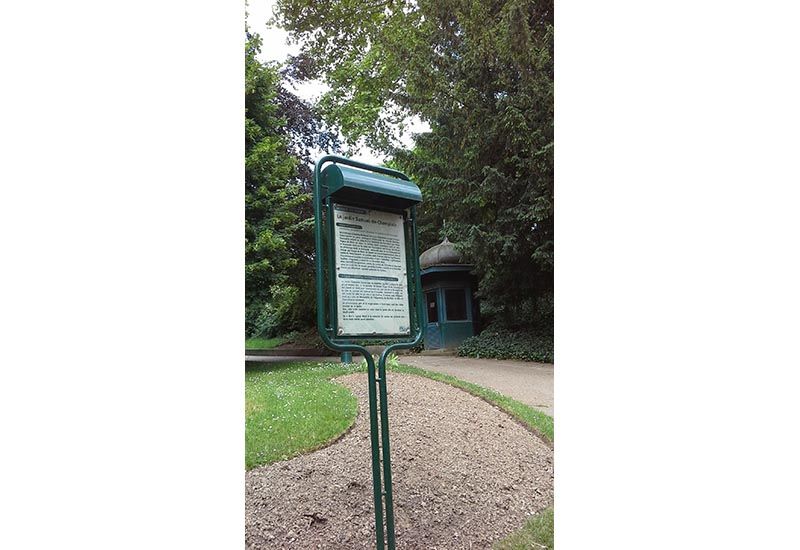 The Pyrenees Collection:
Col d'Aubisque, Pyrénées-Atlantiques. Est. June, 2012. In a crack in a cliff beside the highway between the Col d'Aubisque and Col du Soulor passes, I left a strong lager in 2012. What beer is there now is not known. The crack is located just beside a spray-painted Basque freedom message, 'LIBERTAT.'
Col du Tourmalet, Hautes-Pyrénées. Est. June, 2012. You must reach the top of a 7,000-foot pass to reach this cache. Initially planted with a bottle of Gayant Bière du Démon, the stash is in a concrete bunker-like structure on the right side of the highway (if you're ascending from the east side). It is tucked under a ground-level ledge (you'll see it when you get there), directly beneath the letter "L" in a spray-painted political message about Basque freedom.
Massat, Ariege. Est. May 12, 2013. A Duvel Belgian "SPECIAALBIER" was cached here more than a year ago and may have been swapped in the time since. The hole is located beside highway D 618, about nine kilometers uphill from the old town of Massat, at the edge of a village called Brusque. See the photo to find the beer.
Gorge de St. Georges, Highway D-17, Aude. Est. May 16, 2013. Just four kilometers upstream of Axat, in the Aude River gorge, a bottle of Fischer lager was laid to rest in the cliff wall, between two sections of precipice contained by chain link fencing. If you're going uphill, the beer is stashed on the left-hand side of highway D 17, about 100 yards upstream of the junction with D-118. D 17 is the road that leads to Col de Jau, a 4,935-foot pass that frequently occurs in the Tour de France route. Use the photo as your guide.
Sougraigne, highway D 74, Aude. Est. May 19, 2013. A small-batch craft beer was found in a fancy organic foods co-op and should be worth the trek to get it. It is 6.5-percent alcohol and contains seven grains, for what all that is worth. The beer is hidden in a rock wall precisely beneath, and just to the left of, the kilometer-3 marker on highway D-74, en route to Sougraigne, in the Aude department. It's a small country road in a beautiful forested region–a worthy touristic drive whether or not you find the beer.
Hautacam, road to summit, Hautes-Pyrénées. Est. June, 2012. I placed a plastic bottle of wine here in 2012 and never heard a peep more about it. The wine was purchased in bulk from a local cave du vin and, lacking the protection of a sealed glass bottle, will almost certainly be vinegar by now, unless something better has been placed there in the years since. Precisely, it is 2.2 kilometers below the top, under a table-like rock on the left side of the road, 200 yards uphill from a roadside lodge, and just 20 yards uphill from a metal grate over the highway.

The Bordeaux Stash:
Sauternes, highway D116 E1, Gironde. Est. May, 2012. Two years have passed since I placed an 11.6-percent wine-strength Maximator lager in the base of the cobblestone rock wall facing the entrance to Chateau Lafaurie-Peyragney winery. Cans, I have learned, do not last long exposed to the elements, so whether this beer fared well is unlikely. By now, a bottle may dwell in this hole.