Eating Breakfast for Dinner
There are all kinds of breakfast foods and some translate to dinner more easily than others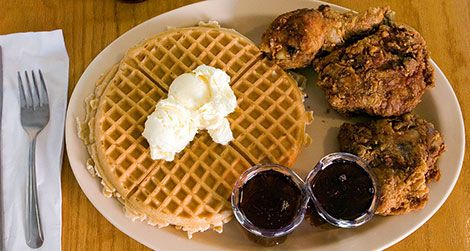 A restaurant recently opened near me that specializes in breakfast all day, with variations on eggs Benedict, Swiss-style rösti potatoes with eggs and other a.m.-associated foods. The evening menu also includes more typical dinner entrees, but even some of those give a nod to the morning meal, like coffee-marinated chicken. They also have specialty Bloody Mary and mimosa menus. It's a gimmick, yes, but one I can get behind.
All-day breakfast is nothing new; 24-hour diners and coffee shops have always allowed late-night eaters to get their dose of vitamin G (as in grease) after a night out. But there's still something mildly subversive about eating meals out of order, kind of like pajama day at school or an indoor picnic in winter—a subtle deviation from the norm that makes you feel like you're getting away with something.
Of course, there are all kinds of breakfast, and some translate to dinner more easily than others. Eggs are a natural. Chocolate-chip pancakes, not so much, unless you're under the age of 12. Even a bowl of cereal can make for a light and lazy dinner. A bonus is that breakfast dishes are usually quick to prepare and inexpensive. Here are a few ideas for inspiration:
Omelettes. Throw in some veggies and you've got yourself a well-balanced meal in a few minutes. I'm partial to spinach, tomatoes and feta cheese or salsa, cheese, peppers and onions, but just about anything you have on hand will do the trick. A thin omelette aux fines herbes, studded with fresh chives, chervil, parsley and tarragon or other herbs (Chez Pim's addition of chive blossoms is particularly lovely), possibly accompanied with a simple green salad and a glass of wine, is a classic French meal. Julia Child explained the technique at length in her Mastering the Art of French Cooking. For more eggs-for-dinner ideas, see my post from earlier this year, Around the World in 80 Eggs.
Waffles. There are a few directions you can go here: Standard sweet waffles with syrup are paired with fried chicken in a favorite soul food combination. Roscoe's House of Chicken and Waffles, a Los Angeles institution, had a cameo in Quentin Tarantino's Jackie Brown, and singer Gladys Knight has her own chain of chicken and waffle restaurants in the South. It's not even close to healthy, but it hits the spot if you love to combine sweet and savory (and fat, lots of fat). Interestingly, the Pennsylvania Dutch have their own unrelated version of chicken and waffles; theirs is made with shredded chicken topped with gravy. You can also go with savory waffles, as in A Chow Life's cornmeal-based version topped with chili, accompanied by the author's charming story of running away from home at age 9.
Hash. As in corned beef, not cannabis (a distinction Google fails to make when searching for "hash recipes"). Though corned beef and potatoes are the most common combination, ham, roast beef or veggies are equally valid choices. My favorite is red flannel hash—with beets and potatoes—especially this vegetarian version from Chow.com that's topped with eggs.
And don't forget dessert. You could always just pour a bowl of Cap'n Crunch, or break out those chocolate-chip pancakes. Even better: make your own version of Momofuku Milk Bar's cereal milk ice cream.