Cooking With Breadfruit
The tropical fruit is a daily food staple in cultures where the tree grows, including Hawaii, the Caribbean and Central America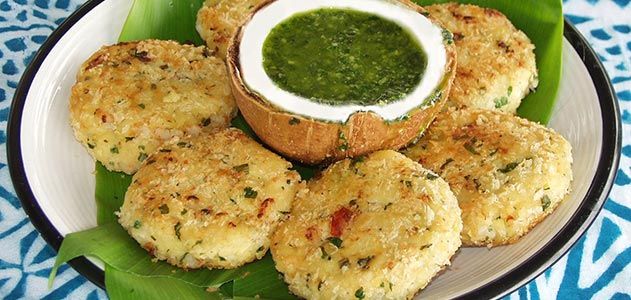 It looks a bit alien, like a green coconut with goosebumps, and it sounds like an exotic hybrid---is it produce, or a baked good?---but breadfruit is really rather ordinary in many parts of the world.
"Sure, I know what breadfruit is! It grows everywhere in Puerto Rico, where I grew up, and its so good," says Carmen Eyzaguirre, a Smithsonian librarian in Washington, DC. "It tastes like something between a potato and a plantain."
According to The Breadfruit Institute at the National Tropical Botanical Garden in Hawaii, breadfruit (artocarpus altilis) grows in almost 90 countries, mostly in the Pacific Islands, southeast Asia, the Caribbean and Central America.
There are hundreds of varieties, but the most ubiquitous are the types propagated by colonial powers as a source of food for slaves in places like the West Indies.
A member of the mulberry family, breadfruit grows on trees that mature quickly and fruit abundantly for many years, which could make it valuable in the fight against world hunger.
"I really think it has a lot of potential to help people, especially in the tropics, where 80 percent of the world's hungry live," says Diane Ragone, founder of The Breadfruit Institute. "It's low-labor and low-input; much easier to grow than things like rice and corn. And because it's a tree, the environmental benefits are huge compared to a field crop."
Ragone became fascinated by breadfruit as a botany graduate student in the mid-1980s, and started collecting samples worldwide. By 2002, her collection formed the basis for founding the institute, a non-profit group that aims to research and conserve breadfruit species as well as promoting the crop's practical uses for food and reforestation.
In Hawaii, where the institute is based, breadfruit is called ulu, and the traditional cooking method is to place a whole fruit directly in a fire.
"The skin blackens and the flesh gets almost doughy inside, which is why they call it breadfruit. The smell is fabulous, and the taste is really unique," Ragone explains. "A lot of people say breadfruit is bland, but I think that depends on the variety. And as one chef I talked to here said, 'It's the perfect canvas for a culinary artist.' You can do anything with it!"
If you're lucky enough to get your hands on a fresh breadfruit, here are some recipes to try, courtesy of The Breadfruit Institute.
Update: On our Food & Think blog, read about Amanda's epic quest to get her hands on a fresh breadfruit in the Washington, DC area.
—
Breadfruit Nachos

1 Breadfruit, mature and firm

2 Tbsp butter

½ to 1 cup grated cheese, such as cheddar or mozzarella Salt

Optional toppings: Salsa, refried beans, guacamole, sour cream
Wash breadfruit and pat dry. Cut it into quarters, lengthwise, and remove the spongy core. Place quarters skin-side down in a pan filled with about an inch of salted water; add garlic if desired. Boil 12-15 minutes or until the flesh is easily pierced with a fork, but still firm.
Remove breadfruit from pan and let it cool. Peel and cut into crescent-shaped slices, about 1/4th-inch thick. Melt 1 Tbsp butter in a skillet (cast-iron works best) on low heat. Add breadfruit slices and fry until they are lightly golden on the bottom. Flip slices, adding more butter if necessary, and melt cheese on top of each one while the underside browns.
Arrange breadfruit slices on a plate like nachos, and sprinkle with sea salt or garlic salt if desired. Top with guacamole, salsa, refried beans, sour cream or whatever else strikes your fancy!
Alternative: Use olive oil instead of butter, and make a Mediterranean version topped with things like pesto, tomatoes, fresh mozzarella and/or grated Parmesan cheese.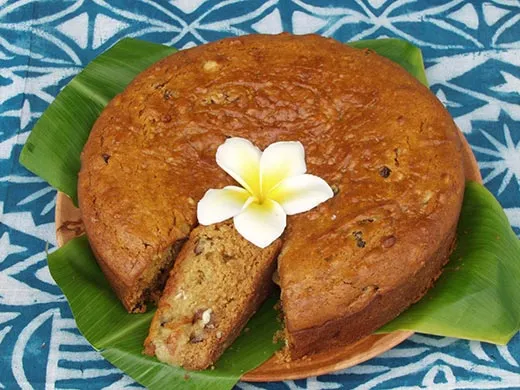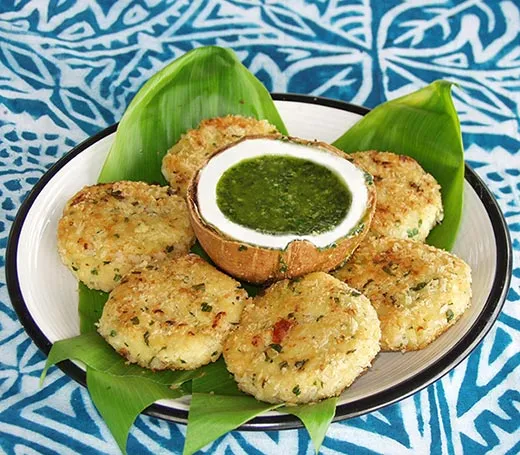 Breadfruit Cake

¾ cup breadfruit, steamed/boiled and mashed

1 cup honey

½ cup butter

½ cup sugar

1 tsp vanilla

2 cups flour

1 tsp baking powder

1 tsp baking soda

¾ tbsp cinnamon

½ cup sour cream

½ cup macadamia nuts, chopped

½ cup raisins
Cream butter and honey. Mix in breadfruit, sugar and vanilla. Sift together dry ingredients. Add dry ingredients to creamy mixture; add sour cream until well blended. Add nuts and raisins. Pour into buttered or sprayed 8-inch x 8-inch cake pan. Bake at 350º for 1 hour.
— 
Ulu Shrimp Cakes with Macadamia Nut Pesto

Cakes:

½ breadfruit (ulu), steamed/boiled and mashed

1 small onion, diced

6 jumbo shrimp, chopped, or 1 cup crab meat

5 scallion leaves, chopped

2 cups breadcrumbs

1 egg, whisked

Pinch of salt & white pepper

Cooking oil
Pesto:

¼ cup macadamia nuts, chopped

1 cup basil, chopped

1 cup parsley, chopped

½ cup oil

Pinch of salt & white pepper
Mix breadfruit, onion, shrimp or crab, scallions, salt and pepper and form into patties. Dip in egg, then breadcrumbs. Deep fry until golden brown in color. Blend all pesto ingredients in a food processor or blender until smooth. Drizzle a little over the breadfruit cakes, and serve the rest in a bowl as a dipping sauce.