A Brief History of Bulgogi, Korea's Most Delicious Export (Recipe)
And how you can get some of the tender, marinated beef stateside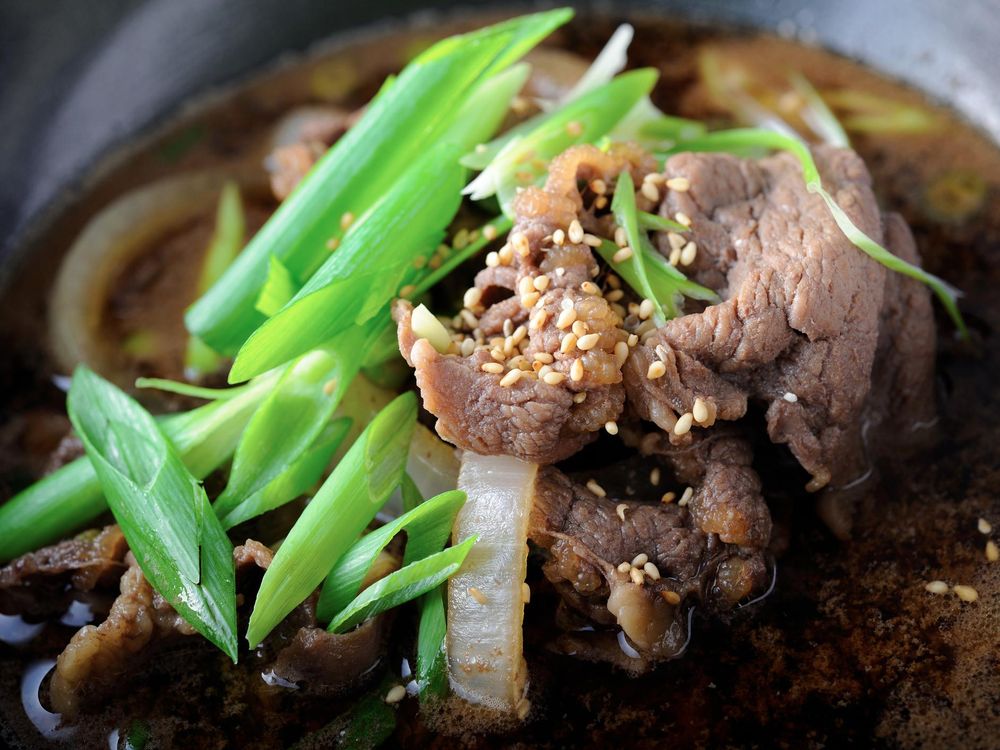 Peter Serpico, the Seoul-born chef and namesake of the contemporary American restaurant Serpico in Philadelphia, knows good bulgogi. Like clockwork about once a month, his Korean mother-in-law comes to his home and whips it up, unasked, alongside a feast of dumplings called mandu, rice, and two-to-three containers of homemade kimchi.
"I don't want her to come over and cook, but that's what she wants to do!" says the James Beard Award-winning chef and Momofuku alum, just the slightest bit exasperated. But Serpico, adopted by a white couple from suburban Maryland at age 2, concedes that his mother-in-law's incessant cooking has been educational. A tremendous cook, her bulgogi is the stuff of legend. Plus, "it's her way of showing love and making sure we're taken care of. It's very sweet."
Bulgogi, a classic Korean dish of thinly sliced, marinated beef, is a staple of Korean households. As meatballs and spaghetti are to Italian Americans or matzo ball soup to Ashkenazi Jews, bulgogi—eaten over rice or wrapped in lettuce—is a ubiquitous meal in seemingly every Korean cook's repertoire and deeply ingrained in Korean culture. According to the peer-reviewed Korea Journal, the dish's origins stretch back to the Goguryeo era (37 B.C. to 668 A.D.), the evolution of a kabob-like skewered meat preparation called maekjeok. Over time, maekjeok became seoryamyeok, a brothy dish of marinated beef soaked in cold water, which by the early 20th century gave way to neobiani, a luxurious dish of thinly-sliced, marinated and charbroiled beef favored by Korean royalty.
The story of how neobiani became bulgogi is a complicated one, influenced by the Korean people's shifting relationship with meat, an invasion by the Japanese, and Korea's fight for independence. But the short version is that from the 1920s onward, beef became commercialized and more widespread. Bulgogi is actually an umbrella term for two slightly different dishes that emerged: one that's brothy, perhaps a callback to seoryamyeok, and another that's roasted over a grill. The dish's prominence waned during the era of Japanese rule (1910 to 1945), during which serious beef shortages sent prices skyrocketing. But most experts agree that by the 1990s, bulgogi had rebounded and was collectively regarded as the most popular food in Korea.
As Koreans immigrated to the U.S., they naturally brought bulgogi with them. In Koreatown, food writer Matt Rodbard writes that next to kimchi (a traditional dish of fermented vegetables, usually cabbage) and possibly bibimbap (a bowl of rice often topped with vegetables, egg, sliced meat, soy sauce and fermented pastes), "bulgogi is the best-known Korean food product to grace American shores." Stateside, bulgogi's evolution appears to have continued in subtle ways: Here, you'll less often see bulgogi's brothy form, and "grilled" varieties are sometimes prepared in a hot stovetop skillet, perhaps a reflection that many American homes lack charcoal braziers or even a grill.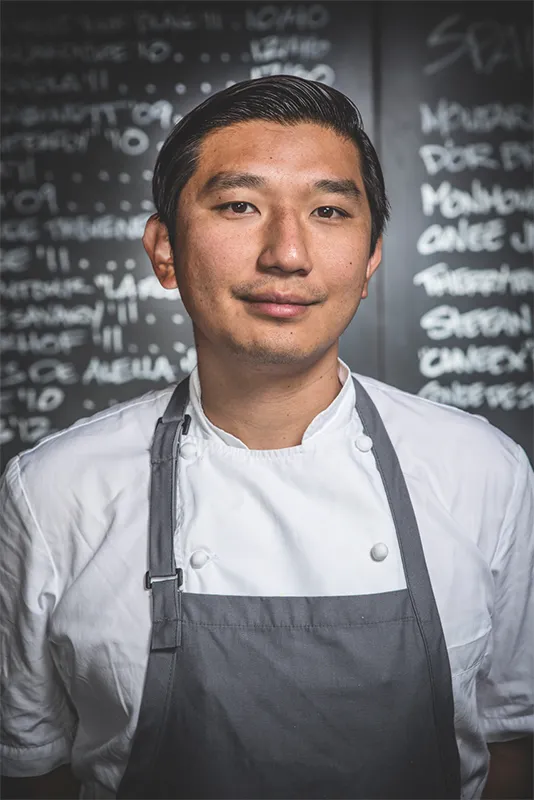 Ribeye is frequently used because of its tenderness and fat content, Serpico says, but sirloin and brisket are also popular cuts. Marinades often differ slightly from establishment to establishment and home to home—a secret sauce of sorts—but generally include some combination of soy sauce, sugar, garlic, green onion, sesame oil and pear. The pear, often a juicy Asian variety, is especially critical. It contains an enzyme called calpain, which tenderizes the meat and adds a touch of sweetness. But Serpico says that the traditional ingredient is sometimes swapped out.
"Some people use kiwi now," Serpico explains. "It's got the same enzyme that the Asian pear and pineapple have." But, he warns, levels of calpain may be lower in Asian pears; marinades made with it can stay on beef overnight without degrading the quality of the meat. In marinades cut with mashed kiwi and especially pineapple, Serpico says the enzyme does its work in just a matter of hours. "You have to be careful. A lot of people don't use pineapple, because the meat just breaks down—it gives it a real terrible texture."
Another issue is procuring beef that's cut razor-thin; it's not traditionally found in most Western supermarkets. Serpico says that those skilled with a knife might consider freezing their beef and letting it half-thaw, which makes thin-and-even slicing easier. But "it takes a lot more skill and practice than a lot of people think it does," he warns. Instead, he suggests trekking out to your local Korean grocery—perhaps H Mart, a Korean supermarket chain with 60 locations across the U.S.—and ordering pre-sliced or even pre-marinated beef. Alternatively, "go to your butcher and ask them to slice it; a lot of the bigger grocery stores will do it."
If all this seems like too much effort, dining out options abound. You'll be hard-pressed to find a Korean restaurant in the U.S. that doesn't serve bulgogi in some form; it's often charred on tableside grills before diners' very eyes. K-towns coast to coast overflow with options that cater to local Korean populations, while newcomers like Brooklyn's Insa and Los Angeles's Magal BBQ offer bulgogi in chic, hipster-friendly settings. In recent years, Korean-style barbecue has also popped up in expected places, like tacos from L.A. food truck pioneer Roy Choi, which touched off a Korean taco revolution that's since spread across the country.
But you might want to reconsider cooking at home. This year's Winter Olympics are currently afoot in the resort mountain town of Pyeongchang, which is located in a region famous for its unctuous and tender beef. Think Japanese Kobe, but Korean: The meat comes from native Hanwoo cattle, a small and highly-prized variety boasting a high marbled fat content. Granted, don't expect to find it in stateside grocery stores; Hanwoo beef is rarely exported due to intense demand at home. In 2015, prices of local beef ribs soared to $4.13 per 100 grams, nearly three times the price of the same cut of Australian beef. But even if you don't nab a package of Hanwoo, cooking bulgogi on your own turf is a fantastic way to mark the games. The best bulgogi, Serpico stresses, "is in people's homes."
"You can make it pretty formal, or you can make it in your backyard not wearing shoes," he says. It's a dish that's forgiving, he continues, made from recipes that might even benefit from a little deviation. If you're intimidated, just take a deep breath and do as Serpico does. "I kind of just wing it," he says.
***
Peter Serpico's Bulgogi Recipe
Serves 4
1 pound sirloin, thinly sliced
1 bunch scallions, cut into 1-inch pieces
3 cloves garlic, thinly sliced
4 tablespoons low-sodium soy sauce
4 tablespoons canned pineapple juice
1 tablespoon sesame seeds
1 tablespoon sesame oil
1/2 teaspoon fresh ground pepper
1 teaspoon neutral oil for cooking
In a plastic bag, mix all items except the oil. Refrigerate and let marinate for 1 to 4 hours. In a cast-iron skillet, heat oil over medium heat. Sauté sirloin until cooked through, discarding remaining marinade. Enjoy with rice and/or side dishes.